« The Constitutional Record of President Clinton | Main | Sex In Bedroom Is OK But No TV »
January 17, 2006
Dems Wear Cloak Of Spite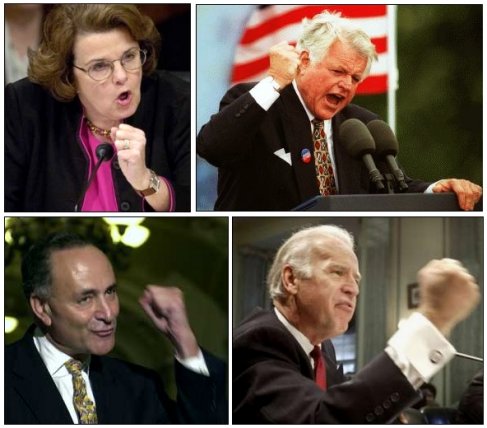 CNSNews.com) -
As announced last week, the Senate Judiciary Committee was scheduled to meet today -- Tuesday -- to vote on the nomination of Judge Samuel Alito to the U.S. Supreme Court. But it's not going to happen as planned.

Despite protests from Republicans, Democrats on the committee have pushed back the Judiciary Committee vote by one week, to Tuesday, Jan. 24, invoking their right to do so under Senate rules.
And this from National Review Online:

Democrats, anticipating that Alito ultimately will be confirmed, are trying to deny the White House that victory as long as possible, particularly in the days before the State of the Union address President Bush is to deliver Jan. 31. Although Senate rules do not enable them to defer the confirmation vote until after the speech, Democratic senators would like to reduce the victory period immediately before the speech, one of the broadest public stages the president commands each year.
Posted by Wild Thing at January 17, 2006 05:04 PM
---
Comments
Looks like they are acting out a murder Republican fantasy.
Posted by: Tyler D. at January 18, 2006 12:57 AM
---
Hi Tyler, it does doesn't it. And just think these are actual photos of their ugliness they
have inside of them.
Thanks for your comment.
Posted by: Wild Thing at January 18, 2006 01:05 AM
---
How can this be "despite protests from Republicans" when Leahy said the delay benefitted "both" parties?
Now Leaky Leahy wouldn't lie to us would he? Or is he trying to soften the blow of the childish games by making it seem like it helps everyone?
Justice Alito - Get use to it Democrats!
Posted by: Big Dog at January 18, 2006 07:58 AM
---
Look at the picture of Schumer. It looks like he is masterbating.....
Posted by: Big Dog at January 18, 2006 07:58 AM
---
HI Big Dog good to see you.
hahahaha
I love both of your posts. Thanks for commenting.
Posted by: Wild Thing at January 18, 2006 09:26 AM
---
Big Dog is on to something. The photo of Di Fi has been used on another blog to suggest a similar activity, but this is a classy blog, so I won't be explicit on the matter.
I've seen these faces before. Years ago, in the schoolyard, with the nerd contingent. The gestures usually followed an emphatic Rear Admiral, Hyper Wedgie or wet index finger to the ear.
Posted by: Rhod at January 18, 2006 03:38 PM
---
Hi Rhod, two things I have noticed the Dems us over and over. A finger pointing at an audience or a person and the fist raised in anger.
Thanks for commenting.
Posted by: Wild Thing at January 18, 2006 06:29 PM
---