« Sen. Jeff Sessions (R.-Ala.) Took Kennedy To Task | Main | Crank up the Volume »
January 10, 2006
Coffee An Aphrodisiac
Caffeine May Boost Female Sex Drive
By LiveScience Staff
posted: 09 January 2006
08:04 am ET


Caffeine motivates female rats to have more frequent sex, a new study suggests. But don't start guzzling more coffee just yet.

Scientists gave 108 female rats a moderate dose of caffeine. The caffeine shortened the amount of time it took the females to return to males after a first romp, indicating they were more motivated to do it again.

Loading up on more caffeine is not expected to improve human sex drive in most cases, however.

"These rats had never had caffeine before," said study leader Fay Guarraci, an assistant professor of psychology at Southwestern University. "In humans, it might enhance the sexual experience only among people who are not habitual users."

The research could help scientists better understand sexual motivation, however.

"Understanding the circuits that control this behavior will help us understand how the brain works and what part of the brain mediates motivation because sexual behavior is a motivative behavior," Guarraci said.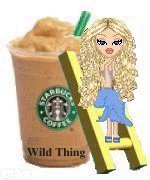 Wild Thing's comment........
Well now I never knew this, but it is ok with me. haha I do love getting a Carmel Frappacino Venti. YUM.
Posted by Wild Thing at January 10, 2006 01:24 AM
---
Comments
This is bad news for us old guys. Shortening the time between the first and the...moment at which you need a full night's sleep...is just asking for an argument.
Posted by: Rhod at January 10, 2006 04:02 PM
---
Ha! Now I know the real reason why I have trouble sleeping.
Posted by: LindaSoG at January 10, 2006 04:12 PM
---
Rhod I know what you mean. OK so new rule, no coffee after 1700. Yep that will fix it. heh heh
Good to see you. Thanks for commenting.
Posted by: Wild Thing at January 10, 2006 07:39 PM
---
Hi Linda, giggle good one.
Posted by: Wild Thing at January 10, 2006 07:40 PM
---