« Colombia Busts Ring Linked to al-Qaida | Main | Is Dean On Our Payroll Or What? »
January 29, 2006
Carter calls for funding Palestinians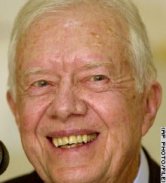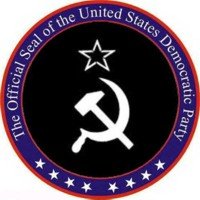 From the Jerusalem Post
A day after Hamas swept to an upset victory in the Palestinian parliamentary elections, former US President Jimmy Carter on Thursday said that Wednesday's voting had been orderly and fair.
"The elections were completely honest, completely fair, completely safe and without violence," the former president said.
Carter, who led an 85-member international observer team from around the world organized by the 'National Democratic Institute' in partnership with 'The Carter Center,' urged the international community to directly or indirectly fund the new Palestinian Government even though it will be led by an internationally-declared foreign terror organization.
"The Palestinian Government is destitute, and in desperate financial straits. I hope that support for the new government will be forthcoming," Carter said at a Jerusalem press conference.
He added that if international law barred donor countries from directly funding a Hamas-led government than the US and the EU should bypass the Palestinian Authority and provide the "much-needed" money to the Palestinians via non-governmental channels such as UN agencies.
"Regardless of the government, I would hope that potential donors find alternative means to be generous to the Palestinian people [even] if the donor decides to bypass the Palestinian government completely," Carter said, stressing that his main concern was to avert the "suffering" of the Palestinian people, which he said could lead to a new cycle of violence.
He noted that the heavily funded Palestinian Government would run out of money at the end of next month.
Hamas, the largest and most powerful of the Palestinian terror organizations, which advocates Israel's destruction, has carried out scores of bombings over the last five years of Palestinian violence, attacks which have killed hundreds of Israeli civilians.
Earlier Thursday, Israeli statesman Shimon Peres had opined in a radio interview that international aid to a Hamas-led government would likely be terminated.
The former Democratic president's comments came as US President Bush said that Hamas cannot be a partner for Middle East peacemaking without renouncing violence, reiterating that the United States will not deal with Palestinian leaders who do not recognize Israel's right to exist.
Carter, who has long supported the participation of Hamas in the Palestinian elections, voiced the hope that the Islamic terror group would act "responsibly" now that it had won the elections.
"My hope is that as Hamas assumes a major role in the next government, whatever that might be, it will take a position on international standards of responsibility," he said at the news conference, held at an east Jerusalem hotel.
Wild Thing comment.........
Every time Carter or Clinton mouth off, it takes me hours and hours to try to make myself feel this is America, the America I grew up in and LOVE! A draft dodger was actually a President of America the most powerful country in the world. Then add in all the crimes he did. and all the gates. And Carter continues to get away with all he says against America and Israel. They are both a disgrace to being a human being, to being an American.
The 85-member election observers team, which was led by Carter, former Swedish Prime Minister Carl Blidt former Albanian President Rexhep Meidani and former Spanish Foreign Minister Ana Palacio, included political and civic leaders from 22 countries around the world.
"It is now up to the elected leaders and representatives to construct genuinely democratic institutions and processes that will bring the peace and prosperity that the Palestinian people deserve, within a free and independent state," the group said in a preliminary report on the parliamentary elections issued Thursday.
"It is universally accepted that democratic elections and democratic governance are about employing peaceful means to achieve political goals," the report stated.
Posted by Wild Thing at January 29, 2006 11:08 AM
---
Comments
Why can't there be just ONE more pancreatic cancer cell wandering around in this turd's bloodline. I have no apology for saying it, either.
Posted by: Rhod at January 29, 2006 11:30 AM
---
I agree Rhod! Perfect way to say it too.
Posted by: Wild Thing at January 29, 2006 11:51 AM
---
Jimmy Carter, the president who turned his back on one of America's staunchest allies, the Shaw of Iran. Jimmy Carter who showed the Arab world that the United States will not stand by an Arab leader when things get tough. Jimmy Carter who turned Iran over to Islamic radicals. Jimmy Carter, the former president who should stick to building houses for the poor instead of trying his hand at world politics again.
Posted by: BobF at January 29, 2006 09:22 PM
---
Jimmy, give em the Panama Canal. Oh yeah, that's right, you already gave it away. Teddy Roosevelt is gonna kick your dumb ass.
Give em Plains Georgia, it's not really yours to give away either.
Posted by: TomR at January 29, 2006 10:07 PM
---
Hi Bob, he sure did all those things. Thank you so much for your comment on this.
Posted by: Wild Thing at January 29, 2006 11:19 PM
---
Hi Tom, I will never forget that day when he gave the Panama Canal away. I was so shocked that any President would do such a thing.
Thank you for your comment.
Posted by: Wild Thing at January 29, 2006 11:20 PM
---
Carter and the fools like him keep forgetting all the money that poured into the PLO after the Oslo accords. Gone! Where? Also the fact that after Arafat's death news that he had siphoned off millions of dollars for his own personal investments and lifestyle.
Give them more money to squander? I think not! This link has some enlightening information;
Posted by: RightToCarry at January 30, 2006 05:03 AM
---
RightToCarry that is a great link!!!
Thank you so much.
Posted by: Wild Thing at January 30, 2006 10:01 AM
---