« The World Of Bin Laden - A BIG No Thank You From Me | Main | Liberals Bad Attitude Toward Christmas »
December 16, 2005
"We're doomed in Iraq" ..Sen.Joe Biden He Means Where Is The Camera? Am I On?
U.S. Senator Joseph Biden shows his ink-stained finger in a polling centre during Iraq's parliamentary elections in al-Hillah, Babil province December 15, 2005.(REUTERS/Cpl Rob Knight)
Article HERE at USA Today
U.S. Ambassador Zalmay Khalilzad accompanied Sens. Joseph Biden, D-Del.; Lindsey Graham, R-S.C.; Saxby Chambliss, R-Ga.; and Maria Cantwell, D-Wash., to the city of Hillah, about 60 miles south of Baghdad. The largely Shiite city has been the target of some of the deadliest car bombings of the Iraq conflict.
Wait hold the presses………….looking back to last June……………
Joe Biden accused President Bush of "misleading statements and premature declarations of victory" in Iraq and called on him to change course.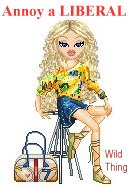 Wild Thing's comment..........
Hey Biden, you fool, you idiot, do you really think the world that has a brain, has the gray cells to figure out what you are up to can't see through your hypocrisy? Give me a break!
I have heard you discuss running for President in 2008, I have heard you bash President Bush and how we should get the heck out of Iraq. The comments you have made go on and on...............into boredom!
You are getting your camera time in just like your commie Clinton has done. What you should be doing is going on talk shows now and apologizing to all of us, to the President, and to the Iraqi people for our rabid lashing out about this war. Biden could care less ( in truth) if there is any freedom in Iraq and he could care less if even one person got to vote without being tortured.
Posted by Wild Thing at December 16, 2005 09:15 AM
---