« Senate says FUCK YOU to ALL Americans! | Main | "Let's Get Ready To Rumble".....For The Troops!" »
December 18, 2005
A Nice Surprise For Our Troops & A Chance to Whine From The Lefties

Vice President Cheney visits the troops in Baghdad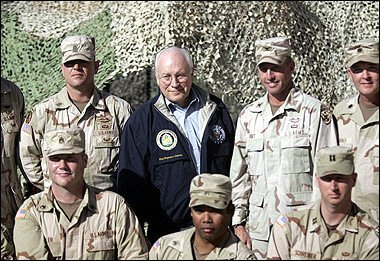 US Vice President Dick Cheney (C) poses with US troops at the Taji Air Base in Iraq. Cheney also met with Iraqi leaders and US Military Command to discuss security and the latest elections during his surprise visit.(AFP/Pool/Lawrence Jackson)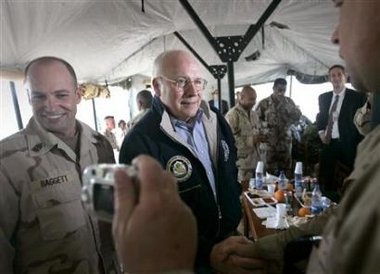 U.S. Vice-President Dick Cheney talks with U.S. soldiers after touring the 9th Mechanized Infantry Division of the Iraqi Army at the Taji Air Base in Iraq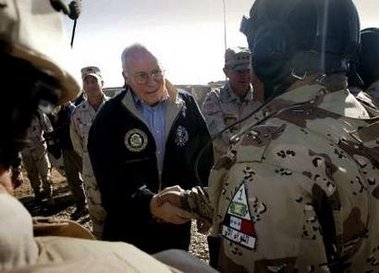 U.S. Vice President Dick Cheney (C) greets an Iraqi soldier with the 9th Mechanized Infantry Division of the Iraqi Army at the Taji Air Base in Iraq December 18, 2005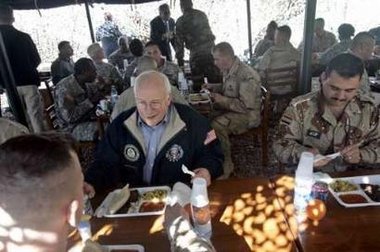 U.S. Vice-President Dick Cheney eats with U.S. and Iraqi soldiers at the Taji Air Base in Iraq December 18, 2005.
By Petty Officer 3rd Class John R. Guardiano, USN American Forces Press Service

Vice President Dick Cheney made a surprise visit to Iraq today to hail the country's successful Dec. 15 parliamentary election in which more than 70 percent of Iraqis -- 11 million-plus voters -- participated. Meanwhile, the vice president's wife, an historian, took to the airwaves today to provide historical context for the elections.
"It's an honor for me to be here to mark the tremendous success of the Iraqi people," the vice president told reporters in Baghdad. "The participation levels [in the election] all across the country were remarkable. "

In fact, the biggest change in last Thursday's election was the dramatic rise in Sunni participation compared to that in Iraq's last two elections, in January and October.

Indeed, "the Sunni Arabs participated in very large numbers" this time, Zalmay Khalilzad, the U. S. ambassador to Iraq, told Wolf Blitzer today on CNN's Late Edition. He noted that in Anbar province, "the heartland of the Sunni world here," voter participation rose from 10 percent in January to 62 percent on Dec. 15.

Khalilzad said he does not expect the same spike in violence that occurred in the aftermath of the Jan. 30 elections. To be sure, violence and fighting in Iraq will continue. However, Khalilzad explained, it likely will "not escalate in the same way that it did after the previous election, which the Sunnis had boycotted. "

"I think," he said, "if a good government is formed -- if Sunnis feel that their concerns are dealt with -- I think violence will decrease over time significantly, and terrorists and Saddamists will be increasingly isolated. "

"That's exactly what needs to happen," Cheney said in Baghdad today, "as you build a political structure in a self-governing Iraq that can unify the various segments of the population and, ultimately, take over responsibility for their own security. "

"This obviously has been a joint venture, with a great deal of effort on the part of the United States and our coalition partners," he said. "But ultimately, the responsibility for the future of Iraq clearly rests with the people of Iraq. "

Cheney visited Iraqi and U. S. soldiers at Taji Military Training Base, observing their training and congratulations them or providing security for the successful elections, Multinational Force Iraq officials said.

While on base, the vice president was escorted and briefed by Army Lt. Gen. Martin E. Dempsey, commander of the Multinational Security Transition Command Iraq, and Iraqi Maj. Gen. Bashar Mahmoud Ayoub, commander of the 9th Iraqi Mechanized Division, who discussed the unit's recent successes and their equipment.

This was followed by a demonstration of traffic control point training by Iraqi soldiers and their U. S. advisers and lunch with U. S. and Iraqi soldiers and airmen assigned to the base, officials said.

Historian Lynne Cheney said today that, in comparison to where the United States was at a comparable point in its own history, the Iraqis are doing remarkably well.

An estimated 100,000 Americans, just 3 percent of all eligible voters, participated in America's first election under the new U. S. Constitution, she noted. And more than half of the U. S. population -- all women and slaves -- were ineligible to vote. In Iraq, by contrast, women are eligible to vote, there are no slaves, and more than 70 percent of the population voted.

In fact, the Iraqi constitution gives women equal rights and a mandatory 25 percent of all seats in the newly elected parliament, Secretary of State Condoleezza Rice told Tim Russert today on NBC News' Meet the Press. "The Iraqis are now going to engage in a process which gives them a real chance for a broadly representative government," she said.

Iraq, the vice president's wife said, obviously has benefited from U. S. experience and guidance. "We've been able to bring our knowledge to the people of Iraq," she said.

It took Iraq three months to form an interim government after its January elections, and Khalilzad said Iraq will move quickly to form a new government. However, he quickly added, the United States will not rush these efforts.

"I want to emphasize that forming a government quickly is an important value," he said. But so, too, is "having a good government, a government that has good people in it -- technocrats, people who have the confidence of Iraqis

"So will we emphasize both factors: a good, moderate, cross-sectarian, cross-ethnic government [and one that is formed] as soon as possible," Khalilzad said.

Iraq's newly elected representatives "will have to make compromises," Khalilzad explained, because "no party will have the votes to make the government by itself. So coalitions will have to be formed. And now, unlike the previous parliament, a lot of Sunnis will also be in parliament. So it's going to take time. "

Iraqis "recognize that they need to sustain the momentum out of this election," Rice told Chris Wallace on Fox News Sunday. "They need to sustain the momentum for the expectations of the Iraqi people. They need to sustain it because of the insurgency and the terrorists. And they need to send a strong message that the political process is moving forward. "

"As the year ends," Lynne Cheney said, "I think it's important not only to see what's gone right in Iraq and Afghanistan, but to look at ourselves and say, 'You know, our fighting men and women have accomplished something quite remarkable. '"

"There have been missteps in our history and many a backward step," Cheney writes in her book, "A Time for Freedom. " But "the overall thrust of our story has been the expansion of human freedom. And if we have not always understood that our freedom is caught up with the freedom of people around the globe, we do now, and we fight for them as well as for ourselves. "

Wild Thing's comment........
Count on it the left will make something out of this that is NOT true. Let's not let them spoil the nice surprise visit that VP Cheney did today. I am fed up with the left turning everything into something ugly and untrue, especially when it comes to our troops!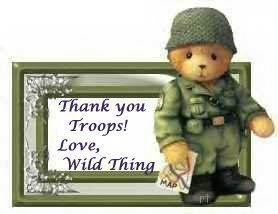 Posted by Wild Thing at December 18, 2005 05:46 PM
---
Comments
That's cool... almost like when the president went over a coupla Thanksgivings ago. Bet he got a lot better reception than when Hildabeast goes over. ;)
Posted by: Lee at December 18, 2005 08:47 PM
---
(big smile) I bet he did too. I can just imagine when they saw Hillary coming to see them.............ugh!!!!
Thank you Lee
Posted by: Wild Thing at December 19, 2005 12:38 AM
---