« Guard Our Borders | Main | 12 Days Later French Government Does Something »
November 07, 2005
Twenty-Two, Forever - Specialist Hoby Frank Bradfield Jr.
"Day by day, fix your eyes upon the greatness of Athens, until you become filled with the love of her; and when you are impressed by the spectacle of her glory, reflect that this empire has been acquired by men who knew their duty and had the courage to do it." - Thucydides, The Funeral Speech for Pericles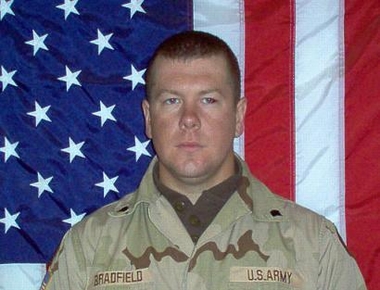 Hoby Bradfield Jr. graduated high school in 2001 in Virginia Beach, VA. Immediately after witnessing the World Trade Center towers fall from his home in New Jersey, he called a recruiter and enlisted in the US Army. A member of the warrior caste, Bradfield's father was a retired Navy veteran, his older brother an Army Cavalry Scout and his younger brother is now a Marine.
Hoby left his home and entered the Army on August 20th, 2002. He trained to be a Cavalry Scout and was assigned to the Sabre Squadron of the 3rd Armored Cavalry Regiment at Fort Carson, Colorado. In a few short months, Bradfield went from raw recruit to leader among his peers.
Not long after joining the famed regiment, the 3rd ACR was sent to Iraq for Operation Iraqi Freedom I. There, Hoby Bradfield earned a reputation for being a fierce Scout. As a Private First Class he was awarded the ARMCOM with V device for valor in combat and had been recommended for two Bronze Stars.
After returning from OIF, Hoby met a girl, Crystin, fell in love and got married. He also trained to be a Combat Life Saver.
Crystin became pregnant and Hoby was thrilled.
"...not even subzero temperatures at downrange Fort Carson can keep the smile from a man's face when he tells his best friends he's going to be a father," said 1st Lt. Brian Oman, Bradfield's Troop platoon leader.
He knew the day would come when the regiment would back to Iraq. Even though Crystin was pregnant, Bradfield volunteered to go back to Iraq.
On July 9th, 2005, Grim Troop of the 2nd Squadron moved into a neighborhood in Tal Afar to destroy a terrorist bombing cell. During the cordon and search, one of Bradfield's team was hit and, as one of the Combat Life Savers, he raced to perform first aid. Then, Specialist Bradfield was shot.
Medics were called to the battle. They stabilized Hoby, put him on the ambulance and raced to the hospital.
Terrorists were watching. They detonated an IED and destroyed the ambulance instantly killing Hoby and the medic that was saving his life, PFC Eric Woods.
"There are troopers in the regiment who most definitely owe their lives to him," LTC Christopher Hickey, Commander, 2nd Squadron, 3rd ACR said about Hoby in the memorial service held in Iraq where over 200 Cav Troopers attended.
On July 26th, 2005, Specialist Hoby Frank Bradfield Jr. was laid to rest at Arlington National Cemetery. Eric Woods family attended the memorial in Virginia and the burial at Arlington.
On September 3rd, Crystin Bradfield gave birth to Kloe Adell Bradfield who is the spittin' image of her dad.
My thoughts and prayers are with Hoby's family.
Today would have been Hoby's twenty-third birthday........................... He will be 22 Forever............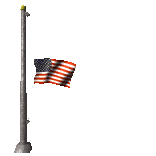 Article from Blackfive
From Wild Thing........
There is no way I can repay this man, Specialist Hoby Frank Bradfield Jr, he has given his all.
.....Song is "Some Gave All"
Posted by Wild Thing at November 7, 2005 04:02 PM
---
Comments
Happy Birthday, Soldier. Our prayers to your wife and daughter, who have to carry on without you.
Posted by: Barb at November 7, 2005 09:33 PM
---
Posted by: Cao at November 9, 2005 06:21 PM
---
Thank you for your comments Barb, I am praying too for his loved ones. It is so sad and yet I am so very proud of how awesome our troops are like this man.
Posted by: Wild Thing at November 10, 2005 11:25 PM
---
OH Cao, it is so sad and yes so touching as you said.
Posted by: Wild Thing at November 10, 2005 11:25 PM
---
I feel for their families. And it's a great loss for the country.
Posted by: Air Ambulance Doc at December 1, 2005 02:47 PM
---
I do too Air Ambulance Doc and you are right it is a great loss for this country. Thank you for commenting and thank you for serving our country. It means more then I can say or thank with just the words thank you.
Posted by: Wild Thing at December 1, 2005 03:23 PM
---