« He Should Be Home For Christmas - But They Won't Let Him | Main | Taking Off The Gloves »
November 30, 2005
The Vile Left Still Attacking Grey Eagle!
Wild Thing commnet.......She is a wife, a mother, a soldier. She is fighting for you, for me, for America, for the Iraq's to know freedom too, and God help us she is even fighting for the low life scum the LEFTIES that are attacking her. She is one of America's Heroes and I feel so fortunate that I can go to her blog and post to her that I am grateful to her. The left should be hung for what they are dolng to her, to so many of our troops. It angers me so much I can hardly type this. I will never forget what the left has been doing to our troops and has always done to our Military. Every death of one of our Military I blame also on the left. They are helping the enemy and they have always helped the enemy.

Thank you to Mr. Right, Cao and others that are making sure everyone knows about this horror being done to one of our own.
I HAVE HAD IT!
It was brought to my attention that my polls had been changed. When I went there, I was completely shocked by all the questions. Once again, it was originally designed to offer a voice in things. And once again it was abused. Do you people think that this is cute, or just hell-bent on trying to get me into trouble? Did I do something so offensive to you personally that you feel the need to attack me in such a personal way? Currently someone has offered to completely redesign this website with built in security. I cannot tell you how happy I am with that. To finally have a website where I can post my stories, and have visitors who do not have to contend with your hacks on soldier's tributes, insulting people with changing the polls, and the many other things you have done to this website. I know that this isn't the most secure website, I didn't realize that it was going be such a requirement when I designed it. I was obviously wrong. I wish to personally say I am sorry to anyone who has had to read or endure the messages or polls that may have been offensive on this website. You will note that the units have been removed from the menu in addition to the polls for the same security reasons. As upset and humilitaed as I am, I am not going to quit. I am not going to abandon this project, or terminate the website. I will learn, improve, adapt, and overcome your childish attacks. I should have known as soon as I saw that you were coming back out of hiding to resume posting your hateful and spiteful comments that something like this would occur.
I will hope and pray this will be the last time I have to post another message like this. But if not, know that I will not be defeated. I will not let your emails refering to me as a "baby killer", your calls for me to walk away from my duties, your questioning of my loyality to this county discourage me. I will not let your small minded attacks to my website deny me my voice, I have earned that right. And I will not continue to allow you to insult the visitors who come to this website to read or learn about life here. This is not a political website so please refrain from making it one. I will begin to delete your comments, I will backup this website so as to overcome your attacks, and I will await the completion of the new website.
Grey Eagle
"Air Assault"

Wild Thing's comment...................
Thank you 101st Airborne Division and Grey Eagle!! Please everyone, before you do anything else today, go tell Gray Eagle hi and post to her.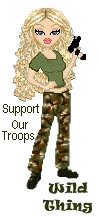 Posted by Wild Thing at November 30, 2005 10:14 AM
---