« Hey! CNN You Can't Handle The Truth! | Main | Rendered Innocent - But Not Free »
November 22, 2005
In Country - God Bless Our Troops


CW3 Christopher Palumbo. Chief Palumbo is an Army Aviator flying UH60 Blackhawk helicopters in Afghanistan
"History does not long entrust
the care of freedom to the
weak or the timid."
- General Dwight D. Eisenhower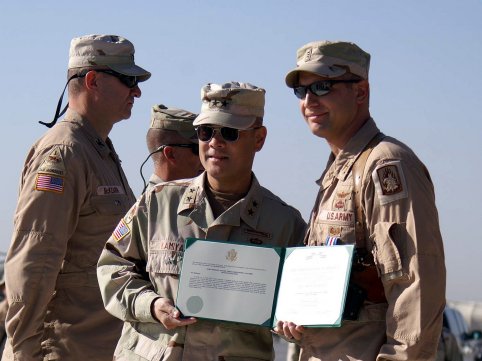 Army Chief Warrant Officer 3 Christopher Palumbo, 3rd Battalion, 158th Aviation Regiment, is awarded the Silver Star by CJTF-76 commanding general Army Maj. Gen. Jason Kamiya. Staff Sgt. Ken Denny
An Army aviator was awarded the Silver Star for gallantry in a ceremony Oct. 1 in Bagram, Afghanistan
Army Chief Warrant Officer Three Christopher Palumbo from A Co., 3rd Battalion, 158th Aviation Regiment, was awarded the medal for his actions April 11. Palumbo was the pilot in command of "Skillful 31," the call sign for a UH-60L Blackhawk helicopter conducting aviation operations in Southeast Afghanistan that came under fire while supporting Special Operations Soldiers.
"I was going to do whatever it took to ensure those Special Forces soldiers were protected and spared from any further injuries," Palumbo said. While inserting a quick reaction force and extracting two wounded Soldiers, Palumbo and his crew were credited with killing more than six enemy and were constantly under fire from small arms and rocket-propelled grenades.
"None of the crew aboard Skillful 31 had any reservations," Palumbo said. "Over 50 bullet holes, shot-up engine, shot-up cabin and cockpit, one crew chief wounded, four blades tore up…we were lucky." Luck may have had something to do with it but Palumbo said, "I think while the fight played out instinct took over and training just kicked in."
Palumbo worried for the safety of his crew but said that none of his crew had any reservations about the importance of the mission or more importantly the troops on the ground.
"I think this incident just reinforced the bond that aviators have with their infantry brethren and reminds us that the war in Afghanistan is not over," said Palumbo. "There are many soldiers all over this country taking the fight to the enemy and persevering." The news of the award shocked Palumbo.
"I never realized the magnitude of the actions we took that day," he said.
(Editor's note: Army Staff Sgt. Ken Denny serves with the
117th Mobile Public Affairs Detachment.)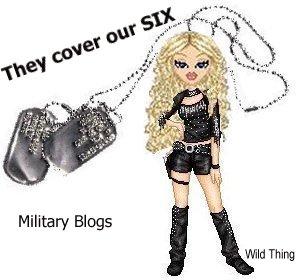 Posted by Wild Thing at November 22, 2005 01:42 AM
---
Comments
These guys are awesome, I'd never hesitate to fly with them. Good to know they're only a radio call away.
Thanks for all your support too Wild Thing, every little bit helps and you do more than your share.
FP5
Posted by: Firepower 5 at November 22, 2005 10:33 AM
---
HI FB5 good to see you and thank you for your comment. It means a lot coming from one who knows. Thank you
Posted by: Wild Thing at November 22, 2005 01:35 PM
---