« We Have GOT To Stop Playing Defense In This War! | Main | Pissed Off »
October 23, 2005
Introducing...
My husband is retired Navy and he bought me my computer years ago during the Clinton regime so I could post at Forums about the Bill and Hitlery Clinton. He does not want to use the computer but once and awhile he likes to write his opinons down.
He will be posting as Angry Old Salt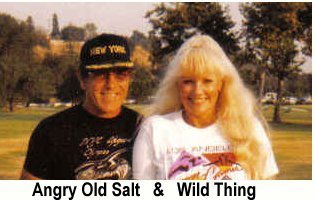 Posted by Wild Thing at October 23, 2005 12:18 PM
---
Comments
Retired Navy...OUTSTANDING
No wonder you care so much for the men and women in uniform.
Posted by: BobF at October 23, 2005 10:22 PM
---