« Iraqi Vote A Success -MSM & Democrats Deeply Saddened | Main | Sunday Funnies at Stop the ACLU »
October 15, 2005
From Russia With Love to Iran- Is That A Missile In Their Pocket?
Russia NOT making the world a safer place from Terrorists!
Russians help Iran with missile threat to Europe
By Con Coughlin
(Filed: 16/10/2005)
Former members of the Russian military have been secretly helping Iran to acquire technology needed to produce missiles capable of striking European capitals.
The Russians are acting as go-betweens with North Korea as part of a multi-million pound deal they negotiated between Teheran and Pyongyang in 2003. It has enabled Teheran to receive regular clandestine shipments of top secret missile technology, believed to be channelled through Russia.
Western intelligence officials believe that the technology will enable Iran to complete development of a missile with a range of 2,200 miles, capable of hitting much of Europe. It is designed to carry a 1.2-ton payload, sufficient for a basic nuclear device.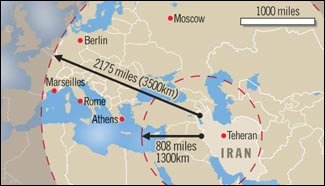 The revelation raises the stakes in the confrontation between Iran's Islamic regime and the West - led by the United States and European countries including Britain.
Condoleezza Rice, the US secretary of state, clashed with Russian officials over Iran's Nuclear Programmeduring a visit to Moscow yesterday, saying that Teheran must fulfil its obligations under the Nuclear Proliferation Treaty.
She was later expected to urge President Vladimir Putin to back a referral of Iran to the United Nations Security Council.
A senior American official said Iran's programme was "sophisticated and getting larger and more accurate. They have had very much in mind the payload needed to carry a nuclear weapon.
"I think Putin knows what the Iranians are doing."
Iran is believed to be hiding its weapons development behind its nuclear power programme, for which it receives Russian support, and has refused to suspend uranium enrichment or to allow full UN inspections.
John Bolton, the US ambassador to the UN, told BBC2's Newsnight that Iran was "determined to get nuclear weapons deliverable on ballistic missiles it can then use to intimidate not only its own region but possibly to supply to terrorists".
Iran's longest-range missile is the Shahab 3, which, with an 800-mile range, could hit Israel. The North Korean deal will allow the Iranian missile to reach targets far into Europe - including Rome, Berlin, and much of France.
North Korea has developed a missile, the Taepo Dong 2, that could reach America's west coast, based on the submarine-launched Soviet SSN6. Modifications allow it to be fired from a land-based transporter and this technology is being smuggled to Teheran with Russian help.
Russians have provided production facilities, diagrams and operating instruction so the missile can be built in Iran. Liquid propellant has been shipped to Iran. Russian specialists have also been sent to Iran to help development of its Shahab 5 missile project, which the Iranians hope to have operational by the end of the decade.
Posted by Wild Thing at October 15, 2005 09:57 PM
---
Comments
Wouldn't it be something if the Iranians developed this missile and then used it on Russia? I wonder what makes the Russians think they can trust the Iranians?
Posted by: BobF at October 16, 2005 07:51 PM
---
Good point!
All these coutries whose word never means anything, dealing with one another.
Posted by: Wild Thing at October 16, 2005 08:16 PM
---