« First Lady Melania Trump at the American International School | Main | MUST WATCH! President Donald Trump Major »
May 21, 2017
President Trump with a sword at ceremony by Saudi Arabia's King Salman bin Abdulaziz Al Saud at Al Murabba Palace in Riyadh, Saudi Arabia May 20, 2017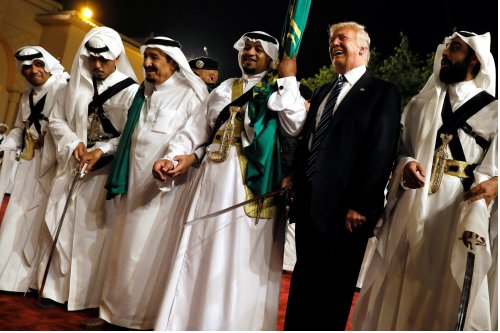 President Trump as he arrives to a welcome ceremony by Saudi Arabia's King Salman bin Abdulaziz Al Saud at Al Murabba Palace in Riyadh, Saudi Arabia May 20, 2017.
Posted by Wild Thing at May 21, 2017 11:12 AM
---
Trackback Pings
TrackBack URL for this entry:
http://www.theodoresworld.net/mt/mt-apples.cgi/17509
Comments
The level of respect the Arabs shown towards Jared and Ivanka really surprised me. Jared is Jewish and Ivanka converted to Judaism. Only goes to show how much respect they have to Trump and now America.
Posted by: BobF at May 25, 2017 08:42 AM
---
Post a comment