« Disgusting and Horrible House Democrats Promise More Temper Tantrums Like Gun Control "Sit-In" | Main | CAIR Publishes Enemies List Their Huge GIFT to Muslim Terrorists »
June 25, 2016
GOP Blocks Pentagon's "Climate Change" Plan ~GOOD!!!

GOP Blocks Pentagon's "Climate Change" Plan

House Republicans passed an amendment Thursday blocking the Department of Defense (DOD) from financing its climate change and national security plan. The amendment passed 216-205, with not a single Democrat voting in favor.
DOD and other national security experts have warned that climate change is a national security threat, but Republicans who voted against funding the Pentagon's climate plan said it was a distraction from other threats.
Experts say the DOD climate directive, which was released in January, would save the organization money in the long run and help the U.S. prepare for climate change.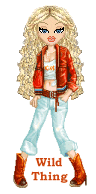 Wild Thing's comment........
Good for the GOP. Global warming is being used as a pretext for redistribution of wealth; does Obama not realize the American people, outside his cult, have literacy skills.

Thought the military was supposed to kill the enemy and break things...not worry about the weather.
Posted by Wild Thing at June 25, 2016 12:49 AM
---