« Democratic Party embracing Cop HATERS Black Lives Matter | Main | Horrible Clinton high fives Rep Hastings after Benghazi hearing, while the families of the murdered men watch helplessly »
October 23, 2015
Obama Uses Veto Power For Fifth Time, Vetos Defense Authorization Bill

Obama Uses Veto Power For Fifth Time, Vetos Defense Authorization Bill.

Obama exercised his veto power Thursday for just the fifth time in his presidency, rejecting a defense authorization bill because of the way it would sidestep budget limitations for the military and because it would restrict the transfer of detainees being held at Guantanamo Bay.
The White House said that the National Defense Authorization Act (NDAA) would tap an overseas contingency operations account designed for emergencies and war costs and use it as a "slush fund" to avoid budget restrictions. Those restrictions — known as sequestration — would impose offsetting across-the-board cuts if spending passed certain levels.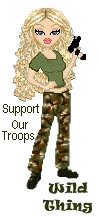 Wild Thing's comment................
Remember this when our military ends up needy. It wasn't Congress.
Posted by Wild Thing at October 23, 2015 12:50 AM
---