« DNC Not Backing Iran Deal 'Big Embarrassment' for Obama | Main | Another DEAD body in the Clinton's world. Spy Found Dead In Bag He Had Hacked Into Secret Data On Bill Clinton »
August 31, 2015
Obama Changes The Name Of Tallest Mountain In U.S., Mt. McKinley, To The Original Native Name, 'Denali'

Obama Changes The Name Of Tallest Mountain In U.S., Mt. McKinley, To The Original Native Name, 'Denali'

Barack Obama on Monday will officially restore Denali as the name of North America's tallest mountain, ending a 40-year battle over what to call the peak that has been known as Mount McKinley.
The symbolic gesture comes at the beginning of a three-day trip to Alaska where Obama hopes to build support for his efforts to address climate change during his remaining 16 months in office.
The peak was named Mount McKinley in 1896 after a gold prospector exploring the region heard that Ohioan William McKinley, a champion of the gold standard, had won the Republican nomination for president.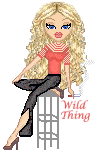 Wild Thing's comment............
Obama's hate for American presidents. They could name a garbage dump after Obama.
Posted by Wild Thing at August 31, 2015 12:49 AM
---