« Ted Cruz will File Bill To Ban American Islamic State Fighters From Returning To U.S | Main | Obama's speech omitted entitlement crisis »
January 25, 2015
Tara Kyle, Widow Of Chris Kyle, Surprised With Special Gift From Sniper Group
She said...."It's a blessing and sometimes it's awkward, because I don't want to take, I want to give,"

Tara Kyle, Widow Of Chris Kyle, Surprised With Special Gift From Sniper Group

Taya Kyle, the widow of legendary Navy SEAL Chris Kyle, made an appearance at the 2015 SHOT Show in Las Vegas on Friday to support AmericanSnipers.org. But she was unaware that the group had planned a surprise that would leave her at a loss for words.
AmericanSnipers.org, a non-profit that provides gear to military snipers, raffled off several firearms used by the men and women in uniform, including a replica of the McMillan .338 Lapua Chris Kyle used in combat.
The gun raffle — including the rifle signed by Taya Kyle — raised over $62,000.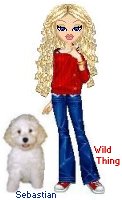 Wild Thing's comment.......
This country must survive...as a testament to what humans can do despite the odds
We should never squander the memory of our country's heroes such as Chris Kyle for political expediency or political correctness. We will...we can...we must remain the United States of America, as our founders intended.
Posted by Wild Thing at January 25, 2015 12:55 AM
---