« Amazing Cat Dries Her Face with a Towel | Main | Sen. Rand Paul Will Wait Till 2014 to Decide on Presidential Run; Says GOP Needs a "More Libertarian" Face - YUK! No thanks! »
February 17, 2013
Obama On Gang Members Shooting Up Chicago: "These Guys Are No Different Than Me"
Obama On Gang Members Shooting Up Chicago: "These Guys Are No Different Than Me"

Barack Obama offered a personal reflection on gun violence here Friday, tackling the issue not as a policymaker or parent, but as a black man himself who knew how close he'd come to a very different fate.
Obama's talked frequently about gun violence since the Newtown massacre, but never in these terms. Straying from a speech meant to discuss initiatives from his State of the Union address aimed at supporting poor communities, the president reflected instead on the group of at-risk male teens he'd met with just before he took the stage.
"I had more of a safety net, but these guys are no different than me," Obama said at Hyde Park Academy, where the teenagers are in school. "I had issues too when I was their age. I just had an environment that was a little more forgiving."
Speaking of the economic struggles and broken homes that he identified as the root causes, Obama talked about his own experiences as a young African-American man, causing trouble and, later, trying to affect change on the streets here.
"Don't get me wrong, as the son of a single mom … I turned out OK … but at the same time I wish I had a father who was involved, around," Obama said.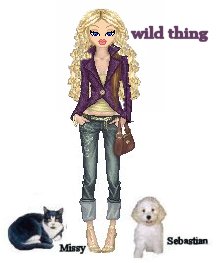 Wild Thing's comment..................
And of course the Obama voters agree, they voted for him twice. Pathetic and disgusting.
Posted by Wild Thing at February 17, 2013 12:55 AM
---
Comments
Inner city kids are no different than him? Obama, who grew up in an upper middle class family who gave him everything. Obama who went to the best colleges in America and never had to work a day in his life to pay it back. Obama who thinks "manual labor" is a past president of Mexico. He's nothing but a jerk.
Posted by: BobF at February 17, 2013 08:38 AM
---
I think obama wants to appeal to Black "gangstas" and thugs. Yeah, sure. He's just another (metrosexual)home boy. Next he will be praising Idi Amin.
Posted by: TomR, armed in Texas at February 17, 2013 12:04 PM
---
"These Gangstas are just like me". I'm down wit it, dog
!!!
Posted by: Willy at February 19, 2013 11:59 AM
---
first off, when did we regress to racism? i dont gaf what race anyone is, we should be a world of people reguardless, isnt this the 21st century? why bring up the fact that you were a young black man with issues? how bout when i was a young boy? wtf difference does race mean? i agree with gun control however, why is a california city issueing automatic weapons to, get this, SCHOOL POLICE?
Posted by: tom at February 19, 2013 04:30 PM
---