« Jon Huntsman: I Wouldn't Hesitate to Call on Rich to Sacrifice | Main | Faithful Dog Named Hawkeye Stays Near Casket of Fallen Navy SEAL Throughout Funeral Service »
August 26, 2011
Gov. Rick Perry Signed Law Exempting Disabled Veterans From Property Taxes ~ FANTASTIC!

Governor Rick Perry with a group of Veterans from the Patriot Guard Riders

Rick Perry Signs Law Exempting Disabled Veterans from Property Taxes
I've met Governor Rick Perry on a number of occasions at various Patriot Guard Rider funeral missions. His respect for the fallen Soldier as well as the numerous Veterans who comprise the PGR is evident.
Even when I haven't agreed with his politics, I've always held Rick Perry the man in very high regard — as do most Veterans that I know.
Which makes this latest legislation that he just signed into law just one more reason that I'll support and vote for him in his re-election bid for Governor:
Under legislation signed by Gov. Rick Perry last month, Trejo and other severely injured veterans are about to get some major financial relief: They will no longer have to pay property taxes on their homes.
Disabled veterans in Texas will qualify for total homestead property tax exemptions if the Department of Veterans Affairs has determined they are unable to work or they are receiving 100 percent disability compensation for physical or psychological problems related to their military service.

Veterans with a 100% service-connected disability will not have to pay property tax. Which is the very least that we can do for those who have sacrificed so much for so many.
This legislation amounts to about an $11m tax break for Veterans. In a state budget of over $180 billion, it's just a drop in the bucket.
This is a very popular new law.
.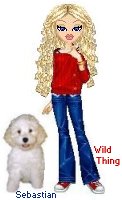 Wild Thing's comment........
The article is from 2009, but I thought it was so important to know about it and what a truly wonderful thing he did. Fantastic. This should be done everywhere.
Posted by Wild Thing at August 26, 2011 05:47 AM
---
Comments
Perry, like Bush, has a love for the military and those who served and are serving.
Posted by: BobF at August 26, 2011 09:15 AM
---
Speaking of Perry, Texas, and the military, I just got back form Lackland AFB, TX where I watched my son graduate USAF Basic Training. Being retired Air Force myself, you have no idea how proud I was to see him complete this milestone in his life.
Posted by: BobF at August 26, 2011 09:18 AM
---
Congratulations to you son Bob. I hope he enjoys the USAF.
I am one of the Texans who qualified for the DV property tax exemption. I declined because I want to support my community. Strictly my choice and I can afford it. Thank you to Gov. Perry for his unwavering support of veterans and the Armed Forces.
Posted by: TomR, armed in Texas at August 26, 2011 11:33 AM
---
Bob, that is so fantastic about your son. What great news!!!!
Please thank him from me and congratulate him.
Posted by: Wild Thing at August 27, 2011 12:06 AM
---
Tom, thank you for sharing that and also for giving more information how it works where there is a choice.
Posted by: Wild Thing at August 27, 2011 12:15 AM
---