« Senator Marco Rubio: "This Debate Will Continue." | Main | George Soros's MoveOn.org Drives New Liberal Catch Phrase: 'Tea party downgrade' »
August 08, 2011
Barack Hussein Obama MIA and Incompetent Treasury Secretary Geithner Says He Will Stay On

.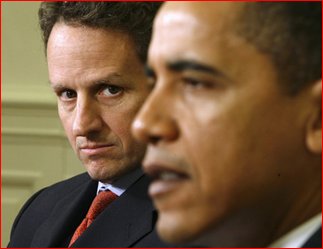 Geithner To Remain Through 2012 Election
WASHINGTON

Tim Geithner has told President Barack Obama that he will remain in his post as Treasury secretary through the presidential campaign in 2012, the US Treasury Department announced in a statement Sunday.
"Secretary Geithner has let the President know that he plans to stay on in his position at Treasury," Assistant Secretary for Public Affairs Jenni LeCompte said in the statement. "He looks forward to the important work ahead on the challenges facing our great country."
Geithner had previously said he would remain at Treasury for the "foreseeable future," although he declined to be more specific about that timeframe.
Geithner had reportedly considered leaving his post after the Obama administration reached a deal with Congress to raise the nation's $14.29 trillion debt limit.
The New York Times reported last week that White House officials pressured him to stay in his position to offer continuity in the tough economic climate and to avoid a contentious Senate confirmation fight over his successor

.

Wild Thing's comment......

It has been over 48 hours now since Standard and Poors downgraded the US credit rating.
No statement from Obama or one of his TV appearance to speek to the Nation. MIA

After the largest single loss of life ever for SEAL Team Six.
Does Obama make a TV appearance to speak to the Nation and to the families and other troops about this horror that happened..... MIA ( we all know Bush and Reagan would have made a public statement about this and not just a press release like Obama did of his few sentences and nothing about the terrorists)
BUT when does he demand to be heard and seen?? When he wants to slander, bash, attack and talk down to American citizens. Look how many times just a week ago he demanded to he on TV just to throw his whine around and bitch and moan and lie.
And regarding Geithner, how on earth anyone would be allowed to have his job that as we found out had not paid his taxes. That alone should send signals how bad our country has gone down the drain. What the hell is wrong with people that they do not care about this. Obviously people that voted for Obama are law breakers and criminals every one of them or certainly condone it.
Posted by Wild Thing at August 8, 2011 05:50 AM
---
Comments
How was that one chopper targetted? How did they know where it would be? How is it possible to have that information, to an enemy that can barely provide for itself let alone conduct such a coordinated operation like this.
THIS WAS A SETUP!!!! SPONSORED BY THE WHITE HOUSE.
Posted by: Mark at August 8, 2011 07:56 AM
---
obama is a disaster. In no way, shape or form is he any kind of a leader. He serves only himself and his Marxist agenda. He is the Elmer Gantry of politics.
Geithner is a perfect companion to obama. Neither of them know squat about real word economics or frugality.
Posted by: TomR, armed in Texas at August 8, 2011 10:14 AM
---
Mark, I really think that too. Thanks Mark.
Posted by: Wild Thing at August 8, 2011 04:34 PM
---
Tom, your so right both of them have no idea and adding in their agenda makes it even worse.
Posted by: Wild Thing at August 8, 2011 04:36 PM
---