« Desperate Nancy Pelosi Said Speaker Boehner Went To The " Dark Side in Debt Plan ~ So Typical Of A Democrat | Main | Obama's 50th Birthday Bash and Fund Raiser $50 A Person To $35,800 Per Couple »
July 31, 2011
President G.W.Bush To Be In NYC To Mark 10th Anniversary Of 9/11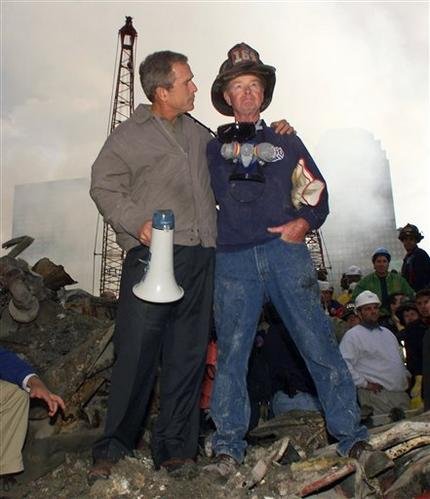 President George W. Bush puts his arm around firefighter Bob Beckwith while standing in front of the World Trade Center in New York during a tour of the devastation. New York City Mayor Michael Bloomberg says former President Bush will be among the dignitaries at a World Trade Center site ceremony to mark the 10th anniversary of the 9/11 attacks. (AP Photo/Doug Mills, File)
Bush to be in NYC to mark 10th anniversary of 9/11
NEW YORK

The ceremony at the World Trade Center site marking the 10th anniversary of the terrorist attacks will be a solemn but stately event that will include former President George W. Bush and a chance for victims' families to view the names of loved ones etched into the memorial, Mayor Michael Bloomberg said.
President Barack Obama and Bloomberg will be joined by the leaders in charge during the 2001 attacks, including Bush, former Mayor Rudolph Giuliani and former New York Gov. George Pataki. Current New York Gov. Andrew Cuomo and New Jersey Gov. Chris Christie will also be there, he said.
Speaking on his weekly radio show Friday on WOR-AM, Bloomberg said the lawmakers will read short poems or quotes. No speeches will be given.
"This cannot be political," he said. "So that's why there's a poem or a quote or something that each of the readers will read. No speeches whatsoever. That's not an appropriate thing."
The mayor also revealed a few more details for the ceremony on Sunday, Sept. 11. It will be held on the highway to the west of the site, and only relatives will be allowed inside the memorial to look for the names of their loved ones, etched into the railings at two huge waterfalls built in the footprint of the World Trade Center.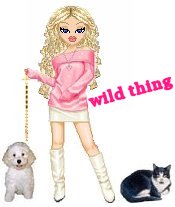 Wild Thing's comment........
I wish Obama was not going to be there. ( deep sigh)
Posted by Wild Thing at July 31, 2011 05:47 AM
---
Comments
When Bush speaks, he needs to step away from the microphone and get a bullhorn.
Posted by: BobF at July 31, 2011 08:24 PM
---
Yes! Bush with a bullhorn vs obama with two teleprompters. No contest. Bush wins hands down.
Posted by: TomR, armed in Texas at July 31, 2011 10:29 PM
---