« Speaker Boehner: "I Know the President Is Worried About Next Election But, My God, Shouldn't He Be Worried About the Country?" ~ So True Speaker Boehner!!! | Main | DeMint Still Fighting for 'Cut, Cap and Balance' »
July 25, 2011
Obama: I'd Like 'to Bypass Congress and Change the Rules on My Own'
Obama: I'd Like 'to Bypass Congress and Change the Rules on My Own'
Obama let his frustration over the stalled debt talks seep into an address on Latino issues on Monday, confessing that he'd like to "bypass Congress and change the laws on my own." He told the National Council of La Raza, "Believe me, the idea of doing things on my own is very tempting. I promise you."
But he told the group meeting at the Marriott Wardman Park Hotel that he has to work with Congress and will continue to fight for what he called a "balanced" plan that does not focus solely on spending cuts but that spreads the sacrifice to the wealthiest Americans as well.
La Raza—and activist Latinos elsewhere—are disappointed in the president for not keeping his promise to champion comprehensive immigration reform in his first year in office. They are particularly angry that his administration has been aggressive in deporting undocumented immigrants, but the president defended the record number of deportations, contending he has had no choice.
"Those are the laws on the books," said Obama. "I swore an oath to uphold the laws on the books. That doesn't mean I don't know very well the real pain and heartbreak that deportations cause."
He added that he shares the concerns of Latinos. "I understand them and I promise you we are responding to your concerns and working every day to make sure we are enforcing flawed laws in the most humane and best possible way."
His ''I'd like to change'' comment followed a section in his speech that mentioned the limitations of Washington in stopping deportations. He then spoke of his frustrations in dealing with Congress. His ''bypass Congress'' comment drew applause and chants of "Yes, You Can," a 2008 campaign slogan.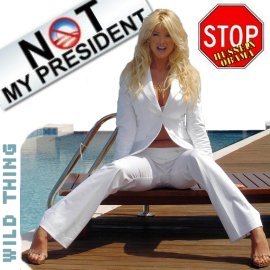 Wild Thing's comment........
This is what happens...we push this POS anti-American scum and he starts telling the truth of how he really wants to run the government. FUBO!

Anyone paying attention should be alarmed by a remark like this from a sitting president, especially out of the mouth of this marxist.
Posted by Wild Thing at July 25, 2011 02:55 PM
---
Comments
Isn't that a violation of his Oath of Office to support and defend the Constitution of the United States?
Posted by: BobF at July 25, 2011 06:19 PM
---
From now on Wild Thing refer to 'WE THE SOCIALISTS' ObaMAO as LAME DUCK... Finger lickin' good?
Lame Duck In Retreat... Stick a fork in him!
Posted by: darthcrUSAderworldtour07 at July 25, 2011 06:36 PM
---
...the "latinos" in the audience came from failed turd-world banana-republic hellholes where the "parliaments" were usually no more than rubber stamps for *THE*RULER* and after coming to the US of A -legally or illegally- the want to plant the seed of turd-world corruption in their new home. Obama (*THE*RULER*) makes them feel right at home....
Posted by: Willy at July 25, 2011 08:25 PM
---
Bob, yes and he just keeps getting away with whatever he does.
Posted by: Wild Thing at July 26, 2011 01:51 AM
---
Darth, yes stick a fork in him, that would be good.
Posted by: Wild Thing at July 26, 2011 01:53 AM
---
Willy, good point. It amazes me that when a person comes here from another country and then they want to vote for the kind of person that is so simliar from the country they realized they could not pursue their dream.
Posted by: Wild Thing at July 26, 2011 01:56 AM
---