« Former Democratic Sen.Tim Wirth Talks About Global Warming and Says To Have Aggressive Program To Go After Global Warming Deniers ~ Even Though NO Global Warming | Main | Michelle Obama: "Fortunately, We Have Help From The Media They Care About Children" ~ Wrong Michelle! Not If They Are Sarah Palin's! »
June 25, 2011
Soros Guietly Helped Elect 11 Progressive Dems As Secretaries of State To Oversee The Election ~ Worried His Obama Won't Win!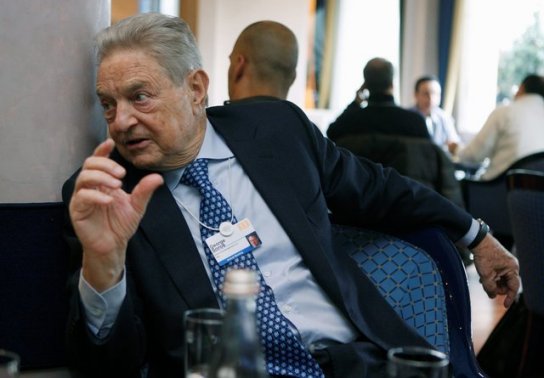 Billionaire hedge-fund operator George Soros is among wealthy liberal activists who have contributed to the Secretary of State Project, a 527 organization that works to put progressive Democrats in office overseeing elections in battleground states. (Associated Press)

A small tax-exempt political group with ties to wealthy liberals like billionaire financier George Soros has quietly helped elect 11 reform-minded progressive Democrats as secretaries of state to oversee the election process in battleground states and keep Republican "political operatives from deciding who can vote and how those votes are counted."
Known as the Secretary of State Project (SOSP), the organization was formed by liberal activists in 2006 to put Democrats in charge of state election offices, where key decisions often are made in close races on which ballots are counted and which are not.
The group's website said it wants to stop Republicans from "manipulating" election results.
"Any serious commitment to wresting control of the country from the Republican Party must include removing their political operatives from deciding who can vote and whose votes will count," the group said on its website, accusing some Republican secretaries of state of making "partisan decisions."

SOSP has sought donations by describing the contributions as a "modest political investment" to elect "clean candidates" to the secretary of state posts.

Named after Section 527 of the Internal Revenue Code, so-called 527 political groups — such as SOSP — have no upper limit on contributions and no restrictions on who may contribute in seeking to influence the selection, nomination, election, appointment or defeat of candidates to federal, state or local public office. They generally are not regulated by the Federal Election Commission (FEC), creating a soft-money loophole.
While FEC regulations limit individual donations to a maximum of $2,500 per candidate and $5,000 to a PAC, a number of 527 groups have poured tens of millions of unregulated dollars into various political efforts.
SOSP has backed 11 winning candidates in 18 races, including such key states as Ohio, Nevada, Iowa, New Mexico and Minnesota.
"Supporting secretary of state candidates with integrity is one of the most cost-efficient ways progressives can ensure they have a fair chance of winning elections," SOSP said on its website, adding that "a relatively small influx of money — often as little as $30,000 to $50,000 — can change the outcome of a race."

.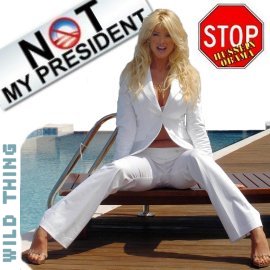 Wild Thing's comment........
There is NO question the man is a satanic demon. And his son Johnathan Soros seems to have carbon copy ideals.
I am so sick of these people and how they corrupt the election process.
Obama can't be re-elected legally, so the Democrats, Labor Unions, SOS, Acorn, etc., will do it by any means possible. Democrats have voter fraud down to a fine art.
Posted by Wild Thing at June 25, 2011 04:47 AM
---
Comments
George Soros is very close to where he wants to be. In control of the governing bodies of this Country at every level.
The quote, "wresting control from the Republican Party" is a very significant. In any movement that wishes to establish Socialism, there needs to be the establishment of one dominant party.
The thing about the election of Secretaries of State, in most cases they are lesser candidates that are swept in with whomever is at the top of the ticket. Most voters spend very little time, looking at the qualifications and motivations, of Secretary of State candidates, myself included.
The American voters are being manipulated, more and more and the tipping point is very close. 2012 is definitely going to determine which way the tip goes.
Let's all hope that the idiots that run the RNC don't push Huntsman, Romney or some other "moderate, go along to get along RINO", as there hope for winning.
Posted by: Sean at June 25, 2011 10:38 AM
---
Sean, you hit the nail on the head and it is chilling!!

"George Soros is very close to where he wants to be. In control of the governing bodies of this Country at every level."
Posted by: Wild Thing at June 25, 2011 06:08 PM
---
Do not bet that he is just after a Socialist America. The man as his father before him has made his money in currency speculation. The man has made billions enticing politicians to do stupid things and then trapping the countries' currency in bank runs that collapse the nation's economies. Back when Margaret Thatcher was Prime Minister he organized a bank run that came close to taking down the British Pound.
Wrecking the United States and leaving nothing but rubble could be his White Whale. I am sure Moby Dick did not know Captain Ahab, in large part because he is fiction, but we know George Soros and have a right to demand that something be done about America's enemies foreign and domestic.

Posted by: Avitar at June 26, 2011 11:09 PM
---