« Palin: Obama's 3 a.m. call went to answering machine | Main | Tribute to President Ronald Reagan to Air on Fox Just Before Super Bowl XLV »
February 06, 2011
Join Me As We Celebrate President Ronald Reagan's 100th Birthday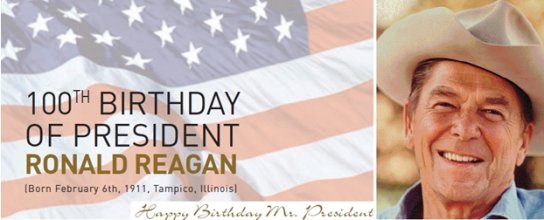 .
Today would have been President Ronald Reagan's 100th birthday. The Heritage Foundation put together this video to celebrate the life of Reagan: a "man of many talents and accomplishments," as well as his "sense of humor and contagious optimism."
.
Additionally, the Young America's Foundation (YAF) is honoring The Gipper in a new movie called "Still Point in a Turning World," produced and directed by Stephen K. Bannon. The preview is goosebump-inducing.
.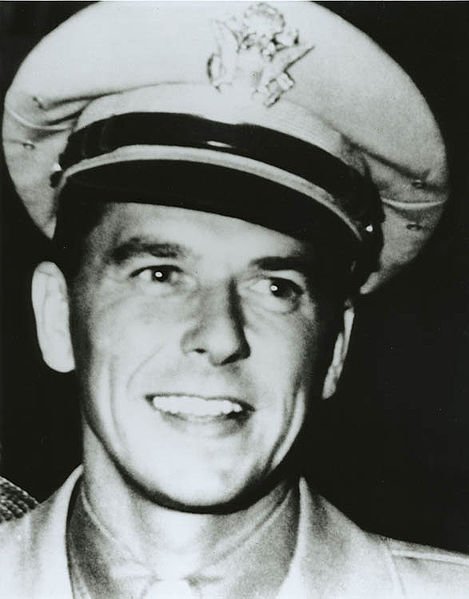 Ronald Reagan during his World War II service.
Ronald Wilson Reagan enrolled in a series of home-study Army Extension Courses on 18 March 1935. After completing 14 of the courses, he enlisted in the Army Enlisted Reserve on 29 April 1937, as a Private assigned to Troop B, 322nd Cavalry at Des Moines, Iowa. He was appointed Second Lieutenant in the Officers Reserve Corps of the Cavalry on 25 May 1937. On June 18 of that year Reagan, who had just moved to Los Angeles to begin his film career, accepted his Officer's Commission and was assigned to the 323rd Cavalry.
Lieutenant Reagan was ordered to active duty on 19 April 1942. Due to eyesight difficulties, he was classified for limited service only, which excluded him from serving overseas. His first assignment was at the San Francisco Port of Embarkation at Fort Mason, California, as liaison officer of the Port and Transportation Office. Upon the request of the Army Air Forces (AAF), he applied for a transfer from the Cavalry to the AAF on 15 May 1942; the transfer was approved on 9 June 1942. He was assigned to AAF Public Relations and subsequently to the 1st Motion Picture Unit in Culver City, California. Reagan was promoted to First Lieutenant on 14 January 1943 and was sent to the Provisional Task Force Show Unit of This Is The Army at Burbank, California. Following this duty, he returned to the 1st Motion Picture Unit, and on 22 July 1943 was promoted to Captain.
In January 1944, Captain Reagan was ordered to temporary duty in New York City to participate in the opening of the sixth War Loan Drive. He was assigned to the 18th AAF Base Unit, Culver City, California on 14 November 1944, where he remained until the end of the war. He was recommended for promotion to Major on 2 February 1945, but this recommendation was disapproved on July 17 of that year. On 8 September 1945, he was ordered to report to Fort MacArthur, California, where he was separated from active duty on 9 December 1945.

While on active duty with the 1st Motion Picture Unit and the 18th Army Air Forces Base Unit, Captain Reagan served as Personnel Officer, Post Adjutant, and Executive Officer. By the end of the war, his units had produced some 400 training films for the Army Air Forces.
Reagan's Reserve Commission automatically terminated on 1 April 1953.
.
Election night drama 1984
.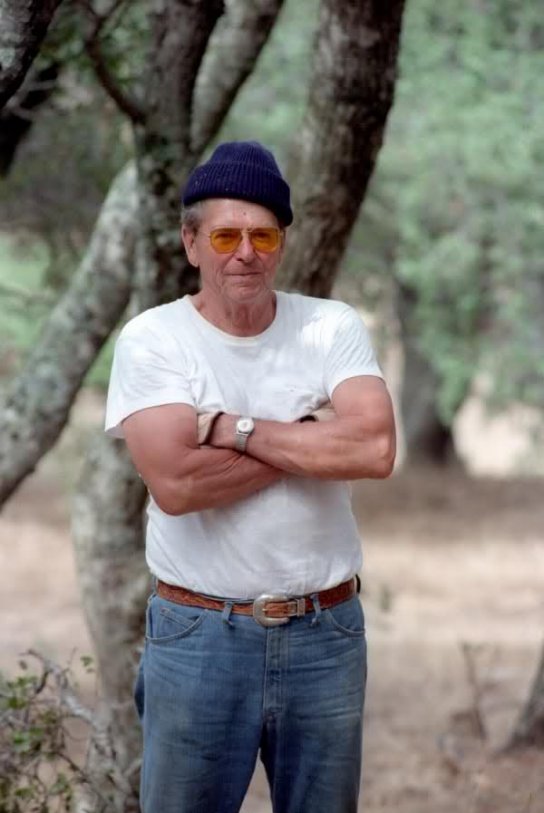 .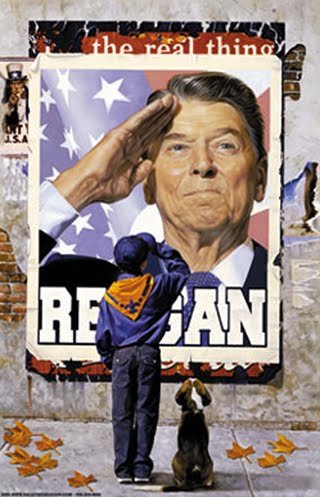 .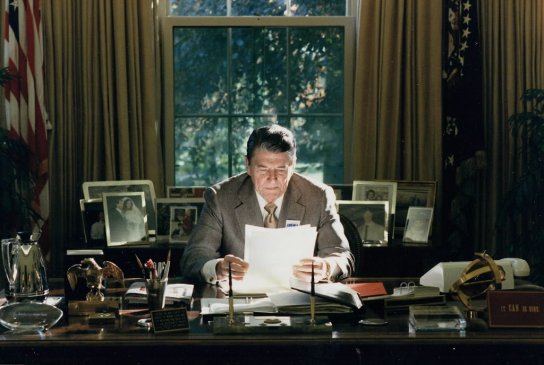 .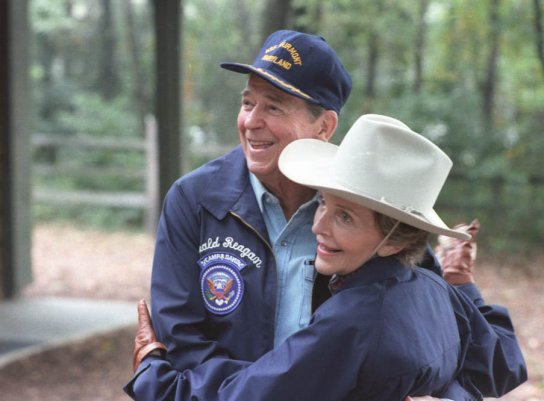 .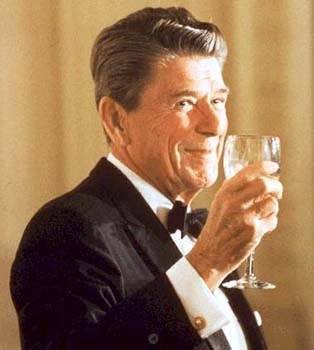 .

" We don't intend to turn the Republican Party over to the traitors in the battle just ended. We will have no more of those candidates who are pledged to the same goals as our opposition and who seek our support. Turning the Party over to the so-called moderates wouldn't make any sense at all." -- Ronald Reagan, 1965
"I don't think you can overstate the importance that the rise of Islamic fundamentalism will have to the rest of the world in the century ahead-especially if, as seems possible, its most fanatical elements get their hands on nuclear and chemical weapons and the means to deliver them against their enemies." --Ronald Reagan
"Freedom is never more than one generation away from extinction. We didn't pass it to our children in the bloodstream. It must be fought for, protected, and handed on for them to do the same, or one day we will spend our sunset years telling our children and our children's children what it was once like in the United States where men were free." President Ronald Reagan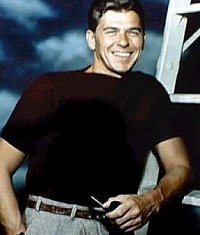 Wild Thing's comment........
Thank God for Ronald Reagan and his life and love for America and our troops. May his spirit guide America's path.
God blessed the USA with Reagan.

President Reagan was, by far, the best President of our lifetime.
This video below was done with Nancy Reagan doing the voice over. It is so good and I wanted to share it with you. It is VERY special.
Video from the awesome blog......No Sheeples Here

The President Who Stood By Our Side
Posted by Wild Thing at February 6, 2011 07:50 AM
---
Comments
Happy 100th Dutch and I hear that in heaven you're being roasted by Dean Martin, Frank Sinatra, Bob Hope, John Wayne and Rodney Dangerfield! The Gipper was AMERICA!!
Posted by: darthcrUSAderworldtour07 at February 6, 2011 08:53 AM
---
I was active duty when Ronald Reagan took office. After what our politicians did to our military during and after Vietnam and the Jimmy Carter years, military personnel didn't have the pride they once had. President Reagan made us proud again to wear the uniform of our nations Armed Forces. His utmost respect and deep devotion to the men and women in the military gave us pride and brought back the honorable tradition of serving in the military.
Posted by: BobF at February 6, 2011 08:56 AM
---
I am afraid to start writing on the subject of President Reagan. The reason being I do not have enough space to say all that I feel about him and the things that he accomplished during his Presidency.
Ronald Reagan through the force of his personal beliefs in the uniqueness of America's Government and it's people, took this country from one of it's lowest points in it's history, to a place where it once again was revered and repected as a true, "City on a Hill"
Our enemies and our allies knew about this man, before he was elected. A perfect example, being the fact that the hostages in Iran, were released, after over 400 days in captivity, immediately after he was sworn in as President.
I am fortunate enough to live within driving distance of the Reagan Library in Moorpark, California. When ever I go there, I feel a swelling of pride in beinag an American, just as I did during all the years of his Presidency.
Unfortunately I do not feel the same when witnessing what this Traitor in Chief, currently occupying the White House, is doing to our Freedoms and Our Country.
Posted by: Sean at February 6, 2011 11:11 AM
---
I am glad I got to live during the Reagan presidency. During my lifetime(1945- )there has only been one great president and that person was Ronald Reagan. He took us from the Carter "malaise", reminded us of America's greatness and exceptionalism and put us back in the mood of "can do". We are in dire need of another Reagan again.
Posted by: TomR, armed in Texas at February 6, 2011 11:12 AM
---
Posted by: Wild Thing at February 6, 2011 11:49 PM
---
Bob, thank you so much for sharing about that, how very special.
Posted by: Wild Thing at February 6, 2011 11:51 PM
---
Posted by: Wild Thing at February 6, 2011 11:52 PM
---
Tom, thanks you for sharing that. I am glad too that he was President in my lifetime. And I think it makes it even more noticable how bad what we have now in the WH is and his agenda being so bad.
Posted by: Wild Thing at February 6, 2011 11:57 PM
---
Wild Thing, and friends here together in Theodore's World, I'm sorry I'm late with my post on the Reagan Centennial yesterday as I describe further below. Here it is anyway:
Sunday, February 6, 2011.
Today is a very good day.
I could care less what this abomination we have in the White House now in 2011 has to say on this special day, the 100th birthday of Ronald Reagan. So I'd like to share a little about what happened on February 12, 1909, the 100th birthday of Abraham Lincoln and something about the president at that time.
In my den, I have an old black and white picture of President Teddy Roosevelt with flags and uniformed soldiers behind him all marching up the hill of Sinking Spring Farm in Hodgenville, Kentucky to a wooden log cabin on the site where Nancy Hanks Lincoln gave birth to her second child, Abraham Lincoln.
Having commissioned the first copper pennies with Lincoln's likeness, commemorating the Lincoln Centennial there on site in Kentucky, Teddy Roosevelt slapped the first trowel of mortar on the cornerstone of the temple Architect John Russell Pope would build to shelter the tiny log cabin. He spoke and compared Abraham Lincoln and George Washington, saying that each possessed "inflexible courage in adversity" and "the gentler virtues commonly exhibited by good men." Of Abraham Lincoln's virtues, the most important "was the extraordinary way in which Lincoln could fight valiantly against what he deemed wrong, and yet preserve undiminished his love and respect for the brother from whom he differed."
Two Februarys later, just North of this Kentucky site in neighboring Illinois, in a second floor flat above a shoe store in Tampico, Illinois, Nelle Wilson Reagan gave birth to her second son, Ronald Reagan.
George Washington showed America to the world. Abraham Lincoln showed Americans who we are. Ronald Reagan showed Americans what we can be.
More than any other, Reagan made us and the world believe that America was much more than a geographic place in the world, but a creed and a way of life, "a shining city on a hill" that is the last best hope for freedom in the world.
On this 100th anniversary of the birth of Ronald Reagan, it's unfortunate that so many simply were too young or not even alive to know just how tense the years of the Cold War with the Union of Soviet Socialist Republics were.
How behind the iron curtain in Easter Europe so many nations lived underneath Soviet domination with political prisoners sitting within gulags for years who heard for the first time a voice from America challenging the Russian Soviets and bringing them and their countries hope.
When nobody else on the left or even the right in America had the courage and gall not to easily tolerate and appease, but to bravely defy, defame and outright challenge. Ronald Reagan saw history's arrival. He like no other politician in the world saw what was happening in Moscow and took full measure of an adversary in Mikhail Gorbachev.
The history of the last century cannot be written without the two names of Ronald Reagan and Mikhail Gorbachev.
The Soviet Union did not collapse on its own as far too many revisionists claim today. As Great Britain's Margaret Thatcher said, "Ronald Reagan won the Cold War without firing a shot."
How did Reagan win the Cold War ? By clearing speaking truth to power and assembling a strategy of peace through strength against an "evil empire".
He deployed American Pershing medium-range missiles in Western Europe to counter balance Soviet SS-20's already deployed in Eastern Europe. He sought and imposed economic embargoes preventing construction of Russian Soviet oil pipelines to the West restricting the revenue of hard currency to the Soviets - all compelling Gorbachev to later negotiate from a position of weakness.
The Polish Solidarity labor movement within the iron curtain received secret funding from Washington. Anti communist guerrillas in Nicaragua, Angola, Afghanistan and Cambodia received aid as well. The small Caribbean island nation of Grenada was quickly liberated by swift military action by Ronald Reagan in 1983. He asserted American interests sending air force bombers against Libya after an attack on American soldiers in West Berlin and ordered naval escorts in the Persian Gulf to maintain the free flow of oil. This was all part of the Reagan Doctrine that brought retreat to the tyranny and expansionism of the Soviet Union and its subsequent defeat and demise.
If brutal and suppressive enough, tyrannies can endure indefinitely. Why did the Soviet empire collapse ? Because previously, there was no Western pressure against the Russian Soviets. It was the time of appeasement, detente and President Jimmy Carter speaking of American malaise while the Russian Soviets were on the march all over the world with their relentless expansionism.
The American people had the good sense to elect Ronald Reagan in 1980 whose decisiveness and leadership would with time come to liberate millions the world over. His American life was as if one prepared for destiny.
Ronald Reagan was born in midwest America during a time of gas lights and horse drawn carriages most of us can only read about and imagine. Paying for college by washing dishes, he was elected his student body president at Eureka College where he studied economics and sociology, played on the football team, and acted in school plays.
As a Rock River lifeguard he developed a vigilant and watchful eye for danger. He developed his expressive narrative skills as a sports radio broadcaster showing others, well before there was any television, to see things as he saw them, which ultimately led to his career as a film actor and to national fame appearing in 53 films. He was elected president of Hollywood's Screen Actors Guild. He further refined his communicating skills as a traveling spokesman and pitchman for General Electric visiting its plants across America and speaking with reassuring cheerful confidence.
In his 50's, he then decided to enter politics becoming a Republican, supporting Barry Goldwater in 1964, and later serving as governor of California for eight years.


After two unsuccessful attempts to win his party's nomination, Ronald Reagan never gave up. He finally won the presidency the United States at the age of 69 in 1980, and again four years later in the greatest landslide ever. The rest is history of course. Today's reverence for his exemplary life is well deserved as it was a class act in his role of a lifetime, and as in the title of his autobiography, An American Life.
Yes, today, Sunday February 6, 2011, is a very good day.
A century later, here's something special as well:
There are so many speeches with which to quote, listen and learn from Ronald Reagan. Here's part of a favorite and the last speech he made publicly on the occasion of his 83rd birthday:
"They're trying to dress their liberal agenda in a conservative overcoat. After watching the State of the Union address the other night, I'm reminded of the old adage that imitation is the sincerest form of flattery. Only in this case, it's not flattery, but grand larceny -- the intellectual theft of ideas that you and I recognize as our own. Speech delivery counts for little on the world stage unless you have convictions and, yes, the vision to see beyond the front row seats. The Democrats may remember their lines, but how quickly they forget the lessons of the past.
I have witnessed five major wars in my lifetime, and I know how swiftly storm clouds can gather on a peaceful horizon. The next time a Saddam Hussein takes over Kuwait, or North Korea brandishes a nuclear weapon, will we be ready to respond? In the end, it all comes down to leadership. And that is what this country is looking for now.
It was leadership here at home that gave us strong American influence abroad and the collapse of imperial communism. Great nations have responsibilities to lead and we should always be cautious of those who would lower our profile because they might just wind up lowering our flag.
I don't think an event of this kind would be complete without something that you probably got used to during my days in Washington: one of my stories. It's a story about a woman who walked into a bridal shop one day and told the sales clerk that she was looking for a wedding gown for her fourth wedding.
Well the saleswoman asked, "Just exactly what type of dress are you looking for?"
"A long, flowing white dress with a veil," she responded with assurance.
Not totally convinced, but afraid to offend the woman, the sales lady said, "You know, dresses of that nature are usually more appropriate for brides who are being married for the first time -- for those a bit more innocent, if you know what I mean."
Well the lady retorted and put her hand on her hip, "I do know what you mean and I can assure you I'm as innocent as the rest of them, despite all of my marriages. I remain as innocent as any first-time bride. You see my husband was a dear, sweet man. It was a terrible tragedy, actually. All of the excitement of the wedding was simply too much for him and he died as we checked into the hotel on our wedding night."
"I'm sorry to hear that," said the clerk, "but what about the others?"
"Well my second husband and I got into a terrible fight in the limousine on the way to our wedding reception. We haven't spoken since -- and got the marriage quickly annulled."
"What about your third husband?" asked the store clerk.
"Well," the woman replied, "he was a Democrat and every night for four years he just sat on the edge of the bed and told me how good it was going to be."
Here in full is Ronald Reagan seated next to Margaret Thatcher. Click to listen, and read along below as he speaks to us for the last time in February 1994 before his announcement that he had Alzheimer's Disease later that same year:
http://www.americanrhetoric.com/speeches/ronaldreagan83rdbirthday.htm
I'm sorry Wild Thing and my friends here at Theodore's World, but I'm traveling on my way to Washington for this year's American Conservative Union CPAC convention later this week and could not get to a working computer to post this earlier. I attended a live concert performance of the Irish musical ensemble Celtic Woman on this very special day and so my writing here is a little late.
We all saw and learned so much from Ronald Reagan's Irish eyes, here's something that would have pleased his eyes and ears:
http://www.youtube.com/watch?v=DquA6KyHTos
http://www.youtube.com/watch?v=v28is4jFWeo
The stars and stripes forever !

Posted by: Carlos at February 7, 2011 04:40 PM
---
@Wild Thing,
I just wanted to thank you for your kind words about the video tribute I created to honor President Reagan. I miss him still.
The honor of having my work embedded on your site goes beyond words.
Heaven is Reagan Country now.
Posted by: No Sheeples Here at February 8, 2011 05:07 AM
---
Hi No Sheeples Here, oh wow thank you so much. I wanted to trackback but could not figure out how to do it with the links I saw at your blog. I put a link in the post. Thank you so much for the video it is the best of all of them. Thank you too for your blog it is so fantastic.
Posted by: Wild Thing at February 8, 2011 05:42 AM
---