« Marine Lance Corporal James Blake Miller | Main | Senator Marco Rubio ( R. FL) on the State of the Union Address »
January 24, 2011
Pvt Barney Hajiro, Oldest Living Medal of Honor Recipient Dies in Hawaii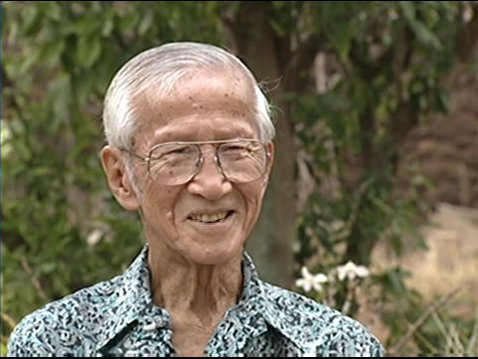 Hajiro was born in Hawaii, the second of nine children born to Japanese immigrant parents who had moved from Hiroshima to Maui during World War I. Two of his siblings died in infancy. The family was poor, and Hajiro left school to work, first in the sugarcane fields of Maui and later as a stevedore in Honolulu. Shortly after the Japanese attack on Pearl Harbor, he was drafted into the U.S. Army and performed menial labor as part of an engineering battalion.
In March 1943, he volunteered to join the newly-formed 442nd Regimental Combat Team, composed of Nisei (second-generation Japanese Americans) like himself.
Oldest living Medal of Honor recipient dies in Hawaii
Hawaii is mourning the loss of World War II veteran Barney Hajiro. The Oahu man was the oldest living Medal of Honor recipient in America.
"He wants to be remembered as a simple person," said son Glenn Hajiro.

Barney Hajiro, 94, served in the Army's famed 442nd Regimental Combat Team. He single-handedly destroyed two German machine gun nests during the rescue of the "Lost Battalion" in France. He was shot in the cheek, shoulder and wrist, leaving his left arm paralyzed.
"There were snipers, lot of shooting, and people were saying it's going to be suicide, but he said he had a duty to do," recalled Glenn Hajiro.
More than half a century after the bloody battle, President Bill Clinton presented the Medal of Honor to the Nisei veteran in 2000.
"He said he was a little bit excited and he was proud to receive the medal for the boys. He said, 'It's not for me. It's for the boys.' He would always say that," said Glenn Hajiro.
Glenn Hajiro was by his father's side for the final moments on Friday morning.
"His dream was to be a track star, but he only went to the 8th grade. He never got to do his thing, so I told him, on his death bed, to run," said Hajiro's son.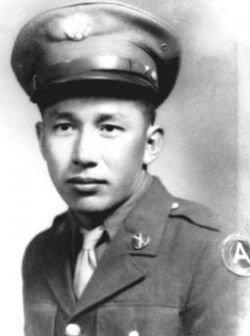 In addition to his Medal of Honor he was also awarded the British Military Medal and the French Legion d'honneur. He was drafted then in March of 1943 he volunteered for the 442nd Regimental Combat Team. The 442nd went on to become the highest decorated unit in the history of our armed forces. Please take a moment to read the citation of a hero.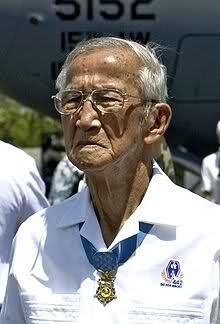 Citation
Private Barney F. Hajiro distinguished himself by extraordinary heroism in action on 19, 22, and 29 October 1944, in the vicinity of Bruyeres and Biffontaine, eastern France.
Private Hajiro, while acting as a sentry on top of an embankment on 19 October 1944, in the vicinity of Bruyeres, France, rendered assistance to allied troops attacking a house 200 yards away by exposing himself to enemy fire and directing fire at an enemy strong point. He assisted the unit on his right by firing his automatic rifle and killing or wounding two enemy snipers.

On 22 October 1944, he and one comrade took up an outpost security position about 50 yards to the right front of their platoon, concealed themselves, and ambushed an 18-man, heavily armed, enemy patrol, killing two, wounding one, and taking the remainder as prisoners.

On 29 October 1944, in a wooded area in the vicinity of Biffontaine, France, Private Hajiro initiated an attack up the slope of a hill referred to as "Suicide Hill" by running forward approximately 100 yards under fire. He then advanced ahead of his comrades about 10 yards, drawing fire and spotting camouflaged machine gun nests. He fearlessly met fire with fire and single-handedly destroyed two machine gun nests and killed two enemy snipers.

As a result of Private Hajiro's heroic actions, the attack was successful. Private Hajiro's extraordinary heroism and devotion to duty are in keeping with the highest traditions of military service and reflect great credit upon him, his unit, and the United States Army.
.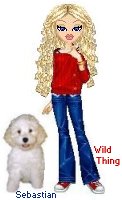 Wild Thing's comment.......
Scouts Out! Cavalry Ho! Rest Well Sir. Thank you.
Soldiers of the 442nd RCT received 21 Medals of Honor.
Posted by Wild Thing at January 24, 2011 06:45 AM
---
Comments
Not many left MOH or otherwise from WWII. God rest his soul.
Posted by: Jack at January 24, 2011 04:13 PM
---
Jack, they are leaving us sooner now, so sad.
Posted by: Wild Thing at January 25, 2011 12:49 AM
---