« R. Lee Ermey Apologizes For Obama 'socialism' Comment | Main | Tribute To Some Of Our Vietnam Veterans »
January 11, 2011
Maj. Richard "Dick" Winters WW11 'Band of Brothers" War Hero Dies At 92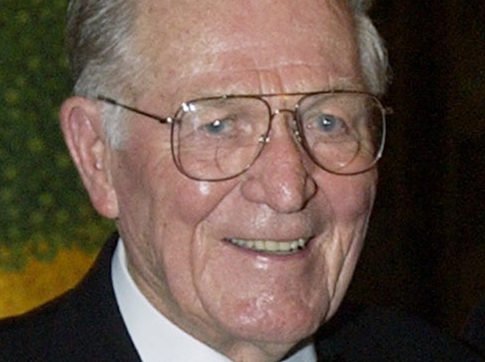 Maj. Richard "Dick" Winters in 2002. The story of Winters leading Easy Company during World War II were chronicled in the book and miniseries, "Band of Brothers."
.

Richard 'Dick' Winters, whose WWII heroics were immortalized in 'Band of Brothers,' is dead at 92

Richard (Dick) Winters, the Army commander whose heroism during World War II was immortalized in the book and television miniseries "Band of Brothers," died last week in central Pennsylvania. He was 92.
An intensely private man, Winters had instructed loved ones not to release news of his death until after his funeral. He died on Jan. 2 from complications of Parkinson's disease, his family said.
The story of Winters and other members of Company E, 506th Regiment, 101st Airborne Division, known as Easy Company, was chronicled in a book by Stephen Ambrose and later the 10-part miniseries on HBO.
English actor Damian Lewis portrayed Winters as a strong, humble leader who guided his men through the European theater of the war after parachuting into Normandy on D-Day.
Winters also led his men through a grueling wintertime standoff during the Battle of the Bulge and was eventually promoted to the rank of major.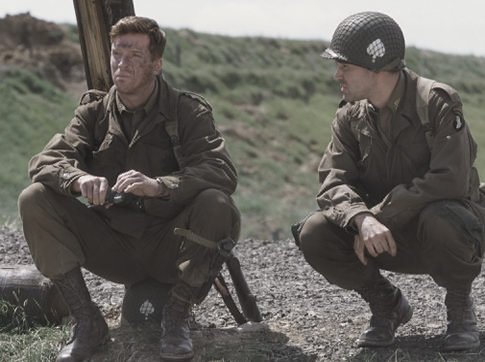 Winters was potrayed in the HBO series by actor Damian Lewis, left. (HBO)
.
After the war, he trained infantry and Army Rangers at Fort Dix in New Jersey before starting a company that sold livestock feed to farmers and settling into a quiet life on a farm in Hershey, Pa.
The men of Easy Company expressed their admiration for their company commander after learning of his death.
William Guarnere, 88, said what he remembers about Winters was "great leadership."
"When he said 'Let's go,' he was right in the front," Guarnere, who was called "Wild Bill" by his comrades, said. "He was never in the back. A leader personified."
"He was a good man, a very good man," Guarnere added. "I would follow him to hell and back. So would the men from E Company."
Another member of the unit living in Philadelphia, Edward Heffron, 87, said he got choked up thinking of his former commander.
"He was one hell of a guy, one of the greatest soldiers I was ever under," said Heffron, who was nicknamed Babe. "He was a wonderful officer, a wonderful leader. He had what you needed, guts and brains. He took care of his men, that's very important."
The television series was nominated for 19 Emmy awards, and Winters published a memoir about his experiences in the war in 2006 called "Beyond Band of Brothers."
Writing about leadership to American History magazine in 2004, Winters said, "If you can, find that peace within yourself, that peace and quiet and confidence that you can pass on to others, so that they know that you are honest and you are fair and will help them, no matter what, when the chips are down."

Tom Hanks, who produced 'Band of Brothers,' with Winters at the Emmy awards in 2002.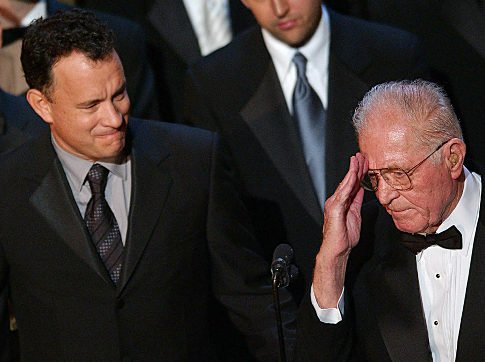 .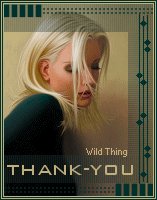 Wild Thing's comment.......

Such an admirable man. Rest in peace. Prayers for Major Winters family.
It is so sad, they are leaving us one by one.

I'll never forget him saying this on TV: " by grandson asked me if I was a "hero" in the war........
Major Richard D. Winters speaks of his Company of Heroes.

....Thank you Tom for sending this to me.


Tom
US Army Aviation
Vietnam 1966-68
US Army Special Forces
1970-72



.
We will Never Forget the sacrifices and price that has been paid for our freedom and the fight that was fought for others to be free! ~ Wild Thing
Band of brothers- Requiem for a soldier

Posted by Wild Thing at January 11, 2011 06:50 AM
---
Comments
Dick Winters represents the men who fought for America in WWII. His passing represents the passing of that great generation. There are few left now out of the many. Soon they will be only memories. I miss them.
Posted by: TomR,armed in Texas at January 11, 2011 10:22 AM
---
They are called THE GREATEST GENERATION for a reason...They defeated the Nazis and Japs and Italian fascists in four years resulting in UNCONDITIONAL SURRENDERS!
Posted by: darthcrUSAderworldtour07 at January 11, 2011 11:55 AM
---
Posted by: BobF at January 11, 2011 12:08 PM
---
Yup the last generation to be allowed to officially win a War. They will be missed indeed.
Posted by: Mark at January 11, 2011 12:57 PM
---
Thank you Tom, Darth, Bob and Mark.
Posted by: Wild Thing at January 12, 2011 03:27 AM
---
Friend, this was a mans man. I hold him in the utmost regard. If were not for him and many men and women like him we could not live free as we do. God rest him and take care of his soul.
Posted by: Randy Arnold at January 12, 2011 09:45 AM
---