« Merry Christmas To Our Troops and A Soldiers Silent Night | Main | OMG ~ God Help Us From Gays In The USMC »
December 24, 2010
General Says Muslim 'moderates' Plot Undoing of America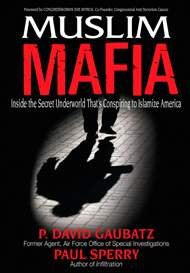 General:Muslim 'moderates' plot undoing of America
Praises daring investigation exposing 'terrorists with neckties' in D.C.
It's one of the most controversial and electrifying books of our time – recently praised publicly by a top U.S. general as the book to read on the radical Islamic threat within America – and today only, WND readers can get "Muslim Mafia: Inside the Secret Underworld That's Conspiring to Islamize America" for only $4.95 – a $21 discount off the regular price!
Based on an audacious six-month undercover operation in which three young investigators pretended to convert to Islam and became interns at the notorious Council on American-Islamic Relations, "Muslim Mafia" exposes the vast but little-reported subversion of America by the dangerous Muslim Brotherhood – parent organization of al-Qaida, Hamas and other front-line terror groups.
The book's frightening allegations are well supported by more than 12,000 pages of confidential, internal CAIR documents secretly extracted during the unprecedented undercover investigation.
Recently, retired Lt. Gen. William G. Boykin, former U.S. deputy undersecretary of defense for intelligence, made an impassioned plea for Americans to learn about the inner workings of stealth jihadists by reading "Muslim Mafia."
"There's a recent book that came out called 'Muslim Mafia,'" said Boykin at a major Christian conference. "Have any of you read this? Have any of you ever seen it? I encourage you to get this book – 'Muslim Mafia.' … This book will scare you. This book will open your eyes. This book will shake you. What this book says is frightening."
VIDEO......Watch Gen. Boykin describe "Muslim Mafia"

In "Muslim Mafia," follow co-author Dave Gaubatz's son Chris as he courageously gains the trust of CAIR's inner sanctum, working undercover as a converted and devoted follower of the Muslim religion.
The trail of information reveals the insidious and well-funded efforts of the seditious Muslim Brotherhood under the nonprofit guise of CAIR to fully support the international jihad against the United States, with the goal of transforming American society from within. They hope to accomplish this through terrorist activities, fraud, and infiltration of our political and intelligence systems, which these documents clearly reveal.
.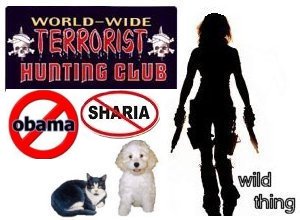 Wild Thing's comment........

It shocks me how many people want to ignore what followers of Islam are donig in our country. One day they will be saying, when did this all happen, and we will tell them we tried to wake you up but you wanted to be PC.
"In the wake of 9/11, my meetings with Arab and Pakistani Americans, for example, have a more urgent quality, for the stories of detentions and FBI questioning and hard stares from neighbors have shaken their sense of security and belonging. They have been reminded that the history of immigration in this country has a dark underbelly; they need specific reassurances that their citizenship really means something, that America has learned the right lessons from the Japanese internments during World War II, and that I will stand with them should the political winds shift in an ugly direction." ~ Barack Hussein Obama

....Thank you Mark for sending this to me.

Mark
3rd Mar.Div. 1st Battalion 9th Marine Regiment
1/9 Marines aka The Walking Dead
VN 66-67


Posted by Wild Thing at December 24, 2010 04:45 AM
---
Comments
I think most muslims in America are, at the least, passive supporters of sharia law and holy jihad. I believe their mosques and muslim organizations are active supporters. Some day the crap will hit the rotating device and we citizens will be front line troops.
Posted by: TomR,armed in Texas at December 24, 2010 11:04 AM
---
Sorta looks like thats the way it's going Tom. We the People are not doing enough. We have been in a daze for two years, most of us though have bee in a stupor from the hangover of realizing a communist was elected president. Now are waking up and hopefully it doesn't get that far but I don't know and not knowing is the worst part.
Posted by: Mark at December 24, 2010 06:52 PM
---
Tom, I agree so much. The investigation by King is going to be so important, I just hope he stays strong and gets others on board that feel the same way about investigating.

Mark, I think so too. Too many won't say the truth about the danger involved for our country.
Posted by: Wild Thing at December 25, 2010 12:05 AM
---