« Putting the Power Back in The Hands Of We The People | Main | Poll: Most Want Obama Fired In 2012 ~ Epic Buyer's Remorse!! »
October 29, 2010
Bill Clinton Throws Senatorial Candidate Kendrick Meek Under Bus!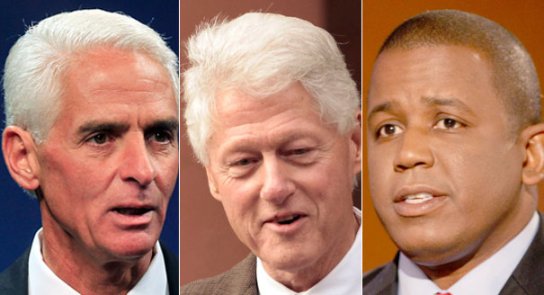 Bill Clinton urged black senatorial candidate Kendrick Meek to leave the race in Florida

The Politico via Drudge:
Bill Clinton sought to persuade Rep. Kendrick Meek to drop out of the race for Senate during a trip to Florida last week — and nearly succeeded.
Meek agreed — twice — to drop out and endorse Gov. Charlie Crist's independent bid in a last-ditch effort to stop Marco Rubio, the Republican nominee who stands on the cusp of national stardom.
Meek, a staunch Clinton ally from Miami, has failed to broaden his appeal around the state and is mired in third place in most public polls, with a survey today showing him with just 15 percent of the vote. His withdrawal, polls suggest, would throw core Democratic voters to the moderate governor, rocking a complicated three-way contest and likely throwing the election to Crist.
The former president's top aide, Doug Band, initially served as the intermediary between Meek and Crist, and Clinton became involved only when Meek signaled that he would seriously consider the option, Clinton spokesman Matt McKenna confirmed to POLITICO.
"The argument was: 'You can be a hero here. You can stop him, you can change this race in one swoop,'" said another Democrat familiar with the conversations, who said Clinton had bluntly told Meek that he couldn't win the race.

Crist also confirmed the planned scenario Thursday night, telling MSNBC's Keith Olbermann: "I had numerous phone calls with people very close to President Clinton."

And Clinton himself described the conversations in an interview with CNN.
"He was trying to determine what was the best thing for him to do," Clinton said, adding that Meek was simply too short on cash to break through. "I knew it was being discussed, people had discussed it on and off… it was no secret."
"He was trying to think about what was the best thing for Florida," Clinton said.

In a press conference, Meek issued a calibrated denial, taking issue with the statements by Crist and Clinton's spokesman.
"Any rumor or any statement from anyone that says I made a decision to get out of the race is inaccurate at best," Meek said. "There was never a deal."
Meek conceded that Clinton had asked him about reports that he was going to drop out, but suggested that he'd quickly ended the conversation, and he stressed that he had never actually decided to drop out.
Clinton did not dangle a job in front of Meek, who gave up a safe House seat to run for the Senate, but instead made the case that the move would advance the congressman's future prospects, said a third Democrat familiar with the conversations.
Clinton campaigned with Meek in Florida on Oct. 19 and 20, and thought he had won Meek over. But as the week wore on, Meek lost his enthusiasm for the arrangement, spurred in part, a third Democratic source said, by his wife's belief that he could still win the race. Clinton spoke with Meek again at week's end, three Democrats said, and again Meek said he would drop out.
"It was a completely done deal," one source said.
The Crist, Meek and Clinton camps even set a date for an endorsement rally: the following Tuesday, Oct. 26. Meek was to give Crist his blessing and explain to his disappointed supporters — many of whom deeply distrust the governor, who was elected as a Republican — that their votes could save the Senate for the Democrats and save America from the rise of Rubio, who is viewed both as a hard-line conservative and a potential national figure.
The White House, Democrats said, had knowledge of the plans and viewed them as a path to capturing the Senate seat, but did not initiate the talks.

Last weekend, however, Meek changed his mind.
"Not being seen as a quitter was more important than stopping someone who was so opposed to what you and your party had stood for," said one Democrat who had been hoping to close the deal.

In an appearance on CNN Thursday night, Meek specifically denied that any joint rally had been planned. Going even farther than his boss, Meek campaign manager Abe Dyk vehemently denied the entire sequence of events described by Clinton's aide and other Democrats.
"Kendrick Meek was not ever dropping out of this race and will not ever drop out of this race," Dyk said. "He's going to stand up for the middle class as opposed to his two lifelong Republican opponents who always stand with the special interests."
White House officials did not respond immediately to questions about the plans. But in an appearance on Fox News, Crist said he had discussions with "several people" at the White House subsequent to the implosion of the Clinton-Meek scheme. "There were several people that I spoke with," Crist said, declining to give specifics.
"Our only focus is on uniting common-sense Democrats, independents and Republicans behind Charlie Crist because he's the only candidate who can defeat tea party extremist Marco Rubio," Crist spokesman Danny Kanner said.

Rubio and his allies jumped on the news.
"Charlie Crist truly will say and do anything to get elected and hold on to power. Secret deals to trade away principles for power is already the problem in Washington, it's not the solution," said a top Rubio aide, Todd Harris.

Harris noted that no recent public polling has shown Crist beating Rubio in a two-man race, but also released internal polling data aimed at keeping Meek's hope alive: "As of yesterday, in our internal tracking showed Crist and Meek in a statistical dead heat. Among those who have already voted, our internal polling actually shows Meek beating Crist 28% to 24%."
But with Meek widely viewed as dead in the water, the real danger to Democrats in Florida may be that the news of Clinton's gambit will discourage black voters from participating in the election at all, a danger to gubernatorial candidate Alex Sink, locked in a tight race with health care executive Rick Scott.
And Republican National Committee Chairman Michael Steele poked directly at that Democratic vulnerability in a statement Thursday evening.
"President Clinton's actions to have Kendrick Meek withdraw from the campaign sends a chilling signal to all voters, but especially African Americans," Steele. "One can only imagine the response if Republican leadership tried to force out of the race – in the 11th hour – a qualified black candidate like Kendrick Meek."
.
Governor Charlie Crist (R?-FL) told Greta Van Susteren that he spoke to "several people" at the White House subsequent to conversations with the Clinton team. Crist added that he spoke with them about pushing black democrat Kendrick Meek to "do what's right" and withdraw from the Florida senate race.
Charlie Crist: I Spoke With Clinton Team & White House About Meek Withdrawing From Race
.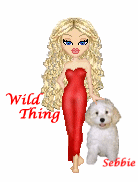 Wild Thing's comment.......

Wow what drama. hahaha
Anyone else notice how when either of the Clinton's are involved in something there is always drama and corruption too of course.

Bill Clinton to Meek: Get to the back of the Bus. I wonder if it was asked by Obama for him to do this or if Bill Clinton did it to get back at Obama.
This is how bad the Democrats want to beat Rubio. They do not want Rubio to win this seat. My guess is Crist leaked the story, I would not put anything past that horrible person.
Seriously, if I were Meek... I'd be mad as hell that I had to make way for a political opportunist like Crist.
It seems Meek actually went along with the idea, then changed his mind.
Besides being a liar (Democrat) Meek actually comes across as likable & intelligent until you really listen to what he is saying.
Crist is a leftist homosexual trial lawyer, the lowest form of scum on several levels.
Bubba's doing Obama's dirty work again....last time Sestak, in which Clinton denied doing anything. This time desperation requires expediency, so just do it in the open ...(the media will protect them)
Posted by Wild Thing at October 29, 2010 04:50 AM
---
Comments
Didn't Meeks tell Clinton to stick it. This has got to sour some more Crist supporters. What a bunch of shady characters. They have no character what ever.
Posted by: Mark at October 29, 2010 08:58 AM
---
Crist appears to be the shadiest shyster politician since LBJ. He and Bill Clinton are trying to play Meeks like a one string banjo. I hope this ploy backfires on Crist.
Posted by: TomR, armed in Texas at October 29, 2010 09:40 AM
---
The White guy (Clinton) tells the Black guy (Meek) to drop out of the race so that the White guy (Crist) can beat the Hispanic guy (Rubio.
Interesting how Democrats are able to convince minorities that they're the party that sticks up for them. One of these days Blacks and Hispanics will open their eyes.
Posted by: BobF at October 29, 2010 11:52 AM
---
Over educated white southern dumbass rears his ugly head again.
Billy is actually setting the stage for the Hildabeast to make a run at the WH in 12. The taste of power is hard to get rid of with him.
But with the proverbial cow flop hitting the fan on the news about tossing a fellow democrat and "oppressed" minority under the bus, things could get a tad interesting. And always keep in mind that the Dems are the party that is so helpful in minorites getting ahead. Yeah. Right. It is nothing more than an attempt to rig the election so the party in the majority stays in complete control, permanently.
Posted by: Glenn Mark Cassel AMH1(AW) USN Ret. at October 29, 2010 12:16 PM
---
Posted by: BobF at October 29, 2010 02:48 PM
---
This is the same thing Clinton did to Sestak, while subbing for Maobama. These two are two of the dirtiest people I have even seen.
Posted by: Mark at October 29, 2010 04:01 PM
---
The turncoat self serving Governor of Florida with no convictions is the spoiler candidate that should have been persuaded to drop out.
This is so revealing and full proof of there being no loyalties within the Democrat Party or of being within the shady Clinton camp of deceit where you can be dropped at any moment for political expediency. -Revealing and simply amazing. These are not public servants, but a haven for the self serving, the treacherous and the dishonest; low life's pretending to be otherwise. Why be a part of a group like that or vote for one ?
This all plays well for Republican Rubio who merely has to take the high (and now easy) road right into the U.S. Senate come next week.
Remember the name Marco Antonio Rubio of West Miami, Florida.
Posted by: Carlos at October 29, 2010 06:19 PM
---
Great input thank you all so much.
I am so grateful that we have Marco Rubio to vote for.
Bob, thank you for the link.
Posted by: Wild Thing at October 29, 2010 11:58 PM
---