« Barack and Michelle's Mumbai, India Trip Will Be 45-Car Convoy, 700 Hotel Rooms, 2 Jumbo Jets | Main | Barack Hussein Obama.......The Socialist »
October 25, 2010
Bill Clinton Speaks To Only Half Full Gym in Detroit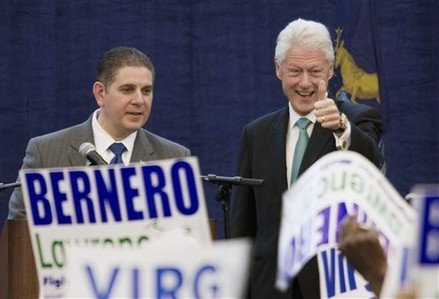 Clinton: Democrats must make strong showing at Nov. polls
From The Detroit News: http://detnews.com/article/20101024/POLITICS02/10240315/Clinton--Democrats-must-make-strong-showing-at-Nov.-polls#ixzz13L7nwryU

The U.S. is on its way to financial recovery but Democrats must show up at the polls Nov. 2 to prevent further economic strife, former president Bill Clinton told a rally in Detroit today.
Clinton said the GOP is motivating voters by blaming Democrats for a recession he said was brought about by the Bush administration. Republicans say "we gave them 21 months to dig out of this hole we dug," Clinton said at Renaissance High School on the west side.
Clinton told about 500 people at Detroit's Renaissance High School that Bernero was the only candidate with an economic plan to turn around Michigan's battered economy, and he mocked Snyder's platform as empty "mom and apple pie" rhetoric.
"We're not out of the hole because it was a very deep hole," Clinton said. "Don't shoot yourself in the foot."

Clinton, who campaigned in the battleground state of Florida earlier this week, is popular in Detroit and trying to fire up the party base in Michigan today with stops today in Detroit, Ann Arbor and Battle Creek.
But he began his speech just before 3 p.m. in a high school gym that was less than half full. The appearance was in support of gubernatorial candidate Virg Bernero, shown in most polls to be trailing Republican candidate Rick Snyder by 20 percentage points.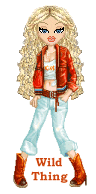 Wild Thing's comment........

This might be an indication of how the turnout will be at the polls with the dems. We shall see.
Posted by Wild Thing at October 25, 2010 02:45 AM
---
Comments
People are fleeing Detroit in record numbers (and moving to the suburbs here) because there's no work and no hope in the community after years of Democrat-run government mismanagement. The city council is more corrupt than you can imagine and the unions run the show. Detroit is a snap-shot of what the country will resemble if we continue with the Obama-model of socialism and corruption.
Posted by: petesuj at October 25, 2010 08:40 AM
---
It's amazing how they're bringing out Bill Clinton to rescue the Democrats. People have forgotten what Bill Clinton was all about but then, that's easy to do since next to Obama, even Conservatives would rather have Clinton.
Although I don't like the Clinton's, I do believe they do love this nation where Obama doesn't.
Posted by: BobF at October 25, 2010 09:51 AM
---
obama dreams of an America full of Democrat run cities like Detroit.
Posted by: TomR, armed in Texas at October 25, 2010 10:08 AM
---
Pete thank you for sharing about what is going on there.

Bob, yes they do just that pull him out to try and help and then forget or expect people to forget what he and Hillary did.
Tom, he sure does. augh!
Posted by: Wild Thing at October 26, 2010 02:20 AM
---