« Yes Obama Went To Church Last Sunday BUT To Hear A MUSLM Speaker! | Main | Harry Reid and Blanche Lincoln Vote "NO" on Cloture for Defense Bill »
September 21, 2010
STOP The Vote TODAY On The DREAM Act ~Inside Defense Authorization Bill,Senate Vote scheduled 2:15pm
Taken from the presidential campaign videos:
One last point I want to make on the immigration issue because we may be moving to different topics: Something that we can do immediately that I think is very important is to pass the Dream Act, which allows children who through no fault of their own are here but have essentially grown up as Americans, allow them the opportunity for higher education...said Obama.

.
The open-borders lobby is out in full force to get the illegal alien student bailout passed.

Vote Scheduled for 2:15 TODAY
Harry Reid, "I heart undocumented Americans" Reid has announced he'll attach a DREAM Act amendment to the defense appropriations bill:
Defense Authorization bill will address the DREAM Act and discrimination in the military (Sen. Harry Reid)
This work period, the Senate will consider the Defense Authorization bill. Along with critical support for our national security forces around the world, this legislation will address two other important issues that are long overdue.
Passage of this bill would overturn the 'Don't Ask, Don't Tell' rule for our armed forces. We will finally send a loud and clear message that everyone who steps up to serve our country should and will be welcomed regardless of sexual orientation.
We are also offering an amendment to pass the DREAM Act. This amendment will ensure that millions of children who grow up as Americans will be able to get the education they need to contribute to our economy. Students who come to America before age 16 and who have been here for five years should be able get their green card after they go to college or serve in the military. And many who have volunteered to defend our country can finally become citizens of it.
.

The NYT Monday morning pleads with the McCain/Soros Republican wing of the party to come back to the DREAM Act fold. Alinsky's avenging angels are pounding the pavement, staging rowdy sit-ins, and shutting down traffic to get what they want.
As the Socialist Worker Online puts it: They are "undocumented and unafraid."
Via Roy Beck at NumbersUSA, here's a handy phone list of Senate fence-sitters, flip-floppers, and feckless sellouts.
DEMOCRATS ON THE FENCE WHO ARE GOOD PROSPECTS
Sen. Pryor of Arkansas 202-224-2353, 501-324-6336
Sen. Landrieu of Louisiana 202-224-5824, 225-389-0395
Sen. Stabenow of Michigan 202-224-4822, 313-961-4330
Sen. McCaskill of Missouri 202-224-6154, 314-367-1364
Sen. Baucus of Montana 202-224-2651, 406-657-6790
Sen. Tester of Montana 202-224-2644, 406-449-5401
Sen. Conrad of North Dakota 202-224-2043, 701-258-4648
Sen. Dorgan of North Dakota 202-224-2551, 701-239-5389
REPUBLICANS ON THE FENCE WHO ARE GOOD PROSPECTS
Sen. LeMeiux of Florida 202-224-3041, 904-398-8586
Sen. Collins of Maine 202-224-2523, 207-945-0417
Sen. Snowe of Maine 202-224-5344, 207-874-0883
Sen. Brown of Massachusetts 202-224-4543, 617-565-3170
Sen. Johanns of Nebraska 202-224-4224, 402-758-8981
Update MM: Johanns' office tells callers this morning that he will vote AGAINST the bill.
Sen. Gregg of New Hampshire 202-224-3324, 603-225-7115
Sen. Hutchison of Texas 202-224-5922, 214-361-3500
McCain Considering Support for the Democrats' DREAM Act

TOUGHER UNCOMMITTED TARGETS
Your first and most important phone calls are to the Senators above. ACTION: The following list is of Senators who have shown a real proclivity toward amnesty but seem to have remained uncommitted. Under the pressure of the impending November elections, some of these Senators could be persuaded to vote NO.
I would emphasize with them that a controversial bill like this has no business being put inside a Defense bill, regardless of how they may feel about the amnesty itself.
REPUBLICANS
Sen. Murkowski of Alaska 202-224-6665, 907-271-3735
Sen. Lugar of Indiana 202-224-4814, 317-226-5555
Sen. Brownback of Kansas 202-224-6521, 785-233-2503
Sen. Voinovich of Ohio 202-224-3353, 614-469-6697
DEMOCRATS
Sen. Begich of Alaska 202-224-3004, 907-271-5915
Sen. Shaheen of New Hampshire 202-224-2841, 603-647-7500
Sen. Tom Udall of New Mexico 202-224-6621, 505-346-6791
Sen. Sherrod Brown of Ohio 202-224-2315, 216-522-7272
Sen. Wyden of Oregon 202-224-5244, 503-326-7525
Sen. Casey of Pennsylvania 202-224-6324, 412-803-7370
Sen. Johnson of South Dakota 202-224-5842, 605-332-8896
.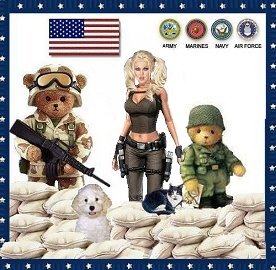 Wild Thing's comment.......
Additional info on the The Defense Authorization Act (which includes DREAM Act and repeal of Don't Ask, Don't Tell)
"It cuts lots of programs designed to defend America, including Missile Defense, some F-35 funding, and there is some BRAC (Base Realignment and Closure) stuff in it as well. Finally, it decreases the size of the US Navy."
You can read more about it HERE.......National Defense Authorization Act for Fiscal Year 2011
It also includes a controversial provision permitting abortions at military facilities, and cuts to the Iraqi Security Forces (and there will be no chance to debate these or any other defense-related issues.)
Posted by Wild Thing at September 21, 2010 04:55 AM
---
Comments
I guess that if the Dems and Rinos can't get a full blown amnesty bill passed they will sneak it in a bit at a time as riders to importyant bills.
Posted by: TomR,armed in Texas at September 21, 2010 11:22 AM
---
You can't trust these sons of bitches with National Security. and What is this pos bill going to cost us. the friggin illegals aren't going to pay for a f'n thing.
This is nothing more the a BRIBE for votes.
Posted by: Mark at September 21, 2010 12:07 PM
---
Tom, it seems that is what they are doing, your right.
Posted by: Wild Thing at September 21, 2010 03:50 PM
---
Mark, it sure is a bribe, that is what it should be called.
Posted by: Wild Thing at September 21, 2010 03:53 PM
---
They were also voting on Don't ask, don't tell, that went down now the Dream Act is up for squabble.
This makes no sense at all for a lame duck congress. They, democrats, are killing themselves with this kind of tactic. Oh well.
Posted by: Mark at September 21, 2010 04:58 PM
---