« Obama to Mark 9/11 Anniversary at Pentagon | Main | America Was Built by Rugged Individualists Who'd Reject Obama by ElRushbo »
September 08, 2010
Long Island Man Arrested For Defending Home With AK-47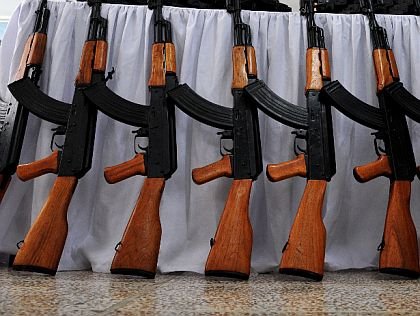 Long Island Man Arrested For Defending Home With AK-47
UNIONDALE, N.Y

He was arrested for protecting his property and family.
But it's how the Long Island man did it that police say crossed the line.
He got an AK-47 assault rifle, pulled the trigger and he ended up in jail, reports CBS 2's Pablo Guzman.
George Grier said he had to use his rifle on Sunday night to stop what he thought was going to be an invasion of his Uniondale home by a gang he thought might have been the vicious "MS-13." He said the whole deal happened as he was about to drive his cousin home.
"I went around and went into the house, ran upstairs and told my wife to call the police. I get the gun and I go outside and I come into the doorway and now, by this time, they are in the driveway, back here near the house. I tell them, you know, 'Can you please leave?' Grier said.
Grier said the five men dared him to use the gun; and that their shouts brought another larger group of gang members in front of his house.
"He starts threatening my family, my life. 'Oh you're dead. I'm gonna kill your family and your babies. You're dead.' So when he says that, 20 others guys come rushing around the corner. And so I fired four warning shots into the grass," Grier said.
Grier was later arrested. John Lewis is Grier's attorney.
"What he's initially charged with – A D felony reckless endangerment — requires a depraved indifference to human life, creating a risk that someone's going to die. Shooting into a lawn doesn't create a risk of anybody dying," Lewis said.
Grier said he knew Nassau County Police employ the hi-tech "ShotSpotter" technology in his area and that the shooting would bring police in minutes. Cops told Guzman he was very cooperative.
Grier also said he was afraid the gang outside his house was the dreaded MS-13. And Nassau County Police Lt. Andrew Mulraine, head of the gang unit, said MS-13 has 2,000 members in the county.
"They're probably the most organized. They almost have a military hierarchy within the gang, so they are the most organized gang we encounter on a daily basis," Mulraine said.
You may think a person has the right to defend their home. But the law says you can only use physical force to deter physical force. Grier said he never saw anyone pull out a gun, so a court would have to decide on firing the gun.
Police determined Grier had the gun legally. He has no criminal record. And so he was not charged for the weapon.
That ShotSpotter technology pinpoints where a gun has been fired within 35 feet. Police said it also detected two other shootings in nearby Roosevelt that night.

VIDEO at LINK....CLICK HERE and scroll to end of article.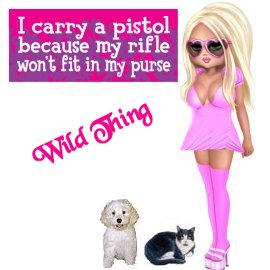 Wild Thing's comment........

If a free citizen cannot be allowed to possess a fully-functional AK 47, then he is not a free citizen.
This man, was protecting his wife, children, and home - after being threatened verbally with death by 20 gang members, is the one charged by the police.
Meanwhile, the Federal Government won't enforce its own immigration laws, and sues the one state that at least attempts to find out who is even here illegally!

....Thank you Mark for sending this to me.
Mark
3rd Mar.Div. 1st Battalion 9th Marine Regiment
1/9 Marines aka The Walking Dead
VN 66-67


Posted by Wild Thing at September 8, 2010 05:55 AM
---
Comments
That's why I'm so glad we have a Castle Doctrine law here in Missouri; Florida has one too.
Posted by: BobF at September 8, 2010 07:41 AM
---
Texas also BobF. Actually, I believe the idea of Castle Doctrine is part of the spirit of The Constitution. It is sure part of my spirit.
Posted by: TomR, armed in Texas at September 8, 2010 10:39 AM
---
I am going to check that to see if Pennsylvania has that. Thats the way it should be
Any other state than New York, he wouldn't have been arrested. He should've been honored for his courage.
Posted by: Mark at September 8, 2010 12:19 PM
---
Bob thank you so much for that information. And thanks for the link too.
Posted by: Wild Thing at September 8, 2010 11:39 PM
---
Tom, love how you put that.
Posted by: Wild Thing at September 8, 2010 11:42 PM
---
Posted by: Wild Thing at September 8, 2010 11:44 PM
---