« South Carolina GOP Has FINALLY Had Enough and Censures Linidsey Graham | Main | That's Life BBC Soda Water Dogs »
September 06, 2010
Former Rep. Cynthia McKinney Biking Across U.S. in Name of Peace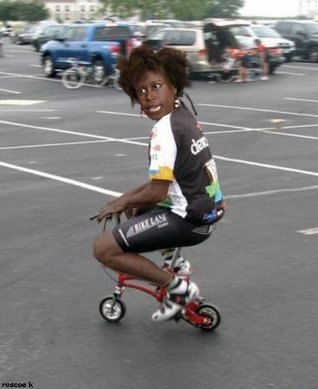 Ex-lawmaker takes on new venture:
Former Rep. Cynthia McKinney biking across U.S. in name of peace
The Pueblo Chieftain, Pueblo, CO

The message of peace pedaled into Pueblo on Saturday.
Riders with Bike4Peace, including former U.S. Rep. Cynthia McKinney of Georgia, who ran for president in 2008 on the Green Party ticket, stopped in Pueblo on a cross-country trek to the White House.
"We started at the House of Common Sense in Oakland (Calif.) and we're going to end at the White House, which needs some common sense," McKinney said Saturday at the Unitarian Universalist Church on the East Side, where the bikers were treated to a potluck meal.
McKinney and five others cyclists are biking across the U.S. promoting peace and conversations about "climate change, oil wars, health crisis and economic crunch."
The group is using bicycling to show how to reverse those four particular problems — it improves health, is more economical, environmentally friendly and doesn't require oil.
"It's getting people to ride bikes," said one cyclist, Aurelio "Yeyo" Garcia of Seattle, who gave his life to biking four years ago when he got rid of his car, quit his automotive technician job and sold his tools.
Riding partner Vernon Huffman of Oregon said he hasn't owned a car for a few years.
"We rely on cars to go everywhere and that's why (as a society) we're not really healthy," the former Los Angeles bus driver said. He explained how the simple act of bike riding could change world, national and personal problems.
"The bicycle is an empowering tool. I can go anywhere I want with it. It could be used to help climb out of homelessness. If you have a bicycle, people can get to work, get to appointments. They don't have to worry about transportation," Huffman said.
The group's journey began July 24. They have logged about 1,300 miles so far and leave today, heading east on U.S. 50 for Haswell, Colo., and then Kansas.
The cyclists are riding without any motor support.
For McKinney, who isn't a trained cyclist, the journey has been "challenging."
"The founders of Bike4Peace have done a wonderful job of marrying these two topics together, peace with bicycling," the Georgia native said.
"What I've found is that as we travel to all these different communities and engage in a different dialogue, we find commonality on these issues that these communities didn't know they had," she said.
Saturday's potluck gave Green Party candidates Bob Kinsey and Gary Swing an opportunity to stump in Pueblo.
Swing is running for U.S. Congress and Kinsey for U.S. Senate.
Former Georgia U.S. Rep. Cynthia McKinney (right) shares a laugh with Ndiya Ogba (left) and Rana Wahdan, both of Denver, during a stopover in Pueblo on Saturday. McKinney is taking part in a Bike4Peace cross-country bicycle ride


.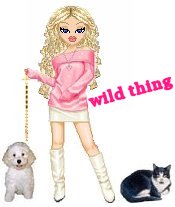 Wild Thing's comment........

heh heh well at least she will be getting in good shape. I wonder if she will really ride the whole distance or not and get help with a nice air conditioned SUV or something .
Posted by Wild Thing at September 6, 2010 06:55 AM
---
Comments
McKinney will do anything for publicity. She has to feed that massive ego of hers.
Posted by: TomR, armed in Texas at September 6, 2010 09:54 AM
---
Love the picture you selected to accompany the article.
I too, have to wonder how much riding Cynthia is doing. Looking at the picture of her at the table, I find it a bit hard to see her negotiating the Sierras, and of course the Rockies, not to mention all the other ranges between Oakland and Pueblo.
Every cycling group has a "Shag Wagon" which trails the riders, carrying spare parts and other supplies.
My guess is that Ms. Cynthia is firmly planted in said vehicle, until there is a Photo Op.
Lastly, hard to imagine, that magnificent body encased in a Spandex Cycling suit. YEECH!!!!
Posted by: Sean at September 6, 2010 10:33 AM
---
Yeah, I can't imagine her exerting any effort for any casue especially when the whole thing is fantasy. I thought she was working the flotill's to help the Palestinians. One thing she has is a short attention span.
Posted by: Mark at September 6, 2010 11:46 AM
---
She is such a whack job! Scattered brain and airhead all rolled up into one big lunatic
Posted by: jan at September 6, 2010 03:17 PM
---
Cynthia McKinney: "I never met a conspiracy theory I didn't like". McKinney is a 9/11 troofer and a recipient of funds from questionable Middle-Eastern "donors" Ms. McKinney also believes that world peace will be attained by abandoning Israel. If we simply do that, the world, including the Muslim world, will suddenly love us. While in congress, Rep. Cynthia revealed her peaceful side by beating a capitol guard with a cellphone when he failed to recognize her and asked for her I.D.
Posted by: willy at September 6, 2010 08:52 PM
---
She suggests we sit too much and eat too much well she seemed to ba packin it away, all that 'hog shit and hominy grits drenched in butter,' that'll make her slim down. Ha.
Posted by: Mark at September 6, 2010 10:39 PM
---
You all are great, thank you so much.
Posted by: Wild Thing at September 7, 2010 12:19 AM
---
Great picture of lil' Cynthia! Made my day!
Posted by: proof at September 7, 2010 02:01 PM
---