« "Never Gonna Stand For This" by Teachenor Clark | Main | Sheriff Joe's Response to the DOJ Lawsuit Against Him »
September 04, 2010
Coming to a Mosque Near You: "Pimping for Terrorists" ~ Orlando Mosque Finances Hamas Fundraiser
Orlando Mosque Finances Hamas Fundraiser
Coming to a Mosque Near You: "Pimping for Terrorists"
by Jerry Gordon (September 2010)

Background
The eruption of mega-mosque conflicts across America has raised numerous questions, in more than a dozen cases, about who is funding these multi-million dollar projects. And, in addition, whether there could be any Muslim Brotherhood connections and any possibility of their raising funds for foreign terrorist groups like Hamas.

"Money continues to flow in the other direction, as well," said Mosab Hassan Yousef "Son of Hamas."
He noted the FBI documented that the Holy Land Foundation sent $12.4 million from the U.S. to Hamas committees. But based on his 10 years of experience as a spy for the Israeli internal security service Shin Bet, he believes many times that amount has been smuggled to Hamas in cash.
As an example, Yousef cited the case of a Palestinian terror operative he met in prison who was arrested transporting $100,000 after Shin Bet provided information to law enforcement authorities.
"I guarantee you that there still people who collect money in mosques that go directly to Hamas in cash," Yousef said. "And this is a problem that the government doesn't have control over. Obama doesn't have control over this money."
The flashpoints of these conflicts stretch across the US from the Ground Zero mosque in lower Manhattan to the expanded Islamic Center of Murfreesboro in Tennessee and the Temecula, California mosque. Private investigative teams have become engaged in tracking down answers to these questions. My colleague at the New English Review, publisher Rebecca Bynum, noted these concerns in a recent Erick Stakelbeck CBN report "Mega Mosques target America's Heartland":
Locals also have other concerns--like where the millions of dollars are coming from to pay for the proposed complex.
Mosque officials say the money was raised in the community. But local journalist Rebecca Bynum said she isn't convinced.
"In other mosques, like in Boston and other areas where there have been huge mosques built, the funding did come from overseas, principally from Saudi Arabia, rich individuals from countries like Saudi Arabia and the UAE," she said.
Murfreesboro is not alone. two more mega-mosques are now being planned for Tennessee--one in Memphis and another the town of Antioch, near Nashville.
"It does seem to be part of a larger strategy to build mosques in rural areas and create Islamic communities--large Islamic communities--in rural areas for some larger purpose," said Bynum.
Local public authorities have avoided raising these questions at public hearings, while pointing out the inalienable right under Establishment Clause of the First Amendment of our Constitution giving freedom to establish churches and places of worship without government interference. These mega-mosques push the agenda of the Muslim Brotherhood in America by making use of Constitutional guarantees of religious freedom and exemptions from local land zoning processes under the Religious Land Use and Incarcerated Persons Act of 2000. That agenda, according to Frank Gaffney, Jr., President of the Center for Security Policy, is to carry out via stealth a "grand jihad" with the ultimate goal of supplanting our Constitution with strict Islamic Sharia law. In 1993, according to the Chicago Tribune, the US Muslim Brotherhood changed its name to the Muslim American Society and Brotherhood members agreed to refer to themselves as members of MAS rather than the Brotherhood.
Zakat and Hamas
One of the five pillars of Islam is zakat, the Muslim charitable obligation. Cited in the record of the Holy Land Foundation trial, prominent American Muslim Brotherhood fronts, the Islamic Society of North America (ISNA), North America Islamic Trust (NAIT), and the Council of American Islamic Relations (CAIR), among others, have of funneled more than $12 million to Hamas, the military wing of the Muslim Brotherhood that controls Gaza.
Note what we said about the connections between "Zakat and Terrorism" in a July 2009, New English Review article:
Zakat recipients would include [ . . ]those fulfilling the "way of Allah", Jihad. [. . .] Zakat money should be used provided the effort is to raise the banner of Islam.
It is the application of Zakat proceeds to Jihad, especially in the US, that is most problematic and made application of counter-terrorism laws troublesome in the eyes of critics like the ACLU.
Jonathan Schanzer, former Treasury counter terrorism expert [now Vice President for Research at the Washington-based, Foundation for the Defense of Democracy] commented to the author that "US government seizures of the assets of Muslim charities were based on intelligence and investigations."
Private investigators, such as David Gaubatz, co-author with Paul Sperry of Muslim Mafia, have gone undercover and compiled a record of abuses of zakat. These include Muslim Brotherhood fronts' terrorist connections and allied mosque leaders violating federal laws giving material support to designated foreign terrorist groups under the provisions of the Patriot Act.
The Central Role of George Galloway of Viva Palestina in Raising Zakat for Hamas
George Galloway, whose Respect Party was defeated in the recent British general elections, lost his parliamentary immunity. In April of 2009, Canadian authorities barred his entry on behalf of Viva Palestina, a registered British charity he co-founded to raise funds for Gaza "humanitarian" convoys in direct support of Hamas. The US State Department did not declare him persona non grata and permitted his entry here in May and June of 2009. Galloway used that cover to considerable advantage. Over a period of a year, he was in the US virtually every weekend making appearances at universities such as Ohio State and the University of California at Irvine raising millions for humanitarian aid to be conveyed to the Hamas government via the Viva Palestina convoys. According to the IFCO website, Galloway is poised to conduct a fifth convoy to Gaza in aid of Hamas on September 18, 2010. The website notes:
Viva Palestina is launching "Viva Palestina 5 - a global lifeline to Gaza", a gigantic land convoy leaving London on Saturday, 18th September in conjunction with convoys leaving from Casablanca and Doha and timed to coordinate with a larger and even more international flotilla aiming to reach Gaza by sea at the same time as the land convoys reach by land.
Note the Zionist Organization of America (ZOA) complaint and request for investigation about Galloway's appearance and fund raising at UC Irvine in this New University report:
In May 2009, the Muslim Student Union (MSU) at UC Irvine, hosted the school-sponsored event, "Israel: The Politics of Genocide" on campus, where over 850 people attended.
Tom Trento, Director of the Florida Security Council, was at the UC Irvine event and said, "I could not believe that Galloway was overtly raising money for a US designated terrorist organization and he wasn't hauled away in leg irons!"

The Islamic Society of Central Florida Investigative Film and Its Impact
On June 14, 2009, George Galloway appeared at an event sponsored by the Islamic Society of Central Florida (ISCF). Also in attendance was Mahdi Bray executive director of the Muslim American Society Freedom Foundation (MASFF) at Imam Muhammad Musri's Al Rahman mosque in Orlando, Florida. The mosque is owned by the North American Islamic Trust (NAIT). They raised over $55,000 in support of Galloway's Viva Palestina, a Hamas terror finance conduit. An undercover team of investigators from ACT! For America Jacksonville and Orlando chapters attended the Viva Palestina event. They videoed Galloway and Bray raising funds for Viva Palestina using the cover of the 501(c)(3) tax exempt status of the MASFF.
Galloway and Bray were caught on video misleading the audience telling them their contributions were tax deductible as the MASFF is a tax exempt 501(c)(3) non profit institution.
NAIT have been identified as Muslim Brotherhood fronts in the prosecutor's exhibits of the Federal Holy Land Foundation trial. Evidence produced in the HLF trial record and cited in the You Tube video included a plan of the Muslim Brotherhood to engage in a "grand jihad" aimed at overthrowing our Constitution and replacing it with a Sharia Islamic State.
At the behest of Republican Congresswoman Sue Myrick's office, the independent video evidence presented here was sent to Steve Emerson of the investigative project on Terrorism (www.investigativeproject.org). The video has since been released to the FBI, Treasury Department, and IRS for fraud, violations of the FARA Act and possible violations of providing material support for terrorism.

This documentary – in reality a film dossier – exposes Galloway, in the words of a Canadian government official, "pimping for terrorists."

.
The world has woken up. George Galloway speaking at the Anti-Israeli protest outside the Israeli Embassy in London 5th June 2010

.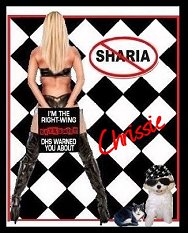 Wild Thing's comment........
In the world I was born in, men like this one, Cynthia McKinney, Nancy Pelosi, Cindy Sheehan and Code Pink/Int'l ANSWER types would do hard time or be headed to the gallows. What happened?
Galloway is insane and evil and so are those that agree with him. Islam is a death cult.

Posted by Wild Thing at September 4, 2010 04:48 AM
---
Comments
I don't think the World has awakened enough. It is pretty evident that most mosques in America are terrorist supporting and anti West. They do not plan to assimilate at all. They are all examples of creeping sharia.
George W, Bush had the opportunity after 9/11 to come down hard on islam. We had been awakened then. Instead he labeled islam a religion of piece and gave them a pass by only going after two of their military arms, al Queda and the Taliban. Later we overthrew Saddam. islam is not a religion of peace. islam is a political cult. It is intolerant of non muslims and intends to subjugate or kill all non muslims. Allowing these moslem mosques and giving them tax free status is basically supporting our enemy.
Now we have a moslem president who is supporting and encouraging islam in America. We have to get rid of obama in 2012 and get a president that will actually call out islam for what it is. Meantime keep buying ammo.
Posted by: TomR, armed in Texas at September 4, 2010 09:34 AM
---
Unfortunately, I think America will need to be attacked and thousands of our brothers and sisters murdered again for America to wake up again. Americans have very short memories and put things aside that they don't think effect them as individuals. It is the me me nation and a 1/2 breed muslim hermahrodite that is driving us to destruction. WAKE UP AMERICA or you will be bowing to muhammad the boy pedophile!
Posted by: Eddie (Enemy of the State) at September 4, 2010 09:43 AM
---
Yeah Eddie and his 9 year old wife. The muzzies are purposely trying to divide Israel with these "peace talks" because they too know , Israel shall not be divided according to the covenant between God and his people.
Posted by: Mark at September 4, 2010 03:25 PM
---
Tom, I agree so much. GW Bush had the best opportunity of all to really take a hard stand against Islam. It shocked me when we would see the catering to Muslims that was done even back then.
Posted by: Wild Thing at September 5, 2010 12:23 AM
---