« The Reckoning: This Single Report Could Sink Obama's Presidency | Main | Bonfire of the Insanities by Ann Coulter ( Regarding Gen David Petraeus' and Koran Burning) »
September 09, 2010
Carrollton City Council Bans Drugs, Turns Focus to Gun Shops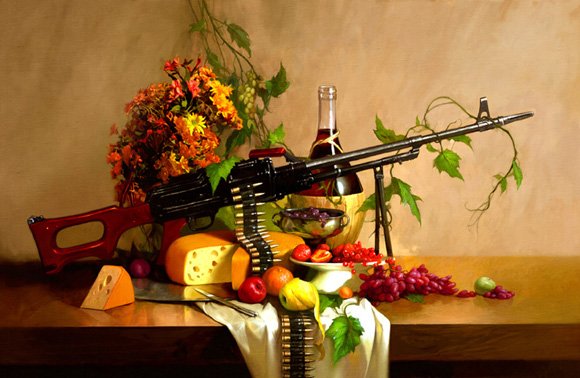 Carrollton City Council bans drugs, turns focus to gun shops

Guns, not drugs, took center stage at Tuesday evening's City Council meeting.
Without a word of discussion, council members passed a law banning the sale of popular inebriants like K2 and salvia. Such bans have been a hot issue in other cities, but Carrollton's meeting-goers saved their breath to talk gun shops.
Specifically, they talked about Big Slim's Firearms, which upset some residents when it opened last week across the street from houses and in the same mini mall as a liquor store.
Council member Terry Simons proposed a new ordinance – to be discussed at a future meeting – that would restrict future gun shops from opening near liquor stores and certain other retail establishments.
During a public forum later in the meeting, one resident lambasted the proposal.
"Move to China or North Korea," the man said. "I guarantee you won't find any gun stores there."
Steve Babick, president of the Highlands Neighborhood Association, who helped start the controversy by e-mailing the mayor with concerns about Big Slim's, said opposition to the gun shop was "fear of the unknown." He invited Big Slim's owners to speak at a future neighborhood meeting.
In the lobby outside the meeting, Big Slim's co-owner Jack Kendall said he'd be happy to take up that offer. But he called Simon's proposal to restrict future gun shops unfair – even though it would not affect existing gun shops such as his own.
"I don't think gun owners and gun enthusiasts would like to see gun shops being treated like strip clubs," he said.
Kendall said he didn't expect Simon's proposed ordinance to go anywhere. Even if it is approved, the Texas State Rifle Association has promised to fight it.
Reached by phone, the association's executive director, Alice Tripp, ridiculed the notion that a gun shop operating near a liquor store posed a public danger.
"How on God's green earth could you tie the two together?" she said. " 'I got drunk and bought a gun?' There's no logic there."
During a break in the meeting, Simons defended his proposal. Big Slim's posed a potential threat to public safety, he said, pointing to numerous burglaries and a deadly shooting that took place near the mini mall in recent years.
But the council member contended he wasn't stepping on Second Amendment rights.
"I'm not for gun control," he said, adding that he spent the holiday weekend hunting doves.

.

Check this out..................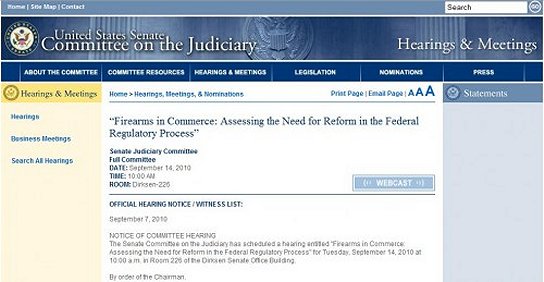 Democrats Schedule Senate Meeting to Regulate Gun Sales
"Firearms in Commerce: Assessing the Need for Reform in the Federal Regulatory Process"
Full Committee
DATE: September 14, 2010
TIME: 10:00 AM
OFFICIAL HEARING NOTICE / WITNESS LIST:
September 7, 2010
NOTICE OF COMMITTEE HEARING
The Senate Committee on the Judiciary has scheduled a hearing entitled "Firearms in Commerce: Assessing the Need for Reform in the Federal Regulatory Process" for Tuesday, September 14, 2010 at 10:00 a.m. in Room 226 of the Dirksen Senate Office Building.

.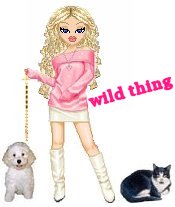 Wild Thing's comment.........
If they ban guns in any way, it will make a lot of Democrats furious as well. This might be one of the big issues that both conservatives and democrats agree on......at least a lot of democrats would. Almost all the democrats I have known during my career all had guns.

....Thank you JohnE U.S. Army for sending this to me.


Soldier/Generator Mechanic
Companies: 288TH Q.M. Co
Posted by Wild Thing at September 9, 2010 08:48 AM
---
Comments
Carrollton, a suburb of Dallas, isn't going to be successful in banning gun stores. Way too many gun owners would fight that battle. Even the HOA president is willing to listen to reason on this issue.
Posted by: TomR, armed in Texas at September 9, 2010 11:02 AM
---
People don't buy their liquor at liquor stores and get drunk there. They take the booze somewhere else and drink it.
I love that picture. I would like a full size one to hang in my kitchen.
Posted by: BobF at September 9, 2010 12:52 PM
---
Well. One thing may be true...you DO need to place gun stores with some thought. After all...putting a gun shop next to a mosque would be too freaking tempting!
Posted by: petesuj at September 9, 2010 03:11 PM
---
Tom, thank you so much for your input about this.

Bob, thanks about the picture. I think I found it on Google last year. I agree it would be awesome full size.

Pete, lol that is true.
Posted by: Wild Thing at September 10, 2010 12:10 AM
---