« Note The Difference AFTER the Restoring Honor rally vs. the Filthy Democrats at Barack Obama Inauguration | Main | Newsmax Military Coup Against Obama Article Axed »
August 29, 2010
Restoring Honor Rally at the Lincoln Memorial in Washington D.C. 8-28
Glenn Beck delivering opening remarks at his "Restoring Honor" Rally held at the Lincoln Memorial in Washington, D.C. Beck declared in his remarks that, "Today, America begins to turn back to God." The rally emphasized the founding principles that have made America great, and represented a call to return to – or to "restore" those principles as our guiding light.
Beck later said (not in this clip) that even the media was estimating the size of the crowd at between 300,000 and 500,000 people. As you can see in this clip, the crowd extended from the Lincoln Memorial, down both sides the entire length of the reflecting pool, and beyond, toward the Washington Monument.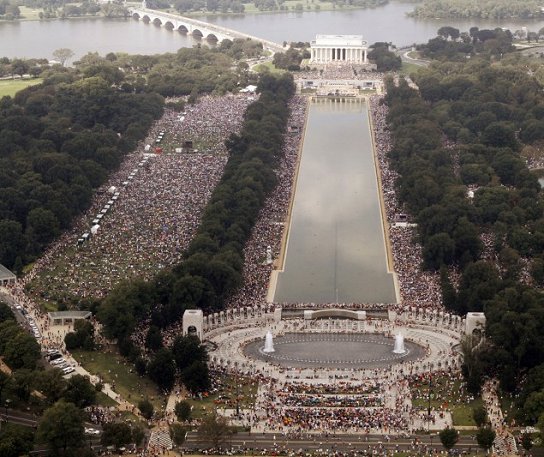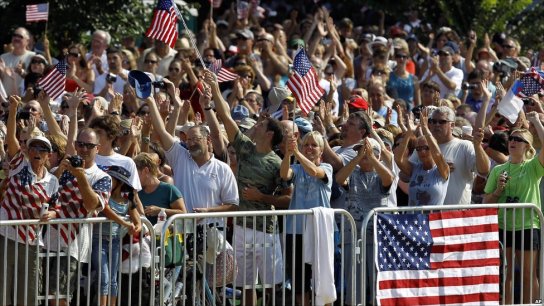 The rally being opened with the Pledge of Allegiance and the National Anthem.
.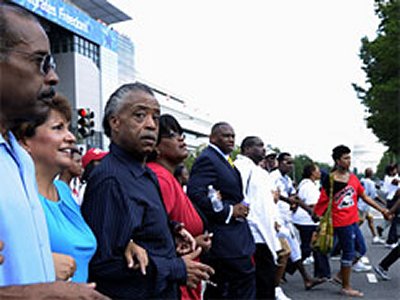 Al Sharpton and a host of speakers stood in front of a group of 3,000 people and declared that Reverend King's dream was their property alone.
Sharpton's rally of racists had almost 3,000 attending.
"We will not stand silent as some seek to bamboozle Dr. King's dream," said Marc Morial, president of the National Urban League. "We reclaim the dream of Dr. King for the 21st century. We reclaim this dream because we are here to say we must be one nation. We stand on the shoulders of our fathers and mothers, grandfathers and grandmothers."
Jaime Contreras, president of SEIU-32BJ, said those gathered at the Mall with Beck "represent angry white people and hate-mongering." He added: "We will not let them stand in the way of the change we voted for!"
Avis Jones DeWeever, executive director of the National Council of Negro Women, drew thunderous roars when she challenged those gathered to stand up for their place. "Don't let anyone tell you that they have the right to take their country back," she said. "It's our country, too. We will reclaim the dream. It was ours from the beginning."
Sharpton, the man who incited two anti-Semitic riots that killed a total of nine people, also pushed a message of divisiveness.
"They may have the mall, but we have the message. They may have the platform, but we have the dream." Sharpton and other activists gathered to commemorate the 47th anniversary of MLK's "I Have a Dream" speech, then joined hands and walked 3 miles to the site of King's future memorial. "This is our day and we ain't giving it away," said Sharpton.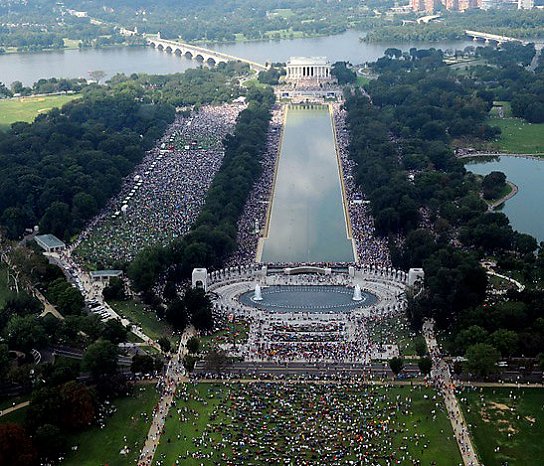 Across town at the Lincoln Memorial, the message was much different , the message of restoring Honor to America.

Martin Luther King's niece Dr. Alveda King, addressed the crowd of 3-500,000 with a plea for unity and prayer "in the public squares of America and in our schools." She called for national unity by echoing her uncle's declaring "I have a dream."
"I have a dream that America will pray and God will forgive us our sins and revive us our land," King said. "On that day, we will all be able to lift every voice and sing of the love and honor that God desires of all his children."

Sarah Palin's message was also one of unity:
"We must not fundamentally transform America, as some would want," Palin said. "We must restore America and restore her honor."
"Here today, at the crossroads of our history, may this day be the change point," Palin said. "Look around you. You're not alone. You are Americans! You have the same steel spine and the moral courage of Washington and Lincoln and Martin Luther King. It is in you. It will sustain you as it sustained them."

There were TWO rallies in Washington DC, one emphasized that the legacy of Martin Luther King was theirs and theirs alone. The other called for people to join together and find their way to God.
.
Awesome! God bless America! God bless these 500,000+ patriots that attended this rally.
Posted by Wild Thing at August 29, 2010 06:55 AM
---
Comments
Sharpton gets fewer than the number of people that attend local high school football games and he gets national coverage.
Posted by: BobF at August 29, 2010 08:40 AM
---
Al Sharpton and a rope are a perfect match.
Posted by: cuchieddie(Enemy of the State) at August 29, 2010 10:21 AM
---
I watched Beck's rally yesterday. It was good and I was encouraged by the turnout. I hope the November election turnout will be as good.
Angry Al can kiss my a**.
Posted by: TomR, armed in Texas at August 29, 2010 11:21 AM
---
Sharpton is the media's idea of the ideal representative of Black America. He and Jesse Jackson lay claim to the legacy of Martin Luther King, while at the same time using it to advance a cause, for which it was not intended.
The fact that Dr. King's niece chose to attend Beck's rally over Sharpton's, and deliver a message, says a lot about Sharpton and the rest of the race baiters like him.
The day's of White guilt are over, or at least should be. The media likes to keep throwing it in our faces, and they do it by trotting out, the likes of Al Sharpton, every time there is an opportunity.
As an example.I started to watch an interview the other day on a sports network. Bob Costas was interviewing Ryan Howard and Jimmy Rollins,of the Phillies, both are black. I had to turn it off, because Costas kept harping on the poor, downtrodden, discriminated against, black ballplayers theme.
This 2010 not 1946, Bob. Neither of the guys you were interviewing were born in 1946. Black ballplayers heve been accepted, revered and idolized for a long time and yet you have to keep harping on the subject
Posted by: Sean at August 29, 2010 11:27 AM
---
Al the poverty pimp, is worried if he gives up too much to Beck he will not have any victims to tag along with him while he shakes down the country. Hence, end of his career as HMF incharge of Keeping his people down and in poverty.
Posted by: Mark at August 29, 2010 11:56 AM
---
Posted by: Anonymous at August 29, 2010 02:11 PM
---
I noticed at Beck's rally they talked about GOD, Honor, Charity, HOPE, Country and faith...At Sharptons rally they talked about Beck.
Posted by: Robert at August 29, 2010 02:49 PM
---
I loved, L-O-V-E-D watching this live on the net..so much more than I thought I would. Maybe it was the sunny day, the large crowd, the emotion, the voices and messages, the terrific music...maybe it was the synergy of all these components. A grand day....and ...oh by the way....Sharpton and his ancient philosophy are so obsolete! THAT is quite apparent!! Thank our Good Lord!!!!!!!
Posted by: jan at August 29, 2010 06:11 PM
---
Restoring Honor Rally 8-28-10, a historic event, with 300,000 - 500,000 people, and about Restoring Honor, Unity, Faith, God, Hope, Charity, and a path FORWARD.
Al Sharpton´s Rally 8-28-10, no historic event, with 3,000 people, and about Racism, Divide, Hate Mongering, Bigotry, and a path BACKWARD.
Links to the Restoring Honor Rally 8-28-10, if you like to re-watch:
http://www.watchglennbeck.com/
http://www.qubetv.tv/photos/detail/86479
Posted by: Anon at August 29, 2010 10:18 PM
---
I thought it really cool how both direct Mayflower descendants and the descendants of the same Indian tribe that were peacefully together at the 1620 Plymouth Settlement were brought together for this 2010 event. It brings nearly 400 years of truth in American history to the present day for our young people to see and appreciate not just in text, but incarnate.
Any such event that starts like that shows its participants are well rooted and united positively in something true and real with a basis and respect for history and those that came before.
What a stark contrast to those others negatively gathered divisively in counter protest.
Thanks, Mark.
I've never read or heard a better two word description (that can be repeated in polite company) than "Poverty Pimp" to better describe Al "not so" Sharpton and "The Reverend" Jesse Jackson.
Poverty Pimps are what they've been all along.
Well done, Mark.

Posted by: Carlos at August 30, 2010 12:09 AM
---
Thank you all so much for your input.
Posted by: Wild Thing at August 30, 2010 01:19 AM
---