« Toons Speaking Out ( Awesome Cartoonists Work ) | Main | Obama's Counter Terror Czar John Brennan Storms Out of Washington Times Office When Confronted On His Radical Positions »
August 25, 2010
Primary Highlights and Not So Highlights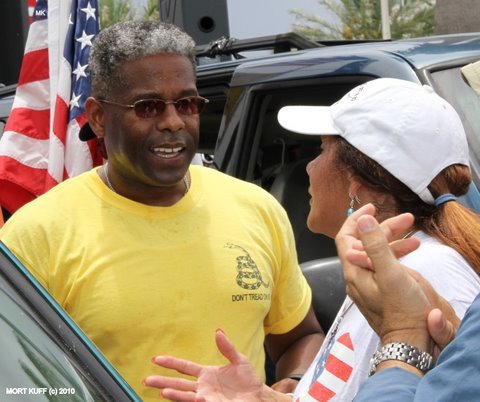 Lt. Col. Allen West Wins Primary!!!
I'm pleased to report that American hero Lt. Colonel Allen West has secured a primary victory in Florida 22 and will face off against über-leftard Obama enabler Ron Klein.
Statement by LTC(R) Republican Congressional Candidate
(FL- District 22) Allen West on Tonight's Primary Victory
(Deerfield Beach, FL)
"This evening, after nearly 2 years of hard work, our campaign to restore honor, integrity and character to Washington reached an important milestone. With a vast majority of the precincts having reported their results, we will have defeated David Brady by a margin of nearly 4 to 1. With GOP turnout significantly higher than democratic turnout throughout District 22, our victory tonight is proof that South Floridians are sick and tired of the status-quo in Washington, and are looking for leaders instead of politicians.
Tonight, the tone has been set. Over the next 2 months, we will continue to draw a contrast between Ron Klein's Ultra-Liberal policies that have bankrupted our district, our state and our Country, versus my principled leadership. I am confident that – 70 days from tonight – the good people of Florida's 22nd Congressional District will be firing Pelosi's favorite Florida son, Ron Klein."
.
John McCain Wins Arizona Senate Primary Over J.D. Hayworth ~ idots in AZ. I guess they like how McCain kissed obama's glutes during the presidential campaign and how McCain was sooo vile to the POW families, and how McCain is all for amnesty.
Hang your heads in shame, Arizona! McCain spent $21 million to Hayworth's $3 million. He had the endorsements of Palin and Brewer plus the entire Rep AZ congressional delegation. McCain also changed his position on all the key issues. He is a liar and a fraud. And that will become self-evident once he is re-elected. Sad day for America and AZ.
.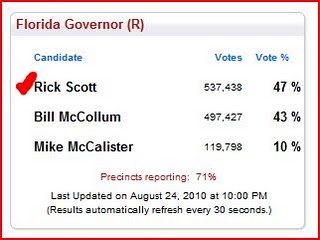 Rick Scott Wins Over Bill McCollum in Republican Primary for Governor of Florida

.


Marco Rubio Wins Florida Primary
Not only won - it was a massacre - 84% of the vote. Great job against the wimpy Obama hugger, Charlie Crist!!
"We as a nation and a people are on the precipice of crossing a line from which we may not return," Mr. Rubio said in his victory speech.
"Welcome to the night many said would never come," Mr. Rubio said. "Earlier in this campaign, the only people who thought I could win all lived in my home, and four of them were under the age of 10."

Rubio spoke about how our country is here because the people of past generations confronted the challenges head on and ensured this country would be safeguarded for their children. Talking about the exceptionalism of America. How inspiring he is and the speech was excellent.

Posted by Wild Thing at August 25, 2010 07:44 AM
---
Comments
They had crist tied or ahead of Rubio and with his popularity the polling didn't make any sense. Sort of looks like the polls were a little bit skewed to the left by the Lame stream Media.
Posted by: Mark at August 25, 2010 08:39 AM
---
Now the fun begins.
Anticipating a lot of misinformation, innuendo, and rumors, to start flowing from the Democratic opponents of West, Rubio and others.
Can hardly expect anything else, seeing as the record of the Democrats, recently has been so poor. The old "If you can't Dazzle them with Billiance, Baffle them with Bull S__t", routine, is about to begin.
As far as McCain is concerned, I am disappointed, but not surprised. Hayworth, had too many negatives that could not be overlooked, and Mc Cain took full advantage of this.
Only hope here is, if there are enough 'true conservatives',elected, Mc Cain will do as he always does. Jump on the band wagon. Otherwise it will be business as usual, with Lindsay Graham and the other RINOS.
Posted by: Sean at August 25, 2010 11:09 AM
---
Too bad McCain won. I really wanted JD to win. But even NewsMax supported McCain, unbelievable.
Posted by: Mark at August 25, 2010 12:06 PM
---
Thank you so much Mark and Sean.
Posted by: Wild Thing at August 25, 2010 11:41 PM
---