« Restore America! Yes, We Can! by Colonel Bob Pappas, USMC, Retired | Main | Obama Hit With Technical Difficulities While Bashing Bush Once AGAIN »
August 31, 2010
Obama Funding Pro-Palestinian Billboard Campaign in Israel

Obama Administration Funding Pro-Palestinian Billboard Campaign in Israel
The campaign launched Sunday includes the faces of senior Palestinian Authority officials Saeb Erekat, Jibril Rajoub and Yasser Abed Rabo, and Riad Malki, Palestinian foreign affairs minister, Yedioth Aharonoth said.
The aim of the campaign is to persuade Israelis that peace partners on the Palestinian side truly exist, and calls for support of a two-state solution, the Tel Aviv newspaper said.
The U.S. government was approached to fund the campaign by the Geneva Initiative founders, who drew up an agreement in 2003 to end the Israeli-Palestinian conflict, the newspaper said.
The U.S. Agency for International Development, or USAID, invested close to $250,000 toward the creation of the billboards, the newspaper said.
The campaign has raised a few eyebrows in Israel.
"We are talking about a Palestinian Authority campaign funded by the American government," an Israeli Foreign Ministry official was quoted saying.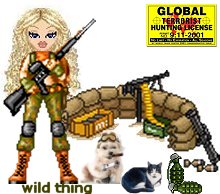 Wild Thing's comment........
God...when does this stop? Every day another outrage!
Just give him more time & Obama will transfer the U.S. Treasury over to the muslims!!
Viewed against the backdrop of the otherwise magnificent panorama of American history, the regime of B. Hussein Obama is an horrific aberration, a danger to American people as well as to Jews the world over. It is reminiscent of a terrible nightmare. Let the day quickly come when Obama and his evil and ignorantly puerile enablers are voted out of office.
Posted by Wild Thing at August 31, 2010 05:50 AM
---
Comments
I would like to give them a billboard advertising bacon.
Posted by: TomR, armed in Texas at August 31, 2010 09:24 AM
---
This is telling. The Obamunists think if they just wish really hard, they can make it so. If peace partners on the Palestini-goon side really *did* exist, they were killed off or driven into exile by the savages of Hamas or the corrupt kleptocrats of Fatah long ago.
Posted by: Curmudgeon at August 31, 2010 10:40 AM
---
I would expect nothing less from our muslim hermaphrodite dingleberry in charge.
Hopefully some wise Israeli's will destroy the signs.
Posted by: Eddie (Enemy of the State) at August 31, 2010 11:10 AM
---