« 'Undead Zombie Option' Resurrected in Congress | Main | Explosive New Evidence Shows Ruling of AZ Judge Illegal »
August 01, 2010
Immigration Law Protesters Interrupt Mets Game
A Citi Field security guard tries to tackle a young man carrying a Mexican flag who ran onto the field in the seventh inning of the New York Mets vs the Arizona Diamondbacks baseball game at Citi Field in New York, Friday, July 30, 2010.
Immigration Law Protesters Interrupt Mets Game

Two men carrying Mexican flags in protest of Arizona's immigration law ran into the outfield during the seventh inning of the New York Mets' game against the Arizona Diamondbacks on Friday night at Citi Field.
The men were apprehended by security fairly quickly without much incident.
Prior to the game, about 40 people across the street from the ballpark chanted "Oppose racism!" and "Boycott Arizona!"
Others stationed closer to the subway exit handed out leaflets that requested Major League Baseball move next year's All-Star game out of Phoenix.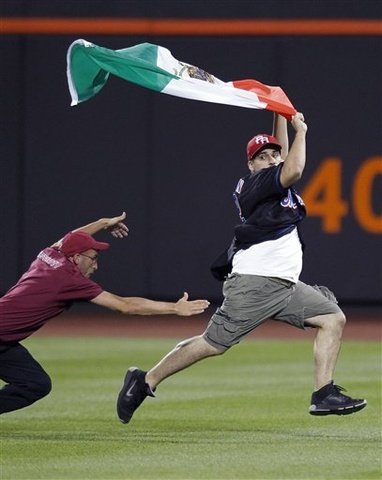 .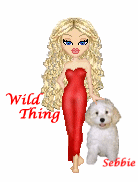 Wild Thing's comment.......
Viva La Taser!
Funny how those commies streak with Mexican flags...Gee that's really going to help your cause.
Posted by Wild Thing at August 1, 2010 05:49 AM
---
Comments
Here is the Illegal carrying an Mexican Flag across a Ballpark. Does he want to be an American citizen? Sure as hell doesn't look like it. Then why does he stay here. Isn't that what immigration is all about 'the wanting and desire to become an American.'
No they just want the Free Lunch.
Posted by: Mark at August 1, 2010 10:34 AM
---
I was watching that game. Of course the cameras didn't cover the event, they never do, as it encourages more such action.
I could hear the crowd respond by chanting, "USA,USA,USA" as the perp was led away.
Posted by: Sean at August 1, 2010 12:25 PM
---
Mark, exactly it is not about being an American, but like it is wanting all the goodies, handouts and certainly not respecting our country or our Flag nor our rule of law.
Posted by: Wild Thing at August 2, 2010 12:22 AM
---
Sean, thanks for sharing that. I love that the crowd did that.
It was so weird when I first saw this video. My very first thought was the odd thing about it is baseball is part of what America is...apple pie, mom, and baseball. And here is this man showing total disreapect not only for the game but bigger then that our Flag and our country.
Posted by: Wild Thing at August 2, 2010 12:25 AM
---