« Newsmax Military Coup Against Obama Article Axed | Main | English Speaking Muslims Living in America Protesting Against USA »
August 30, 2010
AZ. Gov. Brewer Has Condemned Obama;s Report To HIS Precious United Nations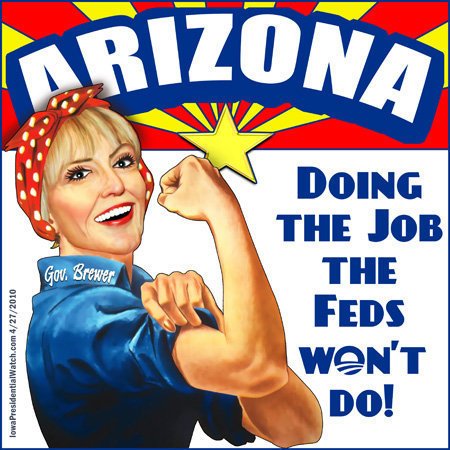 Arizona Gov. Jan Brewer demanded Friday that a reference to the state's controversial immigration law be removed from a State Department report to the United Nations' human rights commissioner.
Gov. Jan Brewer:

" As you know, the Obama Administration and Secretary Clinton submitted SB1070 to the United Nations Council on Human Rights so it can be "reviewed" by foreign countries like Cuba and Libya. The attached link lists all the countries that serve on the UN Council who will be reviewing SB1070. This is truly internationalism run amok and unconstitutional. I will fight any efforts by the State Department and the UN to interfere with the duly enacted laws of our state according to the US Constitution."
"It is downright offensive that the Obama administration stands with Cuba and Libya against Arizona. This is, of course, after having Mexico join the United States lawsuit against our state.."
PHOENIX

In correspondence sent today to U.S. Secretary of State Hillary Rodham Clinton, Governor Jan Brewer has condemned the "Universal Periodic Review" report submitted to the United Nations High Commissioner for Human Rights.

Governor Brewer has requested that Secretary Clinton amend the report to the United Nations to remove the paragraph on S.B. 1070.
In her letter to Secretary of State Clinton, Governor Brewer stated
"Simply put, it is downright offensive that the State Department included the State of Arizona and S.B. 1070 in a report to the United Nations Council on Human Rights, whose members include such renowned human rights 'champions' as Cuba and Libya." Governor Brewer additionally stated, "The idea of our own American government submitting the duly enacted laws of a State of the United States to 'review' by the United Nations is internationalism run amok and unconstitutional. Human rights as guaranteed by the United States and Arizona Constitutions are expressly protected in S.B. 1070 and defended vigorously by my Administration."
The State Department's report takes credit for the "…sophistication and breadth of [the United States'] anti-trafficking efforts" while in fact many human rights problems are occurring because of the decade-old or more enforcement policy by the federal government to secure the border in San Diego and El Paso and leave the Tucson Sector less secured. This policy choice forces the illegal immigrant trafficking across the harsh Arizona desert resulting in life-and-death consequences. Governor Brewer stated that "If the federal government secured the entire border and enforced our immigration laws, these human rights problems would not be occurring for citizens, legal residents and illegal immigrants."
Members of the United Nations Human Rights Council are set to review the Administration's controversial and unprecedented report later this year. The letter to the Secretary requests that the Administration amend and remove the offensive section of the report relating to the State of Arizona and S.B. 1070. If not removed, Governor Brewer stated that "the State of Arizona will fight any attempt by the U.S. Department of State and the United Nations to interfere with the duly enacted laws of the State of Arizona in accordance with the U.S. Constitution."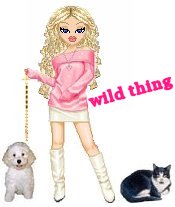 Wild Thing's comment........
Good for Gov. Brewer. Obama is anti- America in everything he does.
Since many UN nations are of enemy states then this "report" is nothing short of treason and these enemy states will use it as propaganda value against us.
The Obama administration is unquestionably the most anti-American political body in American history. Obama is a traitor.
Posted by Wild Thing at August 30, 2010 05:45 AM
---
Comments
Treasonous indeed.
Arizona, and their exemplary Governor Jan Brewer who has so well risen to the occasion, is but the first state of the union to be isolated and disenfranchised by this administration.
What we have in less than two years is not prosperity at home and peace abroad, but a Washington run amok by this divisive, vile and loathsome group gathered there in 2010 that with its White House lecterns speaks to a world stage, and with its Departments of State and Justice acts siding with anti American sentiment throughout the world while allowing for a diminishing private sector, our own economic decline and severe unemployment at home. This is hard to believe, but true.
I strongly believe that this administration will be a single four year one term disaster as more and more Americans are waking up to these harsh realities and the huge mistake and setback that was the election of November 2008.
These times that we live are both precarious and consequential.
But if this administration goes hell bent for another four years, we may well need another Abraham Lincoln to keep our fifty states united, save liberty and freedom throughout the world, and a thousand years of darkness without it.
Posted by: Carlos at August 30, 2010 06:53 AM
---
obama hates America. He is quick and willing to give up any of our sovereinty to the UN or the World Court. Treason is putting it lightly. Hatred is his motivating factor.
Posted by: TomR, armed in Texas at August 30, 2010 10:41 AM
---
He is virtually declaring War on a State of the United States. Siding with Cuba and Lybia. Just one more of the charges to be added during Impeachment.
Posted by: Mark at August 30, 2010 03:06 PM
---