« Fight For Your Freedom America | Main | Congressional Candidate LTC Allen West Speaking Before The Tea Party Fort Lauderdale July 3rd »
July 05, 2010
RNC Chair Michael Steele RESIGN NOW!
South Carolina GOP Sen. Jim DeMint appearing on Fox News Sunday today said that comments made by RNC Chairman Michael Steele in calling the War in Afghanistan a "War of Obama's Choosing," were "unacceptable" and "careless," and simply not "accurate." DeMint said Steele needs to "apologize to our military."
As for whether Steele should resign, DeMint said that is "up to other people." But DeMint said he hoped Steele would focus on the November Midterm elections, and the need to return Congress to a Republican majority.

.

Liz Cheney calls for Steele to step down Steele's comments "deeply disappointing and wrong."

Liz Cheney, daughter of the former vice president, chairman of Keep America Safe, and an increasingly prominent voice in national security politics, has released a statement calling for Republican National Committee chairman Michael Steele to resign:
RNC Chairman Michael Steele's comments about the war in Afghanistan were deeply disappointing and wrong. The chairman of the Republican party must be unwavering in his support for American victory in the war on terror — a victory that cannot be accomplished if we do not prevail in Afghanistan. I endorse fully Bill Kristol's letter to Chairman Steele. It is time for Chairman Steele to step down.

.

Rev. Peterson: 'Michael Steele is a RINO'

April 23, 2010
Rev. Jesse Lee Peterson, Founder and President of BOND Action, blasted RNC Chairman Michael Steele for his latest remarks that blacks don't have a reason to vote Republican. Steele also told 200 DePaul University students listening to his address on Tuesday that the Republicans walked away from blacks and that their strategy over the last 40 years to attract Southern white males has alienated minorities.
"Michael Steele is a RINO (Republican In Name Only) -- he's dividing the party and hurting recruitment efforts," said Rev. Peterson. "Since January I have called for the GOP to fire Steele because he cannot be trusted to lead the party to victory. I'm hoping that party leaders will finally get over their fear of being called racists and dump him before it's too late."
.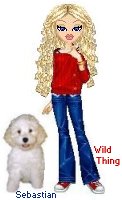 Wild Thing's comment........

I have really had it with Michael Steele, enough is enough. Each time he mouths off and says something else it takes longer each time to clean up his mess.

Amd regarding Michael's comments about blacks and the Republican party. Michael, you need to resign. Not only is that utterly insulting, it is arrogantly WRONG! The R party is the single BEST way, conservatives at least, of allowing for the opportunities for ALL Americans to make something of themselves, whatever it is they want to do. Pursuit of happiness is alive and well, but NOT in the D party. And the sooner you wake up to that fact, Michael, the better for ALL Americans.
Posted by Wild Thing at July 5, 2010 03:47 AM
---
Comments
Cythia Tucker the African-Amierican editor of the Atlanta Journal recently described Michael Steele as 'an affirmative action choice gone bad'. While I personally do not subscribe to such a view I do believe Michale Steele is a total moron. If the Republican party would select and maintain a total moron as chairman of their National Committee what can the country expect from prospective Republican majorities in congress?
Posted by: Howardthemartian at July 5, 2010 10:04 AM
---
Michael Steele certainly seems to be inept as the RNC chairman. He makes more vocal gaffes than Joe Biden. Steele really needs to step down and concede his office to a more capable and real conservative. Otherwise the RNC will just continue to spin it's wheels in the mud.
Posted by: TomR,armed in Texas at July 5, 2010 11:05 AM
---
The Republicans did no such thing to attract Southern Whites. It was LBJ, who with his Civil Rights act of 1965, Johnson said, " I fear all I have done is given the South to the Republicans".
It was the democrats who wanted to sue for peace in 1864 The Republicans didn't, but the Republicans were Not that much of a stalwart either. They even offered up an alternative to Lincoln. Lincoln beat his challanger and also won the election against McClellan. Thanks in no small part to the Grand Army of the Republic.
But it was the Republicans who wanted to finish the war and end slavery. The democrats have been since 1864 trying to undermine the blacks standing, the Ku Klux Klan can be attributed to the democrat party, and make them their own useful idiots. After that War the whole South was Democrat, nobody else would do that. And for the most part since 1965 the democrats have done just about that. If Michael Steele thinks it is because of the Republicans, blacks run away from the Republican Party he is wrong, it is because of his own racists views. And obviously Michael Steele is in the wrong party and should resign.
Posted by: Mark at July 5, 2010 11:55 AM
---
Hey, Steele, when a RINO (McCain) tells you you're being a RINO and aren't tough enough, you're REALLY being a RINO (that's bad)! We need a new GOP chairman! No more RINOs!
Posted by: Anonymous at July 5, 2010 12:55 PM
---
Keep that jaw a flapping Mr Steele, it reveals a lot about the GOP leadership not the rank and file most of whom are now independents.
Keep on Jaw Jackin' Steele!!! Come on Back!!!
http://www.youtube.com/watch?v=HiO-UOsUmAo
Posted by: Jack at July 5, 2010 02:33 PM
---