« Larry Grathwohl Interview About William Ayers,Obama's Mentor | Main | Statement by Gov. Brewer Regarding SB1070 ~ Judge Blocks State From Enforcing Federal Law! sheesh! »
July 29, 2010
Rangel, Ethics Panel Lawyers Talking Settlement
Remember this? LOL Rep. Charlie Rangel swears at Jason Mattera over scandal questions ~ Wild Thing
Rangel, Ethics Panel Lawyers Talking Settlement
New York Democrat Charles Rangel made a last-minute effort Tuesday to settle his ethics case and prevent a House trial that could embarrass him and damage the Democratic Party.
The talks between Rangel's lawyer and the House ethics committee's nonpartisan attorneys were confirmed by ethics Chairman Zoe Lofgren, D-Calif. Lofgren said she is not involved in the talks, and added that the committee's lawmakers have always accepted the professional staff's recommendations in previous plea bargains.
Rangel, a 40-year House veteran who is 80 years old, would have to admit to multiple, substantial ethics violations for any plea bargain to be accepted. Earlier negotiations broke down when Rangel would only admit to some allegations — not enough to satisfy the committee lawyers, according to people familiar with those talks who were not authorized to be quoted by name.
If the talks are not successful, trial proceedings for the Harlem congressman would begin Thursday with a reading of alleged ethics violations that are still confidential.
An equally divided, eight-member subcommittee led by Lofgren would then conduct the actual trial later and decide whether the charges are proved by clear and convincing evidence.
The members are separate from the four-member investigative panel that charged Rangel, the former Ways and Means Committee chairman, with multiple violations connected to his fundraising, financial disclosure and failure to pay taxes on income from a resort unit.
If the case ends with either a plea bargain or a finding of guilt, the ethics committee would make a decision on punishment that could range from a critical report, to a censure by the House or an expulsion vote.
In previous cases, the only matter to go through a trial was the case of former Rep. Jim Traficant of Ohio, who was expelled by a 420-1 vote in 2002. He went to prison after his conviction for racketeering and bribery.
Some Democrats have called for Rangel to resign. Others have returned money he raised for them. Many Democrats are worried that they'll be responding to negative campaign ads about Rangel if a trial gets under way in September.
An ethics case against former Republican Rep. Mark Foley of Florida, involving his suggestive e-mails to former male pages, coincided with the 2006 campaign and was among the reasons the GOP lost control of the House.
House Majority Leader Steny Hoyer, who was not confirming any negotiations, told reporters Tuesday, "I think everybody would like to have it go away in the sense that this is not a pleasant process."
The Maryland Democrat said he didn't know what Rangel's decision would be.
"Mr. Rangel has to do what Mr. Rangel believes is appropriate and proper," he said.
Lofgren said she's been peppered with questions by lawmakers about the negotiations.
"People want to know, am I doing a deal? The answer is no," Lofgren said. "I don't know whether it's possible or not. The professional staff can arrange a settlement."
A House investigative committee last week approved multiple alleged violations against Rangel.

People familiar with charges, who were not authorized to be quoted, said they related in part, to:
— Rangel's use of official stationery to raise money for the Charles B. Rangel Center for Public Service at City College of New York.
— His use of four rent-subsidized apartment units in New York City.
— Rangel's failure to report income as required on his annual financial disclosure forms. The committee had investigated his failure to report income from the lawmaker's rental unit at the Punta Cana Yacht Club in the Dominican Republic. Rangel also belatedly disclosed between $239,000 and $831,000 in investment assets.
— His failure to pay taxes on all his income from the resort unit.
— A possible role in preserving a tax shelter for an oil drilling company, Nabors Industries, whose chief executive donated money to the Rangel Center while Ways and Means considered the loophole legislation.
.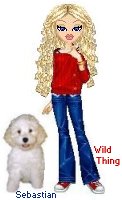 Wild Thing's comment.......
It seems he's not going to admit to much of anything but go down fighting.
Fight Charlie, fight. This all about race, Charlie. The crackers are all trying to put you in chains and make you their slave.
Fight them into next year, Charlie.... we be all behind you bro.
Yeeeeehaaaa! Drag this thing out. The longer it's out there, the more it hurts the Dems.
They charged in 2006 that the republicans were corrupt so time to shout out the real truth!
There are no ethical people on the ethics committee...just congressmen.

....Thank you Mark for sending this to me.
Mark
3rd Mar.Div. 1st Battalion 9th Marine Regiment
1/9 Marines aka The Walking Dead
VN 66-67


Posted by Wild Thing at July 29, 2010 06:50 AM
---
Comments
Keep in mind that the folks who actually vote for the likes of Rangel, Waters, Hastings and others who are accused of wrong doing, hold the point of view that there is nothing wrong with their actions.
They see their Representatives only doing what they themselves are doing or wish they could do.
Beat the system.

Posted by: Sean at July 29, 2010 10:23 AM
---
I have a settlement !! Removed from office, stripped of all benefits and
retirement and forbidden from ever working as a lobbyist and also
forbidden from working and earning money from any government
entity be it City, State or Federal.. Chas would look good pushing a
broom for the rest of his life…
Posted by: Gator at July 29, 2010 11:06 AM
---
I hope no deal is cut. I do not want Rangel to worm his way out of these charges. Obviously he knows they have him dead to rights and that is why he and his attorney are cutting a deal. I want this trial to be news heavy and very public. Hopefully it will be another nail in the Democrat's coffin of chances in the next elections.
Posted by: TomR, armed in Texas at July 29, 2010 11:31 AM
---
As a New Yorker, I agree with you guys. I would like to see NY split into 2 states. Upstate as NY the Empire State and Westchester, Rockland, the boroughs of NY, Nassau, Suffolk and everything in between as NY City State. Those are screwing upstate big time.
Posted by: Bob A at July 29, 2010 01:01 PM
---
The news said there were two of these in the last 20 years. One was Newt. They forgot to mention that the IRS cleared Newt of any wrong doing several YEARS later. Federal government effiency in action!
Posted by: Odin at July 29, 2010 01:47 PM
---
They didn't forget about Newt and knew full well what the outcome was, it was conveniently left out.
Ok so it looks like damage control is in full swing. With this Rangle and all the sins they have committed over the past 15 months this amounts to the House banking scandle times 10. Lets hope it carrys over to the election.
That is the reason they are throwing Rangle under the bus now...there mantra has got to be out of sight out of mind.
These people have no loyalty at all they are phony as an 8 dollar Clinton bill.
Posted by: Mark at July 29, 2010 02:22 PM
---
Mark, all of them put together aren't worth a nickel.
Bob A, you've described precisely what the partition/division of the State of New York should be.
As for always havin' a good time Charlie Rangel, after 20 terms and nearly 40 years of exploitation and abuse of his public office, he should spend the next 40 years of his life in a 9 by 7 foot prison cell, so he'd be 120 years old upon his probation and release to his constituents who could then decide what to do with and provide for him.
Posted by: Carlos at July 29, 2010 02:46 PM
---
Sean, yes your right, they really see nothing wrong with it.And I have such a hard time not being shocked every timei I think about that, it just goes against all in my very soul.
Posted by: Wild Thing at July 29, 2010 04:31 PM
---
Gator, applause, I like that.
Posted by: Wild Thing at July 29, 2010 04:33 PM
---
Tom, I hope that happenes soooo much.
Posted by: Wild Thing at July 29, 2010 04:35 PM
---
Bob A., they sure are. I know exactly what you mean.
Posted by: Wild Thing at July 29, 2010 04:38 PM
---
Odin, thanks for that I had forgotten about it.
Posted by: Wild Thing at July 29, 2010 04:39 PM
---
Mark, good one.
"they are phony as an 8 dollar Clinton bill."
Posted by: Wild Thing at July 29, 2010 04:41 PM
---
Carlos, that would be perfect if that could happen.
Posted by: Wild Thing at July 29, 2010 04:43 PM
---