« Republican Governors' Association New Ad "Remember November" ~ Fantastic! | Main | America's Bloodless Coup d'etat! »
May 04, 2010
Tea Partiers Sound Call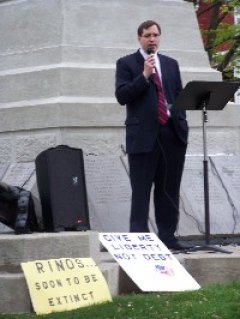 Susquehanna County District Attorney Jason Legg described the Constitution as a cage to keep the power of the federal government in check at the Tea Party rally held April 15 on the Green in Montrose. "We've lost our way," said Legg
"Hear us in November," said Bruce Paskoff as he tested the sound system at the Tax Day Tea Party demonstration held April 15 on the Montrose Village Green.

More than 200 people gathered for the rally, waving signs and flags – some wore Paul Revere hats while others donned tea bags.

The crowd presented a cross-section of Susquehanna County - filled with mothers pushing strollers, veterans, elderly, working-class men, children and folks of all ages.

Many signs referenced government spending, taxes, the national debt, and health care reform while others specifically targeted Sen. Arlen Specter, Rep. Christopher Carney, Speaker of the House Nancy Pelosi and President Barack Obama.

Paskoff, along with wife, Edna, of Forest Lake, coordinated the event.

A busload of Bradford County residents joined the demonstration.

Sylvia Ellis, one of the coordinator's of last year's Tea Party in Bradford County, said the theme of this year's rally was "Vote them out," echoing Paskoff's sound check remark.


Gary Haskell, a Jackson area pastor, spoke first, noting, "I'm a motorcycle riding, gun carrying, Bible loving preacher and I don't apologize for it."
He also expressed his dissatisfaction with "an administration forcing socialism and communism down our throats."
As did Tom Helmacy, of Auburn Twp. who said he was at the rally because, "I want to see the socialist movement stopped."


Vic Lawson from Bradford County said the people should be the "watchdogs of government" and he believed the news media had shirked its duty in its coverage of Tea Party events.


"I don't see violence and destruction of property at Tea Party events," Lawson said. "I see patriots coming together across the country."


Donna Benjamin, of Hallstead, said this was the second Tea Party event she has attended with her three young sons.


"I feel taxes have been raised enough," she said. "Government is not being held accountable for what it does with our money."


Bill Ord, of Brooklyn, said he came out to the rally to "see what was going on and to put my support behind it to help change things in Washington and Harrisburg."

Susquehanna County District Attorney Jason Legg spoke about the Constitution, the Founding Fathers and the current state of government.


Legg said, "The Founding Fathers fought not for themselves but for principles bigger than their selves.
Legg described the Constitution as a cage constructed by the Founders to keep the power of the federal government in check.
"They wanted a government that did little. That's where we've lost our way," said Legg.
"The Constitution was created not to give the government power but to protect people from government."
Legg said a "right does not mean and entitlement" and said that where the federal government has become "confused."
The district attorney told the crowd he spoke with Carney immediately following a town hall meeting the congressman hosted at the Susquehanna County Courthouse last year, and he asked Carney about the constitutionality of the health care bill.
Legg told the crowd Carney told him the interstate commerce clause allowed for the government to mandate health care.

Legg said he questioned how if insurance companies cannot sell their products across state lines, how it could qualify as interstate commerce.

Legg said Carney also told him that Article I, Section VIII of the Constitution (the general welfare clause) would allow for it as well
"If it's allowed, there is no end to (government) telling us what we can or can't do," said Legg.
"(Congress has) created a dependent culture drugged by pork and entitlements" Legg said. "They've been water boarding our Constitution for decades."
"We will be the silent majority no more," he ended, as some wiped tears from their eyes and others stood to cheer.
At the podium a Jewish-German immigrant said, "I came to America for freedom. I'm a very mad Pennsylvania woman with my religion and my gun." The three GOP candidates –Malcolm Derk, David Madeira and Tom Marino - vying for a shot to challenge Carney in November attended the rally and spoke to the crowd.
Of the Tea Party movement, Marino said, "This May and November, Washington is going to be stunned as to how powerful the voters really are."
Other speakers/candidates included Rep. Sandra Major; Rep. Tina Pickett, Sen. Gene Yaw; and for gubernatorial candidates Sam Rohrer and Tom Corbett, Jerry Birmelin and Dan Meuser, respectively.

.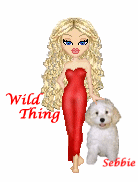 Wild Thing's comment.......
I love how the Tea Parties are making a difference. And the neat thing too is that a lot of the people that go to them have never spoken out about politics before. They would vote but this is the first time they are really getting involved.

....Thank you Mark for sending this to me.


Mark
3rd Mar.Div. 1st Battalion 9th Marine Regiment
1/9 Marines aka The Walking Dead
VN 66-67


Posted by Wild Thing at May 4, 2010 05:47 AM
---
Comments
I sent this because of what the DA had to say. You don't hear much from the Legal area of governments about the Constitution. Here, we actually have someone who actually read and understood the Constitution say something positive about it. In regard to what the current government is doing to destroy it. Today, Congress, the Senate and President Nitwit laugh at the Constitution. It was good to hear someone speak as if the Constitution still means something.
Posted by: Mark at May 4, 2010 12:17 PM
---
Truth of groups: "Attitude follows action."
This is what is scaring the professional opinion manipulators so bad about the Tea Parties. People are leaping to action everywhere without preamble of the traditional sort. They don't know what will happen next.
They do know that Lady Godiva never went for a tax increase after she took her ride.

Posted by: Avitar at May 4, 2010 12:58 PM
---
Mark, that is so true. That made this a really important article to post too. Thank you so much.

Avitar LOL good one!!!!
Posted by: Wild Thing at May 5, 2010 01:43 AM
---