« Sarah Palin Statement to the Press Alongside AZ Gov. Brewer: "Mr. President, Do your Job. Secure our Border!" | Main | The Story Behind Who Waves The Flags Over I-5 »
May 16, 2010
"Islam Rising" Trailer

The film is titled Islam Rising: Wilders Warning to the West, and was made by small-time production company PRB Films, together with Christian Action Network.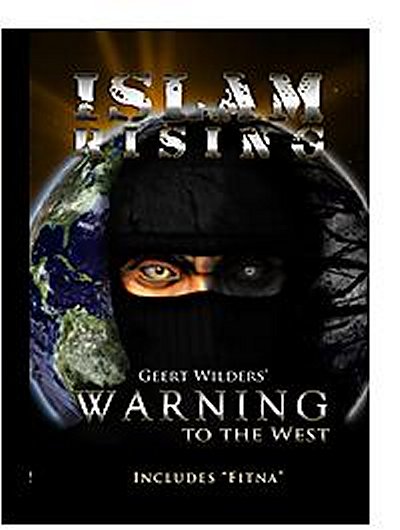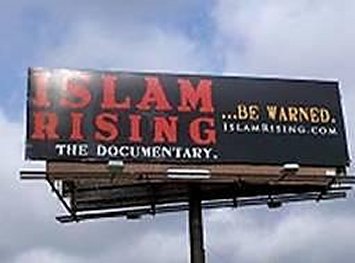 Billboard says it all – "Islam Rising" coming soon.
The Christian Action Network is taking the fight against radical Islam to a new level by launching a massive campaign to put billboards up in South Carolina promoting its latest documentary. Each billboard simply states, "Islam Rising—Be Warned," in reference to the title of the film, "Islam Rising: Geert Wilders' Warning to the West."
"Islam Rising" shows how radical Islam has made tremendous progress in conquering Europe, gaining footholds in communities and governments. To show how dangerous the situation has become, the film tells the story of Geert Wilders, a highly controversial member of the Netherlands' parliament currently on trial for alleged hate speech for criticizing Islam.
Wilders lives in constant fear of his life for making a film titled "Fitna" showing how verses in the Koran, Islam's holy book, are motivating the extremists to act with violence. For the first time in the United States, "Fitna" will be distributed as part of the "Islam Rising" documentary.
"We chose to put the first billboards up in South Carolina because of the terrorist training camp that currently exists in York," Martin Mawyer, the President of the Christian Action Network said.
Mawyer was referring to a topic covered in his organization's previous film, "Homegrown Jihad," about how a group called the Muslims of the Americas has set up compounds throughout the country that are used to recruit and sometimes train followers.
Already, two billboards have been put on busy South Carolina interstates. The 14×46 displays are located on I-26 at mile-marker 125 and US 301N in Orangeburg.
CAN (Christian Action Network ) is currently negotiating for four more billboards to be put up in the state and billboards are set to go up in Tennessee within weeks.
For more information please go to the home page.
The premiere screening of ISLAM RISING will took place on May 1st, 2010 in the Rayburn House Office Building located at 50 Independence Avenue Southwest, Washington, DC 20515.
The Christian Action Network held it's much anticipated launch of 'ISLAM RISING: Geert Wilders' Warning to the West' in the prestigious Congressional Cannon Caucus Room on Capitol Hill in Washington D.C. on Saturday, May 1, 2010.
The premier screening followed a national prayer rally called 'May Day 2010: A Cry to God for a Nation in Distress' held in front of the Lincoln Memorial earlier in the day. Christian Action Network took part in the prayer rally along with many other Christian and Jewish organizations.
Christian Action Network would like to thank Congressman Ted Poe from Texas for sponsoring the Congressional room and Speaker of the House Nancy Pelosi for approving the room for CAN to premiere its film 'ISLAM RISING.'

The remainder of the ISLAM RISING Screening Tour will be kicking off shortly.
The trailer to the new documentary from PRB Films.
Geert Wilders lives with a constant death threat over his head. Al-Qaeda has vowed to kill him. As a Dutch parliamentarian and outspoken critic of radical Islam, Mr. Wilders must travel with four bodyguards and sleep in a safe house, each and every night.
His short documentary film, Fitna set off a firestorm in the Middle East and Western Europe immediately upon its release. The controversial film showed how Islamic terrorists are following the literal dictations of the Quran.
That message can be seen here in this DVD, with striking clarity in film, photographs and a special message from Geert Wilders himself, who came to America with an urgent and terrifying warning: "Islam is on the verge of conquering the West."
Video at: www.IslamRising.com

.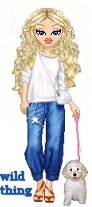 Wild Thing's comment........
I hope this movie will be played everywhere. Every politician in office and those running for office should be required to see this film. And take it to the campuses; and all trails across America, Canada et al.
I am sure the Muslim Obama doesn't like it at all.. I am surprised they are allowed to show this at the Rayburn House Office Building..I would think Obama and his goons would put a stop to it..everyone that does go please be very careful,these are animals we are dealing with..
Islam is genocide. It should be prosecuted everywhere as a crime against humanity.
Posted by Wild Thing at May 16, 2010 05:45 AM
---
Comments
a small part of time 1,000 years of darkness. I believe it will be 2 million years of darkness when we lose to war with islam.
that is why I pray for the meteorites to hit the earth and finish it for us, because 2 million years is a long time to live under oppression.
Posted by: Hetlau at May 21, 2010 03:04 AM
---
"The premiere screening of ISLAM RISING will took place on May 1st, 2010 in the Rayburn House Office Building located at 50 Independence Avenue Southwest, Washington, DC 20515"
"Will took" doesn't make sense to me. Did it happen? How many saw it? Wassup?
Posted by: Brian H at May 26, 2010 07:45 PM
---