« Anti-America Obama Cuts NY Anti-Terror Funds Even After Times Sq. Bombing Attempt | Main | Ray Steven's New Song About The Illegal Immigration »
May 14, 2010
A Rare Daytime Assault, Operation Apache Roadhouse By from 3rd Stryker Brigade Combat Team, 2nd Infantry Division
A rare daytime assault Soldiers from 3rd Stryker Brigade Combat Team, 2nd Infantry Division raided a small home to capture and detain a known suspect. Capt. Mark Pemberton Commander, A Co., 1/23 Infantry comments on the operation. Produced by Sgt. 1st Class JD Phippen.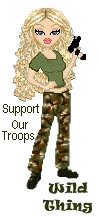 Wild Thing's comment.........

God bless our troops, they are fighting two wars, one against the terrorists and the other having to put up with the anti-America CIC Obama.
Posted by Wild Thing at May 14, 2010 06:40 AM
---
Comments
They are awesome Chrissie, too bad the 'suspect' surrendered :) :) These wonderful troops have 3 Stryker brigades at Ft. Lewis. Obama and his Marxists are destroying the very fabric of the nation, the SOB spouts that CIC bullshit like he has dominion over all of us not just the military,I'm enraged 10% of the time and pissed off the other 90%. What a CF he's has turned out to be.
Posted by: Jack at May 14, 2010 10:19 AM
---
Jack, heh heh I was thinking that too about the person surrendering.
Posted by: Wild Thing at May 15, 2010 01:49 AM
---