« Global Shield Interval Take Off (MITO) launch of B-52's and K-135's | Main | Clinton Alludes To 1995 Bombing, Says Words Matter ~ Just NOT His! »
April 18, 2010
Justice Clarence Thomas: We're 'evading' eligibility"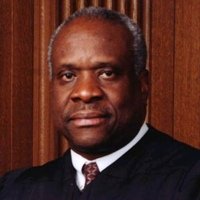 Justice Clarence Thomas: We're 'evading' eligibility
Does testimony hint at division behind Supreme Court's doors?
U.S. Supreme Court Justice Clarence Thomas told a House subcommittee that when it comes to determining whether a person born outside the 50 states can serve as U.S. president, the high court is "evading" the issue.
The comments came as part of Thomas' testimony before a House appropriations panel discussing an increase in the Supreme Court's budget earlier this week.
Subcommittee Chairman Rep. Jose Serrano, D-N.Y., actually raised the question first amid a discussion on racial diversity in the judiciary.
"I'm still waiting for the [court decision] on whether or not a Puerto Rican can run for president of the United States," said Serrano, who was born in the island territory. "That's another issue."
Yet after Serrano questioned him on whether or not the land's highest court would be well-served by a justice who had never been a judge, Thomas not only answered in the affirmative, but also hinted that Serrano would be better off seeking a seat in the Supreme Court than a chair in the Oval Office.
"I'm glad to hear that you don't think there has to be a judge on the Court," said Serrano, "because I'm not a judge; I've never been a judge."
"And you don't have to be born in the United States," said Thomas, referring to the Constitution, which requires the president to be a natural-born citizen but has no such clause for a Supreme Court justice, "so you never have to answer that question."
"Oh really?" asked Serrano. "So you haven't answered the one about whether I can serve as president, but you answer this one?"
"We're evading that one," answered Thomas, referring to questions of presidential eligibility and prompting laughter in the chamber. "We're giving you another option."
A portion of the exchange, captured on video by C-SPAN, can be seen below:
In a polite exchange between Justice Thomas and subcommittee chairman Serrano, the eligibility issue comes up with an apparent admission that the court is avoiding it. Things may not be as they seem though. Much could be read into this... judge for yourself.
.
Serrano opened the hearing by noting the jersey number 42 taped to the platform in honor of black baseball star Jackie Robinson, who 63 years ago this week broke professional baseball's "color barrier" when he took the field for the Brooklyn Dodgers.
Serrano also took a moment to honor the Supreme Court's first Hispanic justice, Sonia Sotomayor:
"I'd like to note before we begin this hearing that there has been a change at the Court, which has special meaning to the Court, to the American society in general, and to me personally," Serrano said, "because Sonia Sotomayor comes from the South Bronx, from the area that I represent and the area I grew up in and her parents were born in the same island of Puerto Rico that I was born in."
Though the hearing was specifically called to address the Court's request for an increase in funding, the racial themes continued when Rep. Barbara Lee, D-Calif., took Thomas and the Supreme Court in general to task for not employing more minority clerks and staff.
Thomas, in turn, praised the value of having people of diverse backgrounds, career paths and regions of the country serving in the judiciary and on Supreme Court staff.
Serrano then asked if Supreme Court would do well to have justices that weren't promoted from the appellate courts, but rather came from state courts or even the ranks of elected officials, laying the foundation for the later banter over Serrano as president or justice.
As WND reported, Justice Thomas had previously resurrected a case challenging Barack Obama's eligibility to be president not based on his birthplace, but on whether Obama, a child born to a foreign national and admitting dual citizenship, would still be eligible under the Constitution's Article 2, Section 1 "natural-born citizen" requirement.
Hints of division within the Supreme Court on the issue existed as far back as December 2008, as Justice David H. Souter had initially denied the case a hearing, but Justice Thomas agreed to bring it back for review. The case did not, however, obtain the required approval of four justices to move it forward to a full hearing.
So far, the Supreme Court has not yet heard any case challenging Obama's eligibility on any grounds.
.
Wild Thing's comment.......
I have always like Justice Thomas...and his wife too. His wife goes to the Tea Parties and makes speeches.
Well, regarding the article and video, I think it means that Thomas is pi$$ed that his hands are tied on the natural born question and would like nothing more than to skewer BO on it.
I got the feeling that Thomas was firing a shot across the bow as well. Barbara Lee had been going on and on trying to blame him for the lack of diversity on the court in the 30 minutes prior to the statement. Thomas had tried to explain to her that it wasn't for the court to decide on the pool of applicants that were submitted to the court for clerkships, etc. and that most members welcomed a diverse pool,etc. Then Serrano gets on his soapbox for several minutes before Thomas shuts them all up with his statement...heh heh LOVE ya Justice Thomas! Thomas knows well our Constitution and he loves and respects it. I think it frustrates him that the eligibility issue is not more prominent in the dominant media and court of public opinion.

I hope Justice Thomas has good personal security. The kind NOT related in anyway to a government payroll. Ditto for Scalia and Roberts.

....Thank you Mark for sending this to me.

Mark
3rd Mar.Div. 1st Battalion 9th Marine Regiment
1/9 Marines aka The Walking Dead
VN 66-67


Posted by Wild Thing at April 18, 2010 03:49 AM
---
Comments
It seems to be rare when we hear public opinion from Justice Thomas. He must honestly think that there is a real issue with obama's elgibility to serve as president. Maybe this issue will be pursued and decided by SCOTUS.
Justice Thomas is a dependable conservative. He maintains his dignity and seems to be a very modest man.
Posted by: TomR at April 18, 2010 10:49 AM
---
If he can't get 4 votes to bring this thing up they are really scared. This sounds like threat has been made and the other 8 are keeping mum or at least the other 3. If that's the case we have to apporach this from another angle.
Posted by: Mark at April 18, 2010 04:16 PM
---
Posted by: BobF at April 18, 2010 09:23 PM
---
Tom, I agree, I have a lot of respect for Justice Thomas.

Mark, I think so too.

BobF., wow I did not know that. Thank you and thank you for the link too.
Posted by: Wild Thing at April 18, 2010 11:35 PM
---
There are no clear lines in the constitution for the Supreme Court to even to render an opinion on the eligibility of a President to serve once he has been sworn in. Removal is only by impeachment and that is only by congress or a constitutional convention.
With the super majority in congress and the lock on the media at the beginning of 2009 there was no way that a good outcome could have been achieved with a ruling on eligibility. That ship sailed in 2007 before the primaries. After 2010 the question framed as to whether affirmative proof can be required before somebody can be on the primary ballots of 2012 is a question that will have standing for at least 30 Secretaries of State.
Someone should be willing to take it to court. In Illinois Obama was famous for eliminating his oponents before the elections. It will be the sweetest of ironies if he is eliminated for re-election before the primary votes.
Posted by: Avitar at April 19, 2010 01:02 AM
---