« An American Family's Cancun Horror | Main | Obama: Limbaugh, Beck Spreading 'Vitriol' »
April 03, 2010
Hillary Clinton: Consulate-linked Murders Were Attacks Against US, Mexico Governments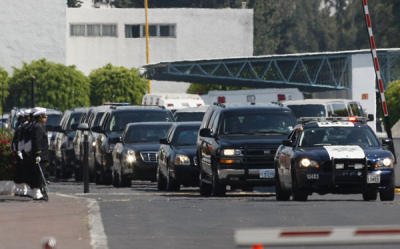 The caravan of vehicles that transports U.S. Secretary of State Hillary Rodham Clinton leave the airport in Mexico City after Clinton's arrival.
Clinton: Consulate-linked murders were attacks against US, Mexico governments
The murders of three people with ties to the U.S. consulate in Juárez were attacks by drug cartels against the U.S and Mexican governments, Secretary of State Hillary Rodham Clinton said today in Mexico City.
She said drug cartels were responsible for the increased violence in the border region.
"There is no question that they are fighting against both of our governments," Clinton said in closed-door remarks that were reported by the Associated Press. "Tragically, that fact was underscored on March 13th," she said, with the murders of two Americans and a Mexican affiliated with the U.S. consulate in Juárez.
U.S. Sen. John Cornyn, R-Texas, said he is asking for a Senate Judiciary Committee hearing to investigate violence on the border, especially in light of the three murders.
Also today, Mexican authorities reported the execution-style deaths of six people in Chihuahua state, including a man believed to be a Juárez city police officer.
.

Suspect: Sheriff's officer was killed in retaliation for alleged mistreatment
A former Barrio Azteca gang member from El Paso suspected of being involved in the killing of three people tied to the U.S. Consulate in Juárez claimed the target of the attack was a detention officer who mistreated gang members at the El Paso County Jail.
Mexican authorities on Tuesday accused Ricardo "Chino" Valles de la Rosa, 45, of being a lookout for gunmen who carried out the hit.
Valles was arrested Friday by the Mexican army in Juárez and remains in custody in Mexico.
Valles alleged during his detention hearing that a gang leader ordered the hit on Arthur Redelfs, an El Paso County sheriff's detention officer, because Redelfs mistreated fellow gang members at the jail. Valles had another hearing Tuesday before a judge, also in Juárez.
The Barrio Azteca is a brother gang of the Juárez Aztecas gang, and both are aligned with the Carrillo-Fuentes cartel.
Chihuahua Gov. Jose Reyes Baeza said the FBI and DEA are assisting with the investigation, mostly by providing intelligence.
"We still maintain that we have no information to indicate that any of the three were specifically targeted," FBI Special Agent Andrea Simmons said Tuesday. "U.S. law enforcement continues to work on this investigation and follow up on all leads." Soon after the killings, Mexican officials said the Aztecas gang was responsible. The FBI has extensively investigated the U.S.-based Barrio Azteca gang.
.
While Americans Are Murdered in Mexico, Obama Works on Amnesty!
Although no one in the Obama Administration seems to give a damn, the nation of Mexico continues to decay further and further into anarchy, a tragedy which recently resulted in the murder of innocent Americans affiliated with the U.S. Consulate in this god-forsaken, third-world, failed state. (1)
As murder and mayhem rage out of control in Mexico, the likelihood that the carnage will spill over onto America soil increases with each passing day. In fact, incursions across the US border by Mexican military forces have already been reported and are a chilling reminder of why our borders must be secured and fortified militarily. (2)
And what are the president of the United States and the US Congress doing while Mexico wages war on our sovereign state?
Incredibly enough, our dithering president and his Democrat colleagues in Congress are too busy working on plans to grant amnesty to the 20 million or so invading criminals from Mexico and points south, to concern themselves with defending the homeland.
Moreover, misguided yokels like Homeland Security Secretary Janet Napolitano prefer to think of illegal aliens as "newly arrived refuges" rather than criminals who have deliberately violated US borders and immigration laws.
In their mindless mania to grow the Democrat Party at any cost, Obama and the Democrats have overlooked a vital fact about illegal aliens currently in America: Namely, should hostilities break out between the US and Mexico over Mexico's inability to control its drug crimes, the loyalties of most illegal aliens will be with Mexico.
Mexicans come to America illegally because our politicians are stupid enough to reward them with free health care, education, employment, food, housing, and, in the most extreme cases, protection from federal immigration authorities.
.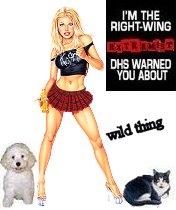 Wild Thing's comment........
According to the newspaper Diario de Juarez, gunmen chased the couple's white van shortly after 2 p.m. on Saturday, shooting at the vehicle until it swerved out of control, crashing into oncoming traffic near the bridge.
Ms Enriquez, who was four months pregnant with the couple's second child, was shot in the head, while her husband was shot in his neck and arm. When police officers arrived at the victims' bullet-riddled Toyota van, they discovered the couple's baby daughter crying disconsolately in the back seat, Diario de Juarez reported. At first the officers thought the seven-month-old girl had been wounded, but she was unharmed.
These people were killed because and only because they are Americans. This should be sufficient provacation to close the border and cancel all direct flights to Mexican destinations. Nothing moves through or above the border, including mail service.
See how long the cartels can last with no illegals going out, no tourists coming in, and no money or drugs moving through the border checkpoints

The amnesty issue, no matter how it's constructed, has never and will never address the truely criminal aliens crossing the border for plying their criminal trade. The Heritage Foundation concluded that the cost of amnesty alone would be $2.6 trillion. It has already bankrupted California.

.... Thank you Jim for sending this to me.


Posted by Wild Thing at April 3, 2010 04:47 AM
---
Comments
Yeah, lets annex the whole friggin country of Mexico, then it will be totally our fault. This couldn't be a worse scenario than to have these morons as a neighbor and obama in power.
Posted by: Mark at April 3, 2010 04:48 PM
---
Mark, well said!! That is soooo true.
Posted by: Wild Thing at April 4, 2010 03:38 AM
---