« The Difference Between a Republican and a Democrat | Main | Compilation of Some Explosions and JDAMs ~ Awesome! »
March 08, 2010
U.S. Enriches Companies Defying Its Policy on Iran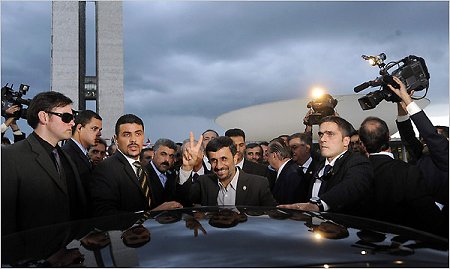 President Mahmoud Ahmadinejad of Iran, center, in Brazil last fall. The nations agreed to share technical expertise on energy projects.
Presently the United States is paying over $107 Billion to vendors companies that are breaking the Iranian sanctions.
U.S. Enriches Companies Defying Its Policy on Iran
The federal government has awarded more than $107 billion in contract payments, grants and other benefits over the past decade to foreign and multinational American companies while they were doing business in Iran, despite Washington's efforts to discourage investment there, records show.

That includes nearly $15 billion paid to companies that defied American sanctions law by making large investments that helped Iran develop its vast oil and gas reserves.
For years, the United States has been pressing other nations to join its efforts to squeeze the Iranian economy, in hopes of reining in Tehran's nuclear ambitions. Now, with the nuclear standoff hardening and Iran rebuffing American diplomatic outreach, the Obama administration is trying to win a tough new round of United Nations sanctions.
But a New York Times analysis of federal records, company reports and other documents shows that both the Obama and Bush administrations have sent mixed messages to the corporate world when it comes to doing business in Iran, rewarding companies whose commercial interests conflict with American security goals.
Many of those companies are enmeshed in the most vital elements of Iran's economy. More than two-thirds of the government money went to companies doing business in Iran's energy industry — a huge source of revenue for the Iranian government and a stronghold of the increasingly powerful Islamic Revolutionary Guards Corps, a primary focus of the Obama administration's proposed sanctions because it oversees Iran's nuclear and missile programs.
Other companies are involved in auto manufacturing and distribution, another important sector of the Iranian economy with links to the Revolutionary Guards. One supplied container ship motors to IRISL, a government-owned shipping line that was subsequently blacklisted by the United States for concealing military cargo.
In recent months, a number of companies have decided to pull out of Iran, because of a combination of pressure by the United States and other Western governments, "terrorism free" divestment campaigns by shareholders and the difficulty of doing business with Iran's government. And several oil and gas companies are holding off on new investment, waiting to see what shape new sanctions may assume.
Continue HERE for othe rest of the article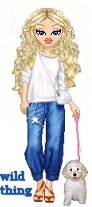 Wild Thing's comment.......

The New York Times identified 74 companies that have done business both in Iran and with the United States government over the last decade. Out of the 74:
14 no longer do buisness in Iran
11 are in Iran but promise to pull out right after they finish this one last progect
49 are still getting money from the US and Iran

John Bolton, former United Nations ambassador in the Bush administration, said failing to enforce the law by punishing such companies both sent "a signal to the Iranians that we're not serious" and undercut Washington's credibility when it did threaten action.

....Thank you Mark for sending this to me.

Mark
3rd Mar.Div. 1st Battalion 9th Marine Regiment
1/9 Marines aka The Walking Dead
VN 66-67


Posted by Wild Thing at March 8, 2010 05:48 AM
---
Comments
This goes on in all our conflicts. During Vietnam, there were a few US firms that sold goods to North Vietnam via third parties. One reason Haiphong Harbor was not bombed during Operation Rolling Thunder was that there were always allied ships(W. German, Brit., etc.) present in the harbor. Profit always overtakes morals for some folks.
Posted by: TomR at March 8, 2010 10:43 AM
---
I didn't realize how pervasive it was, Tom. We always got the shitty end of the stick. How does an administration justify putting its own troops in danger for the sake of the 'Almighty Dollar.'
And what kind of friends do we have that trade with the enemy, further what kind of Americans are running these firms that trade with the enemy. F#cking traitors.
Posted by: Mark at March 8, 2010 12:41 PM
---
Tom, wow I never knew that, thank you so much for telling about Haiphong Harbor.
Posted by: Wild Thing at March 8, 2010 06:47 PM
---
Mark, I agree, and learning it is not just now but in other wars too. It is wrong, so wrong. Yes traitors.
Posted by: Wild Thing at March 8, 2010 06:49 PM
---
At one time I heard "GE" was doing business with Iran through the back door.. Of course they denied it.. There is that river in Egypt again!!
Posted by: Gator at March 9, 2010 09:34 PM
---