« Custodian of U.S. Mosques Promotes Slaying Americans | Main | Rep. Eric Massa (D-N.Y.) ~ "Rahm is 'son of devil's spawn" »
March 09, 2010
Obama Goes To Philly To Push His Socialized Medicine and Tea Party Shows Up
Obama Goes to Philly…Tea Party Breaks Out!
Philadelphian Tea Party Patriots greeted Barack Obama when he Arrived at Arcadia University!

March 8, 2010 - Obama visits Arcadia University in Glenside to push his healthcare reform and is greeted by about 250 patriotic protesters.
FOX News reported:
Obama said there isn't time to scrap the Democrats' health reform plan and start over, as polls suggest many if not most Americans want. He said "we need to pass health reform…not next year…not five years from now…but now."

GREAT sign at the Phily Tea Party.................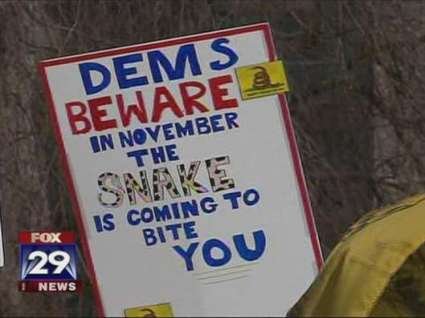 Here is a report from a blogger....Ruby Slippers blog....... that was there and also there are more photos.
Other signs read "ObamaCare Sick Joke" and "Hey Axelrod, We are not the Peanut Gallery.
The protest rally was not expected to start until 9 AM and featured guest speakers such as former Congressman Mike Fitzpatrick who is currently running for the GOP nomination in the PA8th Congressional District.
By the time we reached the door a man in a SEIU jacket was busy making calls to a group who had not shown up for the event. Could it be the Cadillac tax kept them away?
When I got just to the door a group of VIP Dems were ushered in just ahead of me. I of course set off the metal detector and then had to be wanded by security. Can it detect conservatives?
When we were through security, we were told to move to the floor beneath the podium. I had an unbelievable view of the stage. I must say that in person, Obama looks more like Fred Armisen than you would think. Here is Kelly's picture of the SEIU people directly in front of the President. The group was in a roped off area and they weren't all dressed in purple but they broke out in a chant together while we were waiting for the arrival of Obama. This was the only group that was able to shake hands with Obama at the conclusion as well.
A few interesting points. First, I overheard discussion that about 1200 of the 1700 tickets for the event were given out by the White House. That left 500 or so for the school and the community. The vast majority of the students there were there to see Obama and were just giddy. I had to laugh, however, when the President said he had to be honest the health care plan was not going to be free. You should have seen the students looking at each other. The room got quiet, which was notable since at most other times it was very loud and very hot. The audience had a fair share of people who were not in favor of the plan but as they spoke out they were drummed out by noise. There were a few rather large people with booming voices who seemed to be there specifically to be the Greek Chorus. This is notable when you are in the room but is not noticeable to any degree on television.
My first impression was how about mentioning that mandate to these kids who will likely be most affected by it. The President focused on telling them they could stay on their parents plan until they were 26. A Canadian gentleman noted how unlikely it would be they actually were going to be able to stay on their parents plan. He added that in Canada there had been a budget surplus until the extension of health care and now there are huge deficits. There were students there who will never hear of the mandate or know what this will do to their future until it hits them. I found that very sad and was glad my daughter was there along with Kelly and her conservative friends. Spread the news girls.
I was impressed with how smoothly the event went but overall felt it was much more staged than I had even anticipated. I was very glad I went, if only to see how it feels to be there. My son had wondered if Obama would win me over. Dear boy has a Reagan calendar in his bedroom. He need not worry. Those who were there were props and those who opposed health care were not persuaded.

.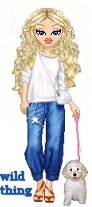 Wild Thing's comment........
I love how we have these Tea Parties, they really are awesome.
Posted by Wild Thing at March 9, 2010 05:49 AM
---
Comments
These Slugbama town halls are exactly that, staged and just another Dog and Pony show for the State Sponsored media.
There is not one person who disagrees with obama in those buildings, He must have all 10 of them traveling to each city to cheer for him.
What a cock eyed charade.
Posted by: Mark at March 9, 2010 12:58 PM
---
NO BROTHERLY LOVE in cheesesteakville Wild Thing?
Posted by: darthcrUSAderworldtour07 at March 10, 2010 10:53 PM
---