« Hey Obama THIS Is How You Talk To Terrorists! | Main | Father of Fallen US Marine Forced To Pay The Westboro Cult's Court Costs ~ O'Reilly Said He Will Pay It »
March 31, 2010
More BIG Government From Obama With His Sudent Loan Program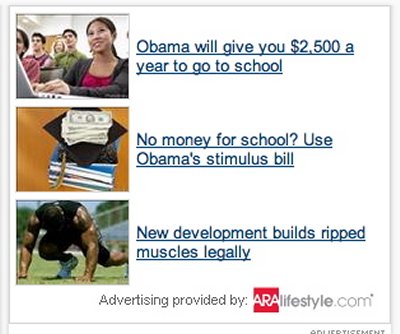 When I saw this, my blood came to a FULL BOIL immediately, and I wanted to jump out of my chair and scream: "OBAMA'S MONEY? THAT'S MY DAMNED MONEY!"
This is where we are now. And that little ARA logo...anyone ever look into that one?
This is their website
Thousands of false "Obama" adverstisements like this are funding the internet daily while indoctrinating the masses, and NO ONE is doing anything about it!
Obama Breaks Down Student Loan Overhaul

When President Obama puts pen to paper today on the final version of a health care overhaul bill, he'll also be changing the course of the nation's student loan program.
Along with the adjustments Congress made to the health care aspects of the bill was a revamping of the way student loans are administered. The President will be breaking down exactly just what that will mean for college students when he speaks at Northern Virginia Community College's Alexandria campus at 11:05am Watch it LIVE now!.
Starting July 1st, when the government issues student loans, it will bypass the banks who have traditionally provided them, and directly target borrowers.
A White House press release spells it out this way, "[A]ll new federal student loans will be direct loans, delivered and collected by private companies under performance-based contracts with the Department of Education. According to the non-partisan Congressional Budget Office, ending these wasteful subsidies will free up nearly $68 billion for college affordability and deficit reduction over the next 11 years."
But some in the President's own party say eliminating the middle man also equals eliminating jobs.
But the President's focus today will be more about what the bill does than what it does not.
He will also talk about the provision's less controversial expansion of Pell Grants, as well as supporting historically black and minority institutions and caps on student loan repayments.
According to the White House, "New borrowers who assume loans after July 1, 2014, will be able to cap their student loan repayments at 10 percent of their discretionary income and, if they keep up with their payments over time, will have the balance forgiven after 20 years."
Vice President Biden's wife, Dr. Jill Biden, is a teacher at NOVA and will introduce the President.
Mr. Obama will announce that he has asked Dr. Biden to host a White House summit on community colleges this fall, with the purpose of "educating our way to a better economy," says a senior administration official.
A senior administration official says today's remarks are targeted to people around the country who don't know what the plan is all about.

.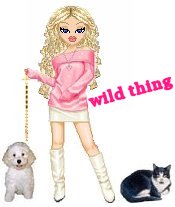 Wild Thing's comment.........
"as well as supporting historically black and minority institutions "
Well isn't that special. Democrats won't stop discrimination because it keeps their name in front of the public and it makes them money.
This isn't about loan forgiveness...this is about more control. More BIG government.
Right now if you owe, you are not forgiven for any loans. All those young people will be slaves to the Fed for 20 years. Obviously Obama's cronies and whoever is behind him are thinking ahead to enslaving the youth. No job? The Feds will assign one to you.

Not only are we gonna continue paying for their food, medical, housing, walkin' around money, and utility bills; we'll now get to pay for their attending college....
Is this a great country for parasites, or what?
Posted by Wild Thing at March 31, 2010 07:50 AM
---
Comments
He's a d--n thug!! I am so disgusted!!! He is turning those who want a higher education into widgets for the government. Instead, we should just GET OUT OF THEIR WAY and let these young adults learn and earn!!! We have returned to pre-Renaissance indentured servitude. Jacka--!!.
Posted by: jan at March 31, 2010 03:10 PM
---
Yes, the growth of the "nanny state".
Posted by: TomR at March 31, 2010 04:38 PM
---
This just another brick in the wall. Now he will control the sutdents and what they are taught.
The purpose of college was to teach a student How to think, to develop a free mind, not fouled up with marxist ideas. But Now it will be teach them What to think.
This is a very sad statement about our country.
Posted by: Mark at March 31, 2010 09:01 PM
---
Jan, he really is, his tactics are exactly like a thug. We never had a president that threatened the American people before and Obama has done that a lot, along with all the other things he does.
Tom, exactly.

Mark, I agree, it is very sad.
Posted by: Wild Thing at April 1, 2010 04:28 AM
---