« Serious Threat From The Anti-Semite Obama Against Israel ~ US 'may not veto UN resolution on Jerusalem' | Main | 'Obamacare' Cops: $1 Billion To Force New Tax Compliance »
March 30, 2010
Militia Accused of Plotting to Kill Cops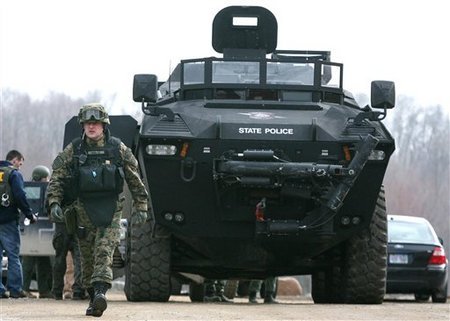 A law enforcement official walks out of an armored vehicle tank in a staging area in Hillsdale County, Mich. during a search for a fugitive who is part of a Christian militia group Monday March 29, 2010. Nine members of a Christian militia group that claimed to be preparing to fight the Antichrist were charged Monday with plotting to kill a police officer and then slaughter scores more by bombing the funeral, all in hopes of touching off an uprising against the government. Eight members of the Michigan-based Hutaree were arrested over the weekend in raids in Michigan, Indiana and Ohio, and another was still being sought. (AP Photo/Madalyn Ruggiero)


DETROIT (AP) - Nine alleged members of a Christian militia group that was girding for battle with the Antichrist were charged Monday with plotting to kill a police officer and slaughter scores more by bombing the funeral - all in hopes of touching off an uprising against the U.S. government.
Seven men and one woman believed to be part of the Michigan-based Hutaree were arrested over the weekend in raids in Michigan, Indiana and Ohio, and another was still being sought. Authorities blocked off a rural area Monday evening about 30 miles from the site of Saturday's raid near Adrian but wouldn't say who they were searching for or whether the search was related to the weekend raids.
FBI agents moved quickly against the group because its members were planning an attack sometime in April, prosecutors said. Authorities seized guns in the raids but would not say whether they found any explosives.
The arrests have dealt "a severe blow to a dangerous organization that today stands accused of conspiring to levy war against the United States," Attorney General Eric Holder said.
Authorities said the arrests underscored the dangers of homegrown right-wing extremism of the sort seen in the 1995 Oklahoma City bombing that killed 168 people.
In an indictment unsealed Monday, prosecutors said the group began military-style training in the Michigan woods in 2008, learning how to shoot guns and make and set off bombs.
David Brian Stone, 44, of Clayton, Mich., and one of his sons were identified as the ringleaders of the group. Stone, who was known as "Captain Hutaree," organized the group in paramilitary fashion and members were assigned secret names, prosecutors said. Ranks ranged from "radoks" to "gunners," according to the group's Web site.
Stone's ex-wife, Donna Stone, told The Associated Press that Stone pulled her son into the movement. Another of Stone's sons also was charged.
"It started out as a Christian thing," Donna Stone said. "You go to church. You pray. You take care of your family. I think David started to take it a little too far."
Prosecutors said Stone had identified certain law enforcement officers near his home as potential targets. He and other members discussed setting off bombs at a police funeral, using a fake 911 call to lure an officer to his death, killing an officer after a traffic stop, or attacking the family of an officer, according to the indictment.
After such attacks, the group allegedly planned to retreat to "rally points" protected by trip-wired explosives for a violent standoff with the law.
"It is believed by the Hutaree that this engagement would then serve as a catalyst for a more widespread uprising against the government," the indictment said.
The charges against the eight include seditious conspiracy - plotting to levy war against the U.S. - possessing a firearm during a crime of violence, teaching the use of explosives, and attempting to use a weapon of mass destruction - homemade bombs. The defendants were jailed, awaiting bail hearings Wednesday.
Hutaree says on its Web site its name means "Christian warrior" and describes the word as part of a secret language that few are privileged to know. The group quotes several Bible passages and declares: "We believe that one day, as prophecy says, there will be an Anti-Christ. ... Jesus wanted us to be ready to defend ourselves using the sword and stay alive using equipment."
The nature of the organization's alleged grudge against law enforcement and the government was unclear. The Web site does not list any specific grievances.
The site features a picture of 17 men in camouflage, all holding large guns, and includes videos of armed men running through the woods. Each wears a shoulder patch that bears a cross and two red spears.
David Cid, executive director of the Oklahoma City-based Memorial Institute for the Prevention of Terrorism, said there has been a resurgence in the past year or two of "domestic militancy" similar to what was seen before the Oklahoma City bombing.
"It's issues like eminent domain and immigration, and apparently national health care in some quarters," said Cid, a former FBI counterterrorism agent. "It's increasing these people's ire and their discomfort with their own government."
The wife of one of the defendants described Hutaree as a small group of patriotic, Christian buddies who were just doing survival training.
"It consisted of a dad and two of his sons and I think just a couple other close friends of theirs," said Kelly Sickles, who husband, Kristopher, was among those charged. "It was supposed to be a Christian group. Christ-like, right, so why would you think that's something wrong with that, right?"
Sickles said she came home Saturday night to find her house in Sandusky, Ohio, in disarray. Agents seized the guns her husband collected as a hobby and searched for bomb-making materials, she said, but added: "He doesn't even know how to make a bomb. We had no bomb material here."
She said she couldn't believe her 27-year-old husband could be involved in anything violent.
"It was just survival skills," she said. "That's what they were learning. And it's just patriotism. It's in our Constitution."
One of the defendants expressed anti-tax views during his Monday court hearing.
Thomas W. Piatek, a truck driver from Whiting, Ind., told a federal judge he could not afford an attorney because he was "getting raped on property taxes."
The mother of another defendant, 33-year-old Jacob Ward, told police in Huron, Ohio, last summer that family members took away his two guns - an AK-47 rifle and a semiautomatic pistol - because she thought he needed mental health treatment.
Ward told police that he needed to protect himself from members of a crime family that was keeping him from his girlfried, according to Huron police records obtained by the AP. He also said he was going to meet with the CIA.
Seven of the defendants in court in Michigan asked to be represented by public defenders. The eighth had a public defender appointed in Indiana.
.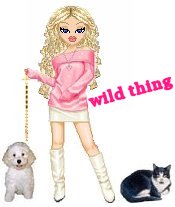 Wild Thing's comment........
I have no idea what exactly was going on here. It is weird that this is happening right after Obamacare was voted on and passed. That is what makes me suscious about this whole thing.
However, if these guys were really plotting to kill cops, then I hope they get the chair.

I do have a question though, what about the radical islamic terrorist camps are allowed to freely train through out the US for jihad against the American people. ( ????)
Posted by Wild Thing at March 30, 2010 06:49 AM
---
Comments
Sounds to me like this is a made for TV movie. Exposing the "Right-Wing-Christian" extremist. As if Christians are the only one who go to the extreme to prove their point and of course they compare this with Oaklahoma City Bombing. They promptly executed McVeigh while the left wing nut Unibomber is still alive in jail.
As I said yesterday this has Janet Incompitano and Half black obama written all over this. Another amazing thing is Christian Right Wing group is always prominently mentioned in the Headlines, strangly though, the Subway bombings in Russia there is no mention of Islamist extremist accused of the bombings. Coincidence...I think not.
Posted by: Mark at March 30, 2010 08:21 AM
---
Mark you are right. I listened to the radio darn near all day and it was wasn't mentioned more than once that they were Islamic. (God forbid they refer to them as Muslim) Now in the same news cast it was mentioned 90% of the time that they were Christians.
I don't doubt these folks had plans. I hope as you do Chrissy that if their intentions were to kill officers, they should fry.
Posted by: Greg at March 30, 2010 09:22 AM
---
If these guys were going after cops, then they need to go down.
The MSM isn't missing a chance to refer to them as Christian extremists.
Posted by: BobF at March 30, 2010 09:52 AM
---
Ditto everyone else. If they were plotting to kill law enforcement officers they need to be put away forever. They sound more nutty than Christian, but the media is locked in to the Chrisian aspect. Hardly a mention of muslims in the Moscow bombings.
Posted by: TomR at March 30, 2010 10:30 AM
---
This one is legit. Hutaree had been investigated back in 2008, including getting a visit from the ATF. The indictment states that the family and significant others, which is basically all that is named in the indictment, started planning this back in 2008.
While their training seems to be quite impressive, their motives and planned action is quite wrong, and gives real militia a bad name.
I spent close to two hours yesterday searching the net. Took a look at their now missing MySpace page, and their "friends", comments. Took a look at their website hutaree.com (or what's left of it) and their message board. Found a member of Hutaree that was still posting on the board, defending them, and did a net search for that name, and found lots of posts on the net (including one about the ATF giving them a visit in late 2008). These guys are really psycho.
You can read the indictment here: http://i2.cdn.turner.com/cnn/2010/images/03/29/stone.pdf
Posted by: Steele at March 30, 2010 01:31 PM
---
Good research Steele...thanks.
Posted by: BobF at March 30, 2010 05:22 PM
---
So because they may be a nut job, or intend to do, plan to do, they have as yet done NOTHING. This is grounds for arrest ?
This whole thing stinks of Ruby Ridge, where a loner was set up by the same people and attacked on his private property, under Clinton. I don't believe this for a minute.
Janet Incompetano and her henchmen, all in the color of Homeland Security, they can harrass local citizens but can't catch real the Terrorists before they kill, Fort Hood, the Recruiter's Office in Arkansas,...But they are great at confiscating weapons from American Citizens.
I will bet a dollar to a donut, this has everything to do with 'Tea Party's'. They see a ground swell against their corruption, negligence and malfeasance in office. They are scared to death they will be voted out come November. As they well deserve. This is typical obama first discredit the Conservatives, then isolate them. The Conservative ground swell is growing legs, obama tried to make fun of them called them 'Tea Baggers'...Well Barry I got your teabag.
As a noted member says , here often
Buy Ammo
Posted by: Mark at March 30, 2010 06:21 PM
---
Big thank you to all of you. This kind of this is very alarming, especially when we know about past things that have happened in the past.
Posted by: Wild Thing at March 30, 2010 09:04 PM
---