« Lawrence Eagleburger: Obama's Playing With Fire, Playing With Dynamite & Doesn't Learn | Main | Hey Obama THIS Is How You Talk To Terrorists! »
March 31, 2010
American Rancher Rob Krentz Murdered By ILLEGALS in AZ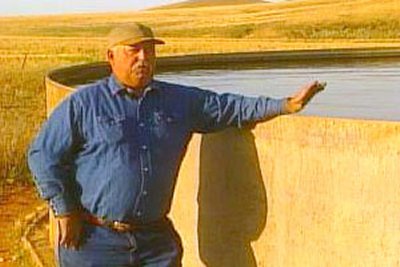 Rob Krentz was a Cochise County, AZ cattle farmer who had battled the bloody consequences of illegal immigration for years. Over the weekend, his dead body was found on his ranch. The longtime rancher had been gunned down.
The death has rocked the towns of Douglas and Portal, and the ranches in between, both of which have been under siege by cross-border smugglers for years.
Well-known Douglas-area rancher is found slain
A longtime rancher was killed on his Douglas-area property over the weekend, and neighbors worried that his homicide was connected to increasing border-related crime in the area.
The Cochise County Sheriff's Office offered little information into the late-Saturday shooting death of 58-year-old Robert Krentz, whose family began the Krentz Ranch more than 100 years ago.
Krentz's body was found on his land, which is about 35 miles northeast of Douglas, just before midnight Saturday, said Carol Capas, a spokeswoman for the Sheriff's Office.
The Sheriff's Office, aided by the U.S. Border Patrol, had no suspects Sunday and continued to follow leads, Capas said. She declined to comment on reports from neighbors and border activists that Krentz's death was related to smuggling in the area.
Area residents said Krentz had no enemies, and they could think of no motive for his death other than the possibility it was related to what they called the growing level of crime in the area related to illegal immigrants and drug smugglers.
A prominent southeast Arizona rancher sped away in his all-terrain vehicle after being shot, the Cochise County Sheriff's Office said Monday in releasing more details into Saturday's slaying near the Mexico border.
The body of Robert Krentz, 58, was located before midnight Saturday on his 35,000 acre ranch about 35 miles northeast of Douglas after his brother reported that he had lost radio contact with Krentz earlier in the day.
Krentz apparently came upon one person when he was shot and his dog was wounded, detectives said.
While Krentz was still in his vehicle, mortally wounded, he managed to drive the ATV away from the scene at a high rate of speed before becoming unconscious, investigators said.
Foot tracks were identified and followed approximately 20 miles south to the Mexico border by sheriff's deputies, U.S. Border Patrol trackers and Department of Corrections dog chase teams, authorities said.
So far, there have been no suspects identified and no arrests.

.
American Rancher Rob Krentz Murdered By Illegals in AZ
Border Rancher Rob Krentz And Dog Found Shot To Death After Aiding Illegal Alien
The body of Rancher Rob Krentz and his dog were found shot to death on his ranch. Krentz, who always was good-natured and willing to help people, had called in that he had found an illegal alien at one of his watering holes and was assisting him. That was the last that was heard from him before his body was discovered.
Rob Krentz was a lifelong rancher in Southeastern Arizona, 12 miles north of the U.S./Mexico border and 25 miles northeast of the city of Douglas. He was the father of three children. The ranch has been in his family for three generations, more than 100 years - since 1907, and sits on about 35,000 acres with 1,000 head of cattle. Running a ranch is hard work and with the influx of illegal aliens increasing, Rob was at ground zero of the stampede that is destroying the fragile desert landscape.
The Krentz family has received numerous threats in the past by illegal aliens trespassing on their property. In 2002, the family was physically threatened when one of them stumbled upon a group of 39 illegal aliens. They were told to get off the land and they made threats. The Border Patrol did catch the illegal aliens after they were called, but we all know that illegal aliens, if deported, come right back across.
In 1999, Krentz and his wife Susan did an interview with PBS when they came around asking about the issue of illegal immigration and its impacts on the local ranchers.
"We've been broken into," Susan Krentz told PBS.
"One time," Rob said "You know, we've personally been broke in once. And they took about $700 worth of stuff. And you know, if they come in and ask for water, I'll still give them water. I - you know, that's just my nature."
In 2003, Congressman Tom Tancredo mentioned the challenges of the border ranchers, and in particular highlighted the the Krentz family's plight.
"In the month of November, 2002, in the Tucson Sector of the U.S. Border Patrol ... where the Krentz ranch is located, the Border Patrol apprehended 23,000 border crossers," Tancredo wrote. "many people would suggest that the [apprehension] ratio is just about maybe one in five, and that is a very conservative estimate. ... I think it is closer to one in ten".
That means in that sector alone for one month, 8 years ago, the most conservative estimate is that 115,000 illegal aliens crossed the border in that one chunk of land in the Tucson sector. All of the illegals are unknown.
Tancredo notes that the Krentz's did mention to him that they called the Border Patrol. In one instance illegal aliens had butchered one of his calves.
In February [2002] ... a calf was butchered by illegal alien trespassers. Two men responsible were caught. They were tried. They were found guilty. They served a total of 51 days in jail. They were also ordered to pay $200 in restitution to the Krentz ranch. The Krentz ranch has not seen a cent of that money; and, of course, our best guess is they will not because these people have been released. They either came back into the population up here in the U.S.A. or returned to Mexico.
Tancredo goes into the cases of deliberate sabotage of the Krentz ranch's water supply and the other impacts on the Krentz's by illegal aliens. You can read more, where Tancredo dubs the Krentzs American Homeland Heroes
6 years after the PBS interview, in 2005, Krentz did an interview with KOLD as the number of illegal aliens exploded.
"We're being over-run, and it's costing us lots and lots of money," Krentz said.
"We figured it up over the last five years and it's cost us over $8 million," Krentz said. "Cattle don't like people walking through, so they move. So, cattle weight loss, destruction of fences, breaking our pipelines, they break them in two and (the pipes) run for two or three days before we find it."
Krentz went on to say that when he was a boy he actually knew the few illegal aliens that came through looking for work, he said it's nothing like that now as hundreds of unknown illegals stream across his land.
Rob Krentz is just one of the many people who live and work along our southern border. A tough, hard working man who was trying to make a living and doing what he loved. Those who support illegal aliens will talk about "human rights", but where were the "human rights" when it came to Rob Krentz? Where was the government to protect our border and prevent this from happening, though they've been told time and time again? They didn't protect his property rights, nor his civil rights.
This country failed Robert Krentz, his family and all who work for him. As they have failed countless families all across this country. The number of deaths is estimated to be from 15-25 deaths caused by illegal aliens each day in this country.
It is not known yet whether Krentz was specifically targeted or whether it was just one of the hundreds of thousands of illegal aliens who come across our border every year who have actual criminal records, but in the end does it matter? A hard working man was killed on his own land. And all for just trying to help out someone in need.
And that is simply outrageous.

.

Wild Thing's comment.......
This is so terrible. How many Americans are going to have to die? Before politicians like McCain and Obama do something about this instead of catering to these illegals. I know they never will, to Obama they are votes and to McCain who the hell knows what his motives are they are about votes from these people.
McCain rarely visits this border region. The area has been unsafe for years. The beautiful birding grounds in Leslie Canyon and nearby sites are rarely visited anymore. It is considered too dangerous. This last week the deputy police chief of Nogales, Sonoro, was assassinated. And now the border towns of Nogales, Naco, and Agua Prieta are a shell of more prosperous times. It was an avoidable tragedy, but people like McCain's Phoenix buddies have made a fortune off of cheap illegal labor. If he is re-elected he will join Graham in support of amnesty. You can bet on it.

May God bless and keep this man's family safe from further harm.
Posted by Wild Thing at March 31, 2010 06:48 AM
---
Comments
A hell of a lot of politicians are accesories to this crime. We have had decades to do something about halting illegal immigration. The Democrats look at illegals as future voters and the Repubs look at them as cheap labor.
Mr Krentz is just one of a long line of American victims of illegals. Whether it is in the commission of a crime or drunk driving, illegals has caused many American deaths.
The obama cartel is hoping to pass an amnesty bill. Just the thought of that will open the doors to massive waves of illegal aliens and a multiplying of the problems they will cause. Hang on for a bumpy ride.
Posted by: TomR at March 31, 2010 10:58 AM
---
By the time a crime of this magnitude is discovered, the wetback perps are already safely back in Mexico. Whoever said 20% were captured must be using the new math to come up with these figures. They are harrassing Sheriff Joe Arpaio for rousting Illegals. So how can this number be even mentioned as having some any kind of accuracy. It probably makes sense for democrats after all they've been teaching 2 + 2 = 5 for a couple of decades now. The product of these math classes is coming to furition with of these math wizards in Washington.
This whole thing is politics, dirty chicago style obama politics. They can't protect or even defend American citizens, hell they don't even try. but let some Rancher shoot one of these Immigrants he goes to jail. So much for "Your home is your Castle worthy of defense."
Posted by: Mark at March 31, 2010 12:22 PM
---
In the new Obama math 2+2=8 as every thing coming in gets counted twice. If McCain wants to be forgiven he needs to sponsor full automatic weapons permits for those living on or near the boder.(40 miles)
Posted by: Avitar at March 31, 2010 01:17 PM
---
How many American Citizens have to die before the National Guard is sent in to secure our Southern Border?
We just can't blame Obama on this. Bush sent Border Guards to jail for shooting an illegal who was smuggling drugs into our country and firing upon the Border Guards. His prosecutors also send other law enforcement types to jail for defending themselves against illegals. When it comes to Illegals, Bush, McCain, and Obama are in the same camp.
Posted by: BobF at March 31, 2010 07:19 PM
---
Thank you everyone, this is so very sad what happened to this man.
Posted by: Wild Thing at April 1, 2010 04:32 AM
---
Americans? Screw 'em, we can't inconvenience any "migrants" illegally entering the United States because that'll make us look mean and unfair! (My ancestors came here legally, entitled selfish dipsticks from an oil-producing nation that's so jacked-up it's still a third-world sh*thole can too.)
Posted by: Anonymous at April 1, 2010 07:52 AM
---