« Obama Sure Is Touchy About Being Referred To As A Socialist | Main | Half Of America Blames Obama For Loss Of Rights »
February 25, 2010
White House Privately Plots 2012 Campaign Run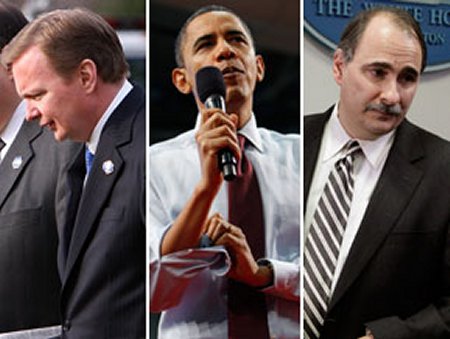 W.H. deputy chief of staff Jim Messina (left) is likely to head the campaign, while senior adviser David Axelrod may reprise his role as Barack Obama's campaign muse
White House privately plots 2012 campaign run

Barack Obama's top advisers are quietly laying the groundwork for the 2012 reelection campaign, which is likely to be run out of Chicago and managed by White House deputy chief of staff Jim Messina, according to Democrats familiar with the discussions.

For now, the planning consists entirely of private conversations, with Obama aides at all levels indulging occasionally in closed-door 2012 discussions while focusing ferociously on the midterm elections and health care reform, the Democratic sources said. "The gathering storm is the 2010 elections," one top official said.
But the sources said Obama has given every sign of planning to run again and wants the next campaign to resemble the highly successful 2008 effort.

David Axelrod, White House senior adviser, may leave the West Wing to rejoin his family in Chicago and reprise his role as Obama's muse, overseeing the campaign's tone, themes, messages and advertising, the sources said.

David Plouffe, the Obama for America campaign manager, described by one friend as "the father of all this," will be a central player in the reelect, perhaps as an outside adviser.
"The conversations are beginning, but decisions haven't been made," a top official said. "If you look at David Plouffe's stepped-up level of activity with the political organization [as an outside adviser on the 2010 races], that is obviously the beginning of the process."

Anita Dunn, former White House communications director, will be intimately involved, too. Brad Woodhouse, the Democratic National Committee's communications director, enjoys rising stock and would be a logical choice to be communications director for the reelection campaign, the sources said.

White House press secretary Robert Gibbs, White House communications director Dan Pfeiffer and senior adviser Valerie Jarrett are likely to remain at the president's side in Washington, while exercising major influence over the campaign. Pfeiffer, communications director of the last campaign and always a trusted insider, has a higher public profile every day.

Other central figures are likely to be DNC Executive Director Jennifer O'Malley Dillon; her husband, Patrick Dillon, who is deputy White House political director and is likely to bring his extensive gubernatorial contacts to Chicago; Mitch Stewart, executive director of the DNC's Organizing for America; Jon Carson, national field director of Obama for America; and White House political director Patrick Gaspard.

The DNC sees Republican challengers ramping up earlier than ever and has decided to begin defining potential opponents early. Operatives are already assembling research and drafting unflattering narratives to push about the leading possible 2012 candidates.

Even though the planning is still very preliminary, the campaign is likely to launch in just over a year. President Bill Clinton opened his second presidential campaign in the March after his first midterm congressional elections, and President George W. Bush opened Bush-Cheney '04 a month later in the political cycle.

Aides expect Obama to hew to a similar schedule. A president's reelection campaign — "the reelect," as Obama intimates are already calling it — is a massive, lavishly funded machine that hires hundreds of people and spends hundreds of millions of dollars to carry out the mechanics of a national campaign, while the candidate and many of his top aides continue their day jobs of running the free world.
Obama's campaign will get a head start from the large machine he has built at the DNC, including Organizing for America, the successor to his grass-roots campaign operation.

OFA is now a DNC project with staff in all 50 states and has worked to keep Obama's army active through engagement on health care and other issues.
Messina, the likely manager, largely ran the operations part of the 2008 campaign after joining it in June 2008, while Plouffe focused on the big picture. Advisers said Messina is valued for his relationships on Capitol Hill, where he has been chief of staff to Democratic Sens. Max Baucus of MontanaSen. Byron Dorgan of North Dakota, as well as Rep. Carolyn McCarthy (D-N.Y.), and advised others on their campaigns, including Montana Democratic Sen. Jon Tester.
"Jim can bring the bare knuckles, and he can make sure members are advocating for the president," a colleague said.
The question of where to locate the campaign has not been decided by the president, and is the subject of much internal speculation.
Top sources say they will be surprised if the headquarters is not in Chicago, which will always hold a certain magic for the president and first lady Michelle Obama.

Obama for America senior staff felt there was a huge advantage in having distance from insiders in Washington who were constantly giving advice and asking for things. And Obama advisers see the advantages George W. Bush reaped by basing his original campaign in Austin, Texas, giving it a beyond-the-Beltway aura.
"We were able to focus on nothing but the campaign," said one Obama for America veteran who plans to saddle up again. "We didn't play the inside-Washington game, and that's a huge piece of who we are.''
However, some top advisers are skeptical that running the campaign from Chicago would have the same advantages that it did last time, since face-to-face contact will be necessary among top officials from the different arms of Obama's operation.
''It was hard enough to get people to move there in 2007," one Obama for America alumnus said.

A compromise might be to follow the example of the Bush-Cheney reelection campaign and put the office in Virginia, a swing state.
The themes for Obama's campaign are not yet chosen, but a top adviser said not to expect a radical surprise: "He knows who he is."
.

Anbody with an ounce of brains knew who he was long before the election:
From Dreams from My Father, " I FOUND A SOLACE IN NURSING A PERVASIVE SENSE OF GRIEVANCE AND ANIMOSITY AGAINST MY MOTHER'S RACE". Barack Hussein Obama
From 'Dreams from my Father', "The emotion between the races could never be pure, even love was tarnished by the desire to find in the other some element that was missing in ourselves. Whether we sought out our demons or salvation, the other race (WHITE) would always remain just that: menacing, alien, and apart." Barack Hussein Obama
From Dreams from My Father: "That hate hadn't gone away," he wrote, BLAMING "WHITE PEOPLE — some CRUEL, some IGNORANT, sometimes a single face, sometimes just a faceless image of a system claiming power over our lives." Barack Hussein Obama
From 'Dreams from My Father', "There were enough of us on campus to constitute a tribe, and when it came to hanging out many of us chose to function like a tribe, staying close together, traveling in packs," he wrote. "It remained necessary to prove which side you were on,to show your LOYALTY TO THE BLACK MASSES, TO STRIKE OUT and name names" Barack Hussein Obama
From 'Dreams from My Father', 'I vowed that I vowed that I would never emulate white men and brown men whose fates didn't speak to my own. It was into my father's image, the black man, son of Africa, that I'd packed all the attributes I sought in myself, the attributes of Martin and Malcolm, DuBois and Mandela."
From The Audicity of Hope: To avoid being mistaken for a sellout, I chose my friends carefully. The more politically active black students. The foreign students. The Chicanos. The Marxist professors and structural feminists."
From The Audicity of Hope: After graduating from college, Obama eventually went to Chicago to interview for a job as a community organizer. His racial attitudes came into play as he sized up the man who would become his boss: "There was something about him that made me wary," Obama wrote. "A little too sure of himself, maybe. And white."
From The Audacity of Hope:..'the white race..."that ghostly figure that haunted black dreams."
From "Dreams": (after making his first visit to Kenya, he wrote of being disappointed to learn that his paternal grandfather had been a servant to rich whites. that the revelation caused)"ugly words to flash across my mind. Uncle Tom. Collaborator. House n-——".
From The Audacity of Hope: "We are no longer just a Christian nation," he argues in "Audacity," which was published last year. "We are also a Jewish nation, a Muslim nation, a Buddhist nation, a Hindu nation, and a nation of nonbelievers."
From 'Audacity': "Her memories of the Christians who populated her youth were not fond ones," Obama wrote. "For my mother, organized religion too often dressed up closed-mindedness in the garb of piety, cruelty and oppression in the cloak of righteousness."
"Malcolm X's autobiography seemed to offer something different," Obama wrote. "His repeated acts of self-creation spoke to me; the blunt poetry of his words, his unadorned insistence on respect, promised a new and uncompromising order, martial in its discipline, forged through sheer force
.
Quote from Barack Obama's book, Dreams Of My Father:
"THE PERSON WHO MADE ME PROUDEST OF ALL, THOUGH, WAS MY [half brother], ROY..HE CONVERTED TO ISLAM".
From 'Dreams of my Father', "IN INDONESIA, I SPEND TWO YEARS AT A MUSLIM SCHOOL" "..I STUDIED THE KORAN.."
From 'Audacity of Hope: "LOLO (Obama's step father) FOLLOWED ISLAM...."I LOOKED TO LOLO FOR GUIDANCE".
From 'The Audacity Of Hope, "I WILL STAND WITH THEM (MUSLIMS) SHOULD THE POLITICAL WINDS OF WAR SHIFT IN AN UGLY DIRECTION.."
From The Audacity Of Hope, "WE ARE NO LONGER JUST A CHRISTIAN NATION, we are also a Jewish nation, a MUSLIM NATION, a Buddhist nation, a Hindu nation, and a nation of nonbelievers."
.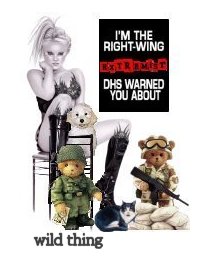 Wild Thing's comment.........
Campaign, again? He never stopped!
"He knows who he is."
And boy howdy so do we!
"....and wants the next campaign to resemble the highly successful 2008 effort."
Not gonna work, lofty rhetoric and blatant lies only work once. He's a well defined extreme left wing liberal, conservatives know it, moderates know it and most importantly Independents know it.
Posted by Wild Thing at February 25, 2010 04:49 AM
---
Comments
Shouldn't be a problem, he and his henchmen have the TARP money held in reserve to buy the vote. Let's just send Sal into Harlem for another straw poll.
Posted by: Jack at February 25, 2010 09:04 AM
---
White House Plots........ That could be the lead off for almost every news story. obama and crew are amassing mud pies to be flung at any and every opponent. Maybe by 2012, even the most laid back independent voter will be up in arms against this muslim Marxist and his disasterous cronies.
Posted by: TomR at February 25, 2010 01:16 PM
---
Jack, henchmen is a perfect term for them.

Tom, LOL your right. Plots, perfect term for that and all that comes from him.
Posted by: Wild Thing at February 25, 2010 06:07 PM
---